Daniel Ricciardo 'pulled it out of the bag' for the fourth qualifying session in a row
Red Bull hopeful lines up eighth on the grid in Hungary but is unsure of race prospects
By Mike Wise in Budapest
Last Updated: 28/07/13 7:33am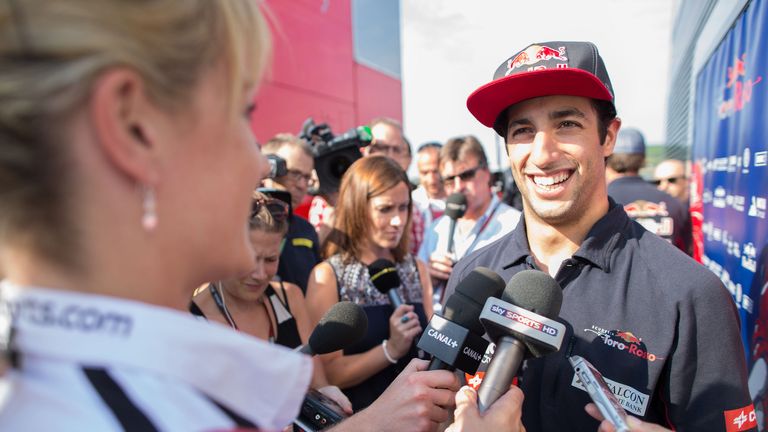 Ricciardo made Q3 for the fourth time in as many races having improved slowly but surely after an inauspicious start to his weekend. Down in 17th place after Friday practice, the Australian found pace when it mattered to wind up eighth on the grid.
It's yet another timely display from the 24-year-old, who is vying with Kimi Raikkonen for the chance to be Sebastian Vettel's team-mate next season.
"I did the best I could, so I'm happy not to leave anything on the table. It was the best we could have done today, especially after yesterday when we didn't really look competitive," Ricciardo said.
"We pulled something out the bag."
According to Ricciardo, he and his Toro Rosso engineers have had to chip away at finding the right set-up. "We made quite a few changes overnight, which didn't make the car worse," he said. "It helped a little bit but we knew it wasn't enough for qualy so we made more changes.
"It's not ideal making so many changes leading up to qualifying. But fortunately again we took the risk and it worked for us."
The caveat, however, might be Ricciardo's race pace. Having qualified sixth for the German GP three weeks ago, he subsequently faded to 12th on Sunday.
Race day at the Nurburgring brought hotter conditions and that's also the forecast at the Hungaroring - even more so, in fact, given that temperatures could rise into the high 30s Celsius.
"We're obviously hoping for a better race than that but at the moment I don't know what's going to happen tomorrow," Ricciardo admitted.
"We've got to take that aggressive approach and try and drive the car to the limit. I don't think we're quick enough to save tyres. We just have to drive and hope that the balance holds up.
"Hopefully we'll stay in the points. That's going to be the approach."
There has also been the suggestion that Toro Rosso might be one of those teams disadvantaged by the new tyres Pirelli have introduced this weekend.
"Up until qualifying I probably would have said, 'Yes'. But we seem to have found the pace in qualifying again," was Ricciardo's response.
"McLaren were looking really strong all through practice again but they were behind us again in qualifying. I think a little bit has changed but it's the same for everyone."
The ability to, as Ricciardo says, pull a qualifying lap out of the bag is seen as a hallmark of all great F1 drivers and the fact that he is doing it repeatedly, and under such close scrutiny, is hardly going to harm his chances of stepping up to the World Champions.
"It's good fun. I think it's something some of us enjoy about the sport as well; it's really pushing yourself when everyone's watching," Ricciardo added.
"When you can prove it in front of a lot of eyes then that's a rewarding feeling.
"Getting into Q3 the last four times is definitely a confidence booster. It's like now, if I don't make Q3, I'll be really disappointed.
"It used to be that I was really excited to get in but if I'm not now I'll be disappointed. It goes a long way and I've a bit of momentum now, which feels good."