2014 Chinese GP P3: Daniel Ricciardo outshines Vettel again as rain arrives
Red Bull again show threat in wet conditions, but Vettel struggles again; Friday pacesetters Mercedes and Alonso complete no timed laps; Rain set to stay for Qualy
By James Galloway in Shanghai
Last Updated: 19/04/14 8:28am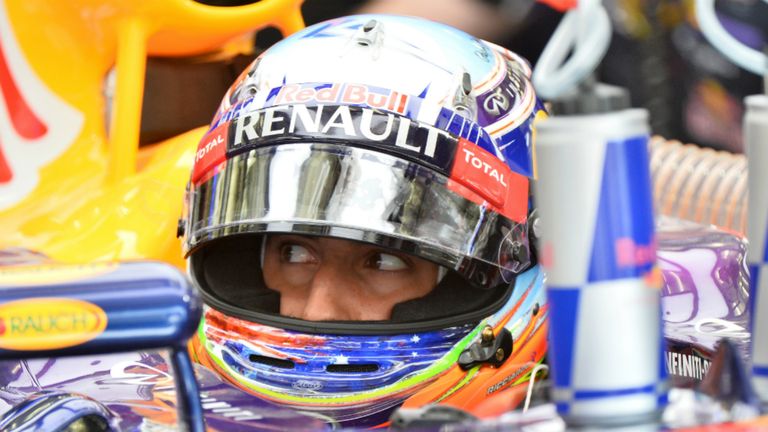 After a thunderstorm through the night, the paddock returned to a particularly dank circuit in Shanghai and further light rain soon started falling ahead of P3 to increase the gloomy look which the circuit has been shrouded in since Thursday.
Although the lingering conditions - and prospect of perhaps the heaviest rain yet from the 2pm local Q1 starting time, according to radars - make a third wet qualifying hour of 2014 almost certain, championship leaders Mercedes chose to keep their powder dry in P3 and not set laptimes with either Nico Rosberg or Lewis Hamilton, who finished at the very bottom of the timesheet as a result. Ferrari's Fernando Alonso, who impressed on Friday, followed suit.
While it was Hamilton who claimed pole in the mixed qualy conditions in Australia and Malaysia, a Red Bull driver ran him close on both occasions and Ricciardo's pace in the wet again here - the Australian setting a best time of 1:53.958 to outpace Williams' Felipe Massa by half a second - suggests a repeat could be in store come Q3.
But while one Red Bull starred, struggling Sebastian Vettel's session reflected the grim weather as the German finished two seconds back on Ricciardo in 11th after a more apparent problems with his RB10.
Having pitted inside four laps with an overheating left-front brake, the World Champion returned to the track for just four more tours late in the hour and cut an unusually forlorn-sounding figure in his messages to his race engineer over the radio. Indeed, it was confirmed to him at the end of the session by Guillaume Rocquelin that his car also had developed KERS trouble.
Someone who has found even less joy so far in China is Pastor Maldonado and the Venezeulan, following a spin and a crash on Friday, ran into yet more bother in P3. However, this time it was not of his own making after his Lotus developed an apparent technical problem and he had to park up on the grass. The problem has yet to be confirmed, but Maldonado had just been instructed to turn up the power levels on his Renault-powered E22.
Still, as on Friday, there was some good news for Lotus in that Romain Grosjean ran strongly in the other car, the Frenchman finishing third on the timesheets this time, with Nico Hulkenberg fourth for Force India.
Like Ferrari team-mate Alonso, Kimi Raikkonen had watched most of the session from the garage but the Finn did complete a lap flying lap and that placed him fifth ahead of Maldonado.
Daniil Kvyat again impressed in the wet to take seventh for Toro Rosso with Valtteri Bottas eighth for Williams despite a spin at the start of the session. Jenson Button and Sergio Perez rounded out the top ten.