Team bosses don't want Q3 tyres
F1 team bosses have poured cold water on the idea of introducing a set of extra tyres for those drivers who reach Q3 in order to improve qualifying.
Last Updated: 24/05/12 4:30pm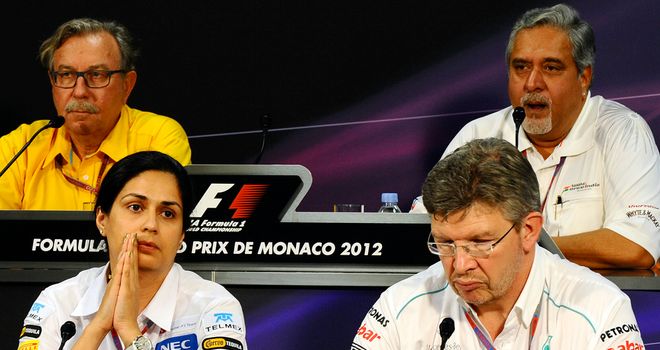 F1 team bosses have poured cold water on the idea of introducing a set of extra tyres for those drivers who reach Q3 in order to improve the Saturday show.
With a host of drivers opting out of qualifying's final segment this season to maintain fresh rubber for the race, the idea has been put forward that an extra set of tyres should be given to those drivers who reach Q3 to encourage full participation.
However, judging by the reaction of those team bosses who attended the Thursday press conference, it's an idea that will not be endorsed by the pitlane decision-makers.
Sauber CEO Monisha Kaltenborn said while the teams had chewed the fat on such an idea they had ultimately come to the conclusion that a tweak to the rules wasn't required.
"We've had many discussions I think amongst the teams in the last year about the tyre situation and qualifying and we think the rule we have now is okay. We also wouldn't be supporting extra tyres," she said.
"And I think even if you look at the statistics that the amount when teams do this strategy and don't go out in Q3 actually most of the teams have anyway been doing a lot more laps earlier [in qualifying]. So I don't think it would really change much for the viewer - that's what the figures at least say."
Mercedes Team Principal Ross Brawn also gave a cool response, suggesting that the teams electing to sit out the final stages of qualifying are teams that would, regardless of any rule tweak, be unable to compete for front-row positions.
"Even when some teams don't go out, we still have six or seven cars still competing hard for pole position," Brawn countered. "Those teams that don't go out have generally resigned themselves to the fact that they can cannot compete for those positions right at the front and I think that those teams being able to save their positions is in, some way, a compensation for their performance at the start of the race.
"It gives an opportunity for those teams in eighth or ninth place to save an extra set of tyres and be stronger in the early part of the race. There's two sides to every coin."
Frank Williams could see the merits of such an idea, but believes the best engineers can still make the current tyre allocation work for their respective teams, while adding that cost was also a consideration.
"I think it's probably a good idea from the point of view it gives all teams a better chance. If you're a really skilful team with a brilliant engineer to run and control things and you've only got three sets of tyres you'll get the best [result]," he said.
"If you haven't got such a person you'll always going to be at a handicap. If there's a fourth set it may help out one or two of the weaker members."
Renault Sport's F1 engine chief Jean-Francois Caubet, meanwhile, was clearly opposed: "I think it's also important that we don't change the regulations all the time."