Martin Brundle Q&A: The Sky F1 pundit on the driver market and stopping Vettel
Just how will all the 2014 pieces fall into place?
By Sky Sports Online
Last Updated: 25/10/13 9:16am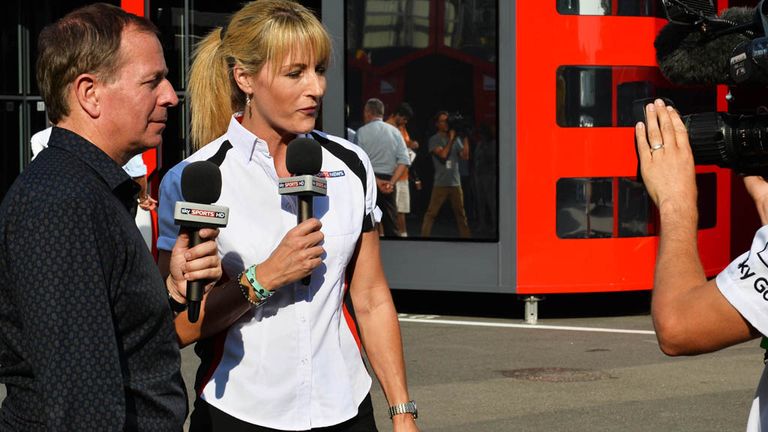 There was a story on Thursday that the Indian GP was in doubt, but that has now been put to bed. We weren't expecting the race to be cancelled, were we?
Martin Brundle: "I don't think there was anyone in the paddock checking flights to go home early or to go to Abu Dhabi early! Apparently, there were 54 court cases after last year's race - the systems here are quite complex..."
Can anyone stop Sebastian Vettel winning this weekend?
MB: "Not unless they can find some speed from somewhere. Mark Webber would love to spoil Vettel's record, because Sebastian has led every lap that has been raced here at the two grands prix so far; he's mighty around here which really doesn't bode well for anyone else beating him. The car looks bolted to the ground, as ever. It's only incidents, contact or reliability - the sort he had in Silverstone, which stopped him taking victory there - which can prevent him winning this year's title this weekend."
What is it like out on track here?
MB: "There's not a great motor-racing scene in India so the track doesn't get rubbered in during the year - but we get that a lot during the year. If you go off line, your tyres will be like sponges, absorbing the dirt and dust, and then you go back on the racing line and off you go - which is what happened to James Calado during Practice One. You have to be patient. It's like racing on a street circuit, you have to let the circuit come to you."
Lewis Hamilton's family are in the garage this weekend. He's someone who really benefits from having that group around him, isn't he?
MB: "He does. Lewis always seems happier when his family are around and it's good to see them here. He just seems to perform even better when they are here."
Were you surprised by the decision of Toro Rosso to appoint Daniil Kvyat as Jean-Eric Vergne's team-mate for 2014?
MB: "I was a bit surprised - I thought they would take Antonio Felix da Costa, if I'm honest. It's a big ask for the youngster, but I don't think he's there because of money. I think he's there because he has been quick in GP3. We've seen Bottas come straight into F1 from GP3, albeit with a year's testing, Raikkonen has done it, and Senna and I did it from Formula 3, so it can be done. But with the rest of the driver market, apart from the very top end, I have never seen it so fluid and so uncertain at this time of year. There are a lot of very experienced drivers unsettled and uncertain about next year's drive."
We are talking about the likes of Nico Hulkenberg, who has put in some sterling drives recently. We thought he had a contract, but we don't think he has now. And with Felipe Massa, the story is that he could be going to Williams. Could you see that happening?
MB: "I can't believe that Hulkenberg won't end up in a competitive car, why McLaren haven't taken him out of the market place I don't know - maybe they are thinking further ahead because teams do think two, three years in advance in terms of drivers, engine suppliers and sponsors so you can't always just look at the now. For me, Hulkenberg is an absolute star and should be in a frontrunning car.
"That aside, Felipe Massa still thinks he has a few years in him. I could well see him going to Williams, but I'm sure he is also talking to Force India and Lotus as well. But these teams are still trying to sort out their budgets and income streams for next year, and that's why the market is so upside-down. With these massive changes to the cars ahead in 2014, some experience and known quantity will be very important. Somebody like Massa, especially if he facilitates some money...but then where's Maldonado and his money? And what are they going to do with Bottas? There are going to be some good drivers disappointed."