2013 Abu Dhabi GP analysis: Where Sunday's race was won and lost
Could Vettel have doubled his margin of victory? Why was Webber so far behind? Did Ferrari put Massa on the wrong tyres?
By Pete Gill, Mike Wise and William Esler
Last Updated: 05/11/13 4:03pm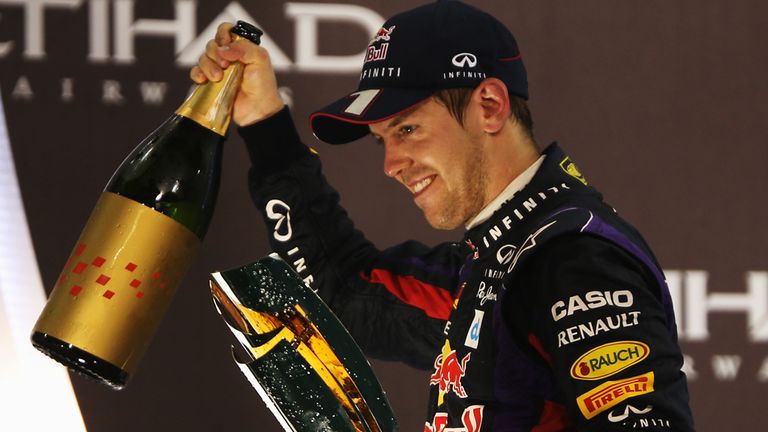 Could Sebastian Vettel have won by the full minute, as claimed by Red Bull boss Christian Horner?
At first glance, the notion that Vettel could have won by a minute seems implausible in a sport measured by tenths of a second. But the reality is that is just how dominant Sebastian Vettel was.
After passing Mark Webber on the run into Turn 1 and keeping the quick-starting Nico Rosberg behind, Vettel took off and opened up a gap of nearly two seconds at the end of the opening lap. His advantage over Rosberg continued to grow by around one second per lap until the Mercedes driver pitted on lap ten. Even with fresh rubber, both Rosberg and Webber continued to lap one second slower than Vettel, who was able to stop on lap 14 and still with rejoin with the lead and a 16.7 seconds gap to Rosberg.
On fresh rubber, he would again extend that advantage by two seconds per lap over the next two laps, before backing off and settling for being 'only' one seconds quicker - which coincided with Webber passing Rosberg. At this point, Vettel's race engineer Guillaume Rocquelin told him over the radio that Webber was behind and he would let him know the pace but by that stage his advantage over Webber was nearly 29 seconds.
The consistency of Vettel's times shows that he was driving to a delta rather than pushing and tyre-wear was clearly not an issue either as he was able to speed up whenever someone threatened to take the fastest lap of the race away from him - as he did on lap 31 when he dipped into the 1:45s, the first man to do so in the Grand Prix.
Thus the German appears to have had plenty of pace in reserve and having easily established a gap of nearly 30 seconds in the opening half of the race, the evidence suggests that had he continued to push, a gap of a minute was not inconceivable.
WE
Why was Mark Webber so far behind Sebastian Vettel this weekend?
Webber's race in Abu Dhabi unravelled in a manner which has become all-too familiar to the Aussie this year.
A slow start, on this occasion from pole, meant loss of position, meant being stuck behind a slower car, meant overheating his tyres and meant resultant cool lap-times. It's the perfect storm of performance deficit. As he later acknowledged, by the time he found clear air to run in, "Seb was well and truly gone".
Yet the Australian's post-race briefing also included another explanation for his struggle to keep pace with his team-mate - and one which suggested he wouldn't have been able to keep pace with Vettel even if he had enjoyed a rare swift getaway. Webber, it seems, simply cannot get to grips with the soft compound.
For whereas Vettel appears to have a sixth sense for how far and how hard he can push the soft compound , a starkly-honest Webber admitted to reporters: "I had no real feeling for those tyres when they're scrubbed."
The veteran, who is retiring from F1 at the end of the season, has made his frustration with the emphasis on tyre preservation in the current era of F1 abundantly clear in recent months. But perhaps it's also no coincidence that Webber, by his own admission, struggles acutely with the balancing act between preservation and pace - especially when the stress isn't on the front tyres.
"I'm very fast, I'm quick but when we're on the rears it's a bit harder for me to be as competitive at certain times," acknowledged Webber. "That's the way it is. I'm not going to learn now, mate. Old dog, new tricks, it's over."
Somewhere in that explanation is perhaps not only an answer for why Vettel was so much faster than his team-mate this weekend but also what area of his driving the incoming Daniel Ricciardo needs to focus upon once he replaces Webber as Vettel's team-mate. Young pup, old tricks, a new beginning?
PG
Felipe Massa's late tyre call - the wrong one?
Massa himself thought so after the race, saying that Ferrari had been mistaken to send him out on the medium tyre rather than the soft after he made his last pit stop on lap 38 out of 55. The Brazilian then went further, saying that he would have finished in the top five otherwise - ahead of team-mate Fernando Alonso, in other words.
Alonso had been behind Massa up until that point, with the two scarlet cars edging from seventh and tenth on the grid to the front of the field in their opening stints as Ferrari aimed for a one-stop strategy. That was still the aim after Massa pitted at the end of lap 18 but it soon dawned on the Scuderia that wear rates on the medium tyre were too high. The instruction duly changed, with Massa and Alonso told to push ahead of the unexpected second stops.
Massa responded in racey fashion, making a move on Lewis Hamilton on lap 25 as the Mercedes driver himself tried to pass Adrian Sutil's Force India, and soon dispatched the latter as well. It was impressive-looking stuff but Alonso, whose tyres were slightly older, was biding his time; no sooner had Sutil and Hamilton pitted than he was in clear air and right on Massa's tail again.
Certain conclusions can be drawn, of course, whenever Massa is to be found directly ahead of Alonso and sure enough they were over the next few laps as each made his second and final stop. Ferrari cited tyre wear as the reason why Massa came in six laps before Alonso and given his scraps with Hamilton and Sutil it's easy to see why. He was clearly taking full advantage of DRS and also top of the speed-trap charts; might running lower downforce have caused his rubber added grief elsewhere round the lap?
Furthermore, Ferrari took one second longer than they should have fitting the mediums Massa didn't want; it duly came as little surprise then that Alonso - aided by a series of lap times on worn mediums that were on a par with Massa's on fresh rubber - emerged just ahead (give or take the Spaniard's sparring with Jean-Eric Vergne). Alonso duly extracted all he could from his soft tyres in the closing stages, first passing Hamilton and then Paul Di Resta on his way to fifth - the place Massa, who trailed in eighth, felt should have been his.
Having made a set of softs last 18 laps in hotter conditions at the start of the race, two laps more than Alonso, Massa thought he could do the same over the final 17 laps; given that he had made a set of mediums last only 20 laps in between times, Ferrari thought not. Nursing tyres in anticipation of a one-stop race is one thing, pushing them in a sprint to the chequered flag is something else. Perhaps those on the pitwall thought Massa might overdo it?
Whatever, Ferrari did not disagree with their driver's assessment. But they've slipped further behind Mercedes in the constructors' standings and in a battle that close, every point is precious.
MW