Analysing the McLaren power struggle as Ron Dennis is reappointed Chief Executive
Why Dennis is very much back calling the shots at McLaren
By Pete Gill
Last Updated: 20/01/14 8:46am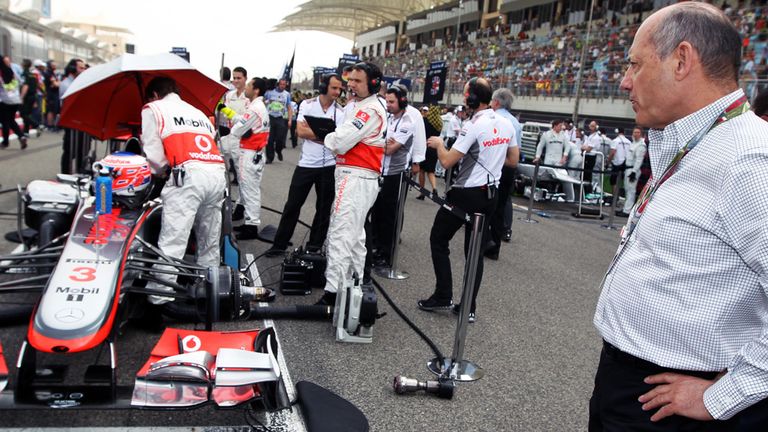 Why is Dennis' return being depicted as his victory in an internal 'power struggle'?
At face value, Dennis' reappointment as Group Chief Executive Officer at McLaren - the position he held between 1982 to 2012 - doesn't necessarily spell ominous for Martin Whitmarsh. However, scratch just a fraction under the surface and the end would appear to be writ large for the popular, likeable but ultimately unsuccessful Whitmarsh as McLaren's Team Principal.
First and foremost, Dennis has replaced Whitmarsh as McLaren's CEO and been tasked with undergoing a "thorough and objective review" of the group's businesses - including their F1 performance - and mandated to implement "the organisational structure best suited to achieving" success.
Say again?
In other words, Ron Dennis is back in charge again and calling the shots at McLaren.
So where does that leave Whitmarsh?
With his future in Dennis' hands - and, almost certainly, facing the axe. Tellingly, the McLaren press release announcing Dennis's return made no mention of Whitmarsh and, just as pointedly, it's understood that Whitmarsh wasn't present at the specially-convened meeting of the McLaren workforce on the factory floor on Thursday at which Dennis vowed: "There will be changes."
What's Whitmarsh relationship with Dennis like? Might that save him?
Unlikely - rumours have abounded over the last year that Whitmarsh and Dennis have been at loggerheads behind the scenes. According to Sky F1 columnist Mark Hughes, Dennis pushed for the team to reintroduce the MP4-27 last spring once it became clear that the MP4-28 was a dud, only to be overruled by Whitmarsh. In view of the team's failure to remedy their faulty car and calamitous season that followed - which, lest we forget, was their worst since 1980 - that seemingly-erroneous decision may have sealed Whitmarsh's fate.
It's also been widely reported that, whereas Whitmarsh wanted to retain Sergio Perez, Dennis and several members of the senior staff aggressively pushed for the Mexican's dismissal before getting their way in October. If so, that mini-victory could be considered to have paved the way for this week's 'coup'.
What happens now?
Dennis will begin his root-and-branch review of McLaren's operations with a decision on the identity of their Team Principal expected next month.
Could Dennis return as Team Principal?
Possibly, but the inside word at this stage is that he is unlikely to do so - in addition to reappointed McLaren Group CEO, he also remains Chairman of the McLaren Group and Chairman of McLaren Automotive, so he's hardly short of day-to-day work to keep him busy.
But if not Ron, who then?
How about Ross Brawn? A proven success story, and out of work since Mercedes failed to assuage his concerns about their management restructure, Brawn would be a particularly useful asset as McLaren prepare to renew vows with Honda - with whom Brawn worked alongside in the late 2000s.
Would Brawn and Dennis countenance working together?
That remains to be seen, but why not? Dennis and Brawn might have been direct rivals for over a decade as the figureheads of Ferrari and McLaren, but, for both, the lure of revitalising McLaren would surely prove irresistible over any working animosity from yesteryear.
How might Dennis' reappointment affect the driver dynamic at McLaren?
Forget any notion of Fernando Alonso returning to McLaren if Dennis - with whom the Spaniard clashed to disastrous effect during his single, destructive season at Woking in 2007 - is back at the helm. In turn, that could be good news for Jenson Button's chances of extending his stay beyond this year.
Assuming Whitmarsh is indeed moved aside, his overt flirtation with Alonso during the dreg days of the season 2013 may in hindsight be seen as a final roll of the dice as he strived to prove he could reverse the tide which had seen a clutch of key personnel - including Lewis Hamilton, Paddy Lowe and Pat Fry - depart during his tenure. Having failed to persuade Hamilton to stay and then demonstrably erred in putting his faith in Perez and the MP4-28, was Whitmarsh finally undone when Alonso rejected a return? Looked at from that perspective, it could soon be argued that Alonso was instrumental in the demise of both of McLaren's Team Principals since the early 1980s.