Enough is enough. Pirelli have to change their tyres after a race bordering on a farce
Sky Sports F1's Martin Brundle on why he has run out of patience with the Pirelli tyres after a confusing and frustrating Spanish GP.
Last Updated: 13/05/13 2:52pm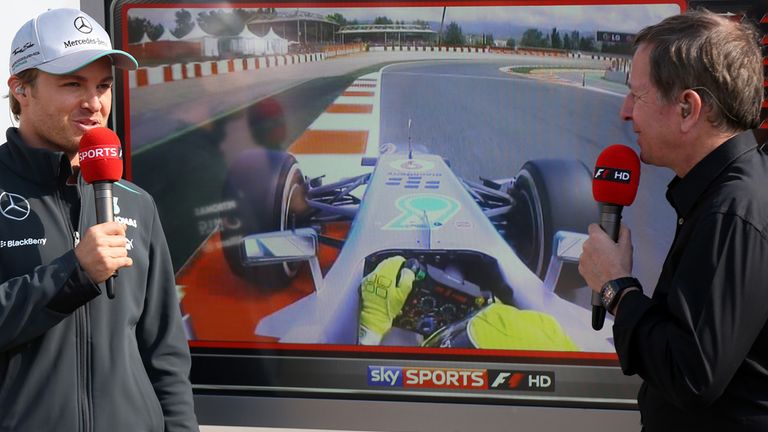 The race was not particularly exciting and with 82 pit stops and multiple strategies, combined with endless messages of 'save the tyres' and 'I can't drive any slower', it was complicated to follow too.
The same Sebastian Vettel who shaved the pitwall as he mercilessly overtook his team-mate in Malaysia was reduced to being 'careful with the left front' and letting people past while keeping the car on line. Gripless World Champions were being passed in the DRS zones as if they had just stepped out of junior racing.
I've tried my best to be supportive of more interesting - albeit to an extent fabricated - motor racing, but it's just gone too far.
Qualifying clearly means nothing these days, just ask the front row Mercedes boys. Only one of the last eight races has been won from pole position. It's all about saving new tyres and then trying not to abuse even those on race day. Pirelli simply have to sort this out.
Ideally, we need tyres which are marginal one or two stoppers, or at worst hovering between two or three stops. In other words the equivalent of a last minute 3-2 football thriller. Back in the Schumacher and Ferrari dominated era we had the equivalent of a partly rained out five-day cricket test match which ended in a draw. Now we have something more like a 102-85 basketball game.
Not every sporting event is a cliffhanger, far from it, and not every motor race can be an all time classic. We've had some interesting and good races this year and so let's not forget that in the post-race fury. But on Sunday if they had all finished it would have been well over 90 pit stops, which was bordering on farce for a dry race using the two most durable compounds in the list of four.
Pirelli say they are doing what they were asked, and I'm still largely supportive of the overall strategy. But now they must do what the fans are asking, which is to make the tyres more durable and consistent so we can get back to comparing drivers and cars.
Fernando Alonso and Kimi Raikkonen managed the challenge in an impressive way, however, even if when we cut to their on-board cameras they looked to be tip-toeing around. Alonso's attack on the first few corners of the race using determination, adrenalin and KERS in equal measures was the highlight of the race for me, passing both Lewis Hamilton and Raikkonen in Turn Three alone. The man has confidence to go with his skill and intellect, not to mention a car which has not mechanically let him down now for a consecutive and record-breaking 60 races.
The alarming trip backwards through the field from second to twelfth for Hamilton left him understandably 'lost'. And judging by his radio calls angry and frustrated too. At least Rosberg salvaged sixth. Even more confusingly he only three-stopped and was quite fast in the closing stages, albeit 68 seconds behind the winner having started on pole.
Even Red Bull struggled. This really surprises me because watching out on track the car looks very good, especially with front grip. Red Bull is convinced this is because their car has so much grip that the tyre simply can't handle it. Christian Horner told me that it was midway through the second stint when they realised a three-stopper was impossible. They had to stop Webber four times anyway to extract him from traffic after a bad start and that worked well.
McLaren had a split strategy but their two cars ended up line astern, although only after Sergio Perez had been effectively told to hold station. I hope they can find a solution for their car and that we won't hear the words 'we've decided to focus our resources on the 2014 car' too soon. The fact that they increased their record-breaking run of 63 consecutive points finishes will be little true comfort.
Most random fact of the day is that Esteban Gutierrez, who started 19th and finished 11th, led the race for two laps and completed the fastest lap of all. Which confirms that there is some potential in the 2013 Sauber to be teased out.
Paul di Resta had another solid race to be first Brit home, and it's a pity that he couldn't launch a late attack on the works Merc of Rosberg.
Next up is Monaco, which couldn't be a more different track layout and demand to Barcelona if it tried. Let's see how the dice roll there.
MB