Jenson Button expects a better performance from McLaren in Spain
Woking team looking to hit back after failing to score points in China
By Mike Wise in Barcelona
Last Updated: 09/05/14 8:42am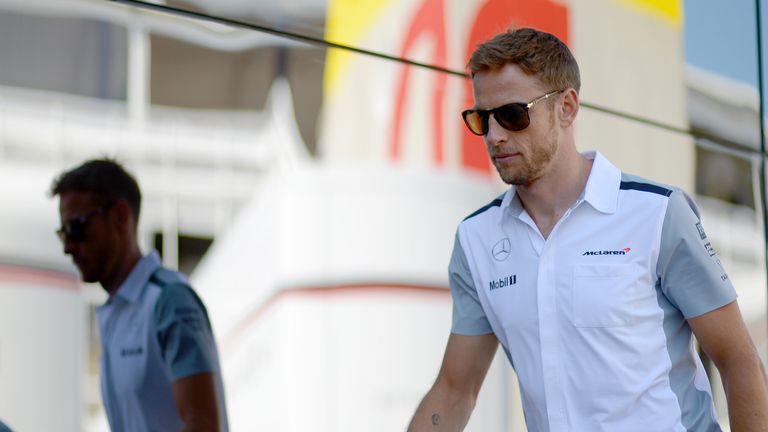 Having led the constructors' standings after the opening race of the season in Melbourne, McLaren have since slumped to fifth with Button and team-mate Kevin Magnussen both trailing home out of the points at the Chinese GP three weeks ago.
The team say the Shanghai International Circuit highlighted a lack of downforce on their MP4-29 and although good aerodynamic performance is seen as crucial at the Circuit de Catalunya, Button reckons the 4.655km track's layout and warmer conditions will help them nevertheless.
"This isn't a circuit like China so it should be better anyway. This is sort of in the middle of Bahrain and China. So even without updates we'd be more competitive," said Button who, like his team-mate, struggled to get his car's front tyres up to temperature in the Far East.
Speaking recently, team boss Eric Boullier said McLaren have targeted an "aggressive" development plan starting this weekend. Button confirmed as much, yet pointed out that they probably aren't the only ones to do so.
"It's a good chunk of upgrade, I'd say, but this is a race that a lot of people bring upgrades to, so who knows if it's going to make us any quicker compared to our competitors?" he asked.
Certainly, Button considers pacesetters Mercedes and Lewis Hamilton well out of range, with the 2009 World Champion doubting whether anyone can challenge the Silver Arrows until much later in the summer.
Furthermore, with his former team-mate chasing his fourth straight win this weekend, Button, who won six out of the opening seven races in his championship year, said comparisons between then and now were wide of the mark.
"If you actually look at it and try and compare, there's no comparison. They are so far in front of the field," he insisted.
"[In] Monaco you might see Red Bull strong and give them a run for their money. It might be possible. But I think, apart from that, it's going to be very tricky for anyone to challenge them over the next sort of six races."
But what of McLaren's own chances of victory? "It does take time," reflected the 34-year-old, who won their last race in Brazil at the end of 2012. "You know, even if we find something amazing in the wind tunnel, it takes weeks if not months to put that on the car.
"You'll see updates from us throughout the year and hopefully getting closer to the front. But we won't be challenging Mercedes here.
"Who knows? Even if you look at what's coming over the next four months, you'd say that we could catch them. But they're not going to stand still; they're going to upgrade the car."