Championship leader Lewis Hamilton mutes critics of move from McLaren to Mercedes
Lewis leading World Championship after four successive victories
By Pete Gill
Last Updated: 13/05/14 7:46am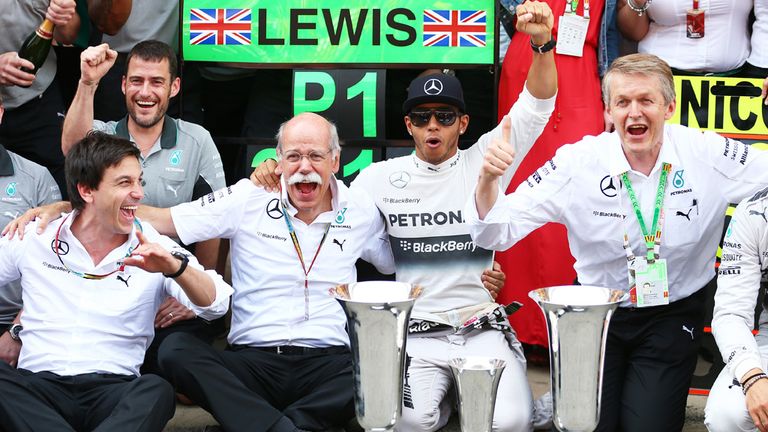 At the time, back in the long-ago world of September 2012 when Red Bull ruled the F1 roost, McLaren were still considered one of the sport's superpowers and Mercedes were derided as mere upstarts, there was precious little support for Hamilton's bombshell decision and even less appreciation of its wisdom.
At best, it was adjudged a risky gamble. At worst, and by many, it was considered career suicide.
Fast-forward barely eighteen months and Hamilton sits atop the Drivers' Championship in the wake of a fourth successive victory in the peerless Mercedes W05 while his former employers are without a point since March. The contrast couldn't be starker - and the vindication of his decision couldn't be any more emphatic.
"I'm not one to rub it in people's faces," Hamilton reflected as he celebrated his nailbiting victory in Sunday's Spanish GP. "I knew that I was in a good place, I knew that I was making the right decision for me and now it should be becoming more evident to people. I'm sure the people that wrote those things had an opinion at the beginning and I'm sure it's changed now.
"There was never a moment that I ever doubted it but of course never could have imagined that we would be having this kind of success."
Who could? Mercedes' domination - bordering on a tyranny, according to one paddock wag - is advancing into unknown territory. After five successive wins at the start of the 2014 campaign, a sixth in Monaco in two weeks' time would be the longest such winning run since 1988 when McLaren won all-but one of that year's races. Given the scale of Mercedes' current advantage over the field, with the third-placed Daniel Ricciardo crossing the line 45 seconds behind Hamilton in Barcelona, a unique clean-sweep is a realistic prospect.
"It's going to be tough for anyone to win a grand prix this year apart from the Mercedes," acknowledged Jenson Button, Hamilton's former McLaren team-mate.
Button, like so many, was a pronounced critic of Hamilton's decision to leave McLaren, telling reporters at the time: "It is his decision, although I personally don't think it is the right decision."
Nobody would dare argue as much now.
Few precise details are known about the chronology of Hamilton's transfer. It has passed into F1 folklore that the Englishman was decisively persuaded to leave the team that had nurtured him through the start of his motor-racing career during a late-night, early-morning summit in his hotel room by Niki Lauda on the weekend of the 2012 Singapore GP.
Hamilton, tantalising, hinted at alternative narrative in the aftermath of his Sunday's victory, revealing he was in fact lured to Mercedes by a vision of a future spelt out by Ross Brawn, the team's former boss, "at the kitchen table at my mum's house".
"This is the idea that I was given," continued Hamilton. "I really, truly believed it was going to happen, but I could never have imagined us to have a 50-second gap to Red Bull in a race. So it's just an exceptional job from the team and I feel truly blessed to firstly be a part of this team, to be contributing, getting the results. This is our fourth 1-2 together, it's just unreal."
For the rest of the field, braced for whom 2014 has already become a long season, Mercedes' supremacy is all-too real.