Lewis Hamilton to start Austrian GP from ninth on the grid after qualifying spin
Mercedes driver to start Sunday's race from the fifth row
By Pete Gill
Last Updated: 21/06/14 10:29pm
Lewis Hamilton's faltering title challenge has suffered another sizeable dent after the Mercedes driver spun out of qualifying for the Austrian GP without setting a timed lap in Q3.
After running off the track at the penultimate corner on his first flying lap in the top-ten shoot-out, Hamilton's second flyer had only reached the entry of Turn Two when he locked up the rear tyres of his Mercedes W05 and lurched into a session-ending spin.
The Englishman will start the race in ninth, far adrift of the pole-sitting Felipe Massa and six places behind title rival Nico Rosberg. The German, whose own attempt to grab pole was thwarted when he had to slow down to avoid Hamilton's spinning W05, has now out-qualified his team-mate in three successive race weekends.
"I'll have to look at the data to see what happened," Hamilton told Sky Sports F1. "I hit the brakes and then just spun. I'm ok - it's a long race tomorrow. We have the best engine so hopefully I will be able to move my way up."
Rosberg, who leads Hamilton by 22 points in the Drivers' Championship, said: "For sure, it stopped me from having a shot at [pole]. I don't know whether it would have worked out or not. I think so."
While Hamilton's undoing in Monaco was a mistake by Rosberg that brought proceedings to a premature close, the Englishman has been the architect of his own misfortune in both of the last two events – making errors in qualifying in both Canada and at the Red Bull Ring this weekend after dominating in practice. The pressure, it seems, is beginning to tell on a driver expected to run away with the title in a car without peer this year.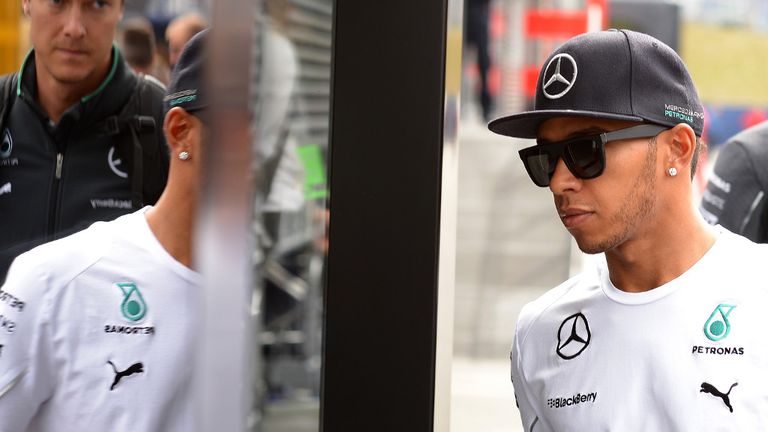 "You can't have it all your way and I don't feel great about it," Hamilton later reflected. "Generally, I've been quite good at qualifying but today wasn't my day. I don't know who is in front of me now but my goal for tomorrow is just to stay out of trouble. This is a circuit where I could have done with being out front but hopefully tomorrow I will make up for it."
Meanwhile, Rosberg, who lines up behind the Williams cars of Massa and Valtteri Bottas, is hoping his car's set-up will hand him a decisive advantage in the race.
"It's definitely a handicap to start third and it's going to be difficult because the Williams has the same engine as us, they have the same top speed," he said.
"My set-up is very much for the race and I would assume that they've gone a bit more qualy set-up, looking at their pace and their work also this morning in P3.
"Hopefully I'm right and the chance will be there. But I don't know how easy or difficult it's going to be to overtake. The first stint will be interesting also, because the rear degradation is going to be huge on the option, so that's one opportunity."
Adrift of Rosberg again following his race retirement in Canada, Hamilton admitted earlier this week that he couldn't afford to make any more mistakes in his quest to land a second World Championship.
"I'm still totally confident I can overhaul the 22-point advantage my team-mate Nico Rosberg has over me now, but it has become even more apparent than it already was that I need to be finishing every race," he wrote in a blog on his personal website. "Twenty-two points is still catchable, especially as we have effectively 13 races still to go with double points at the last race, but another situation like that and that gap might start to get too big."
Around the hills of the Red Bull Ring, Hamilton has given himself another mountain to climb, but he's relishing the challenge.
"I'm just going to try and have fun," he added. "I'll try and stay out of trouble amongst all the cars where I am and just take my time.
"It's a long race tomorrow and with strategy and all these different things, it's not going to be easy for sure. I've got very quick cars in front of me and it's great to see Williams so fast today; it's really good for them to have the front row.
"Sometimes it's other people's turn but hopefully tomorrow we'll still have a good race."
This weekend's Austrian GP is live only on Sky Sports F1. Race Day coverage begins with the Track Parade at 11.30am on Sunday