Driver reaction - Day Three
What the men in the driving seat had to say at the end of Day Three of testing in Barcelona.
Last Updated: 03/03/12 6:16pm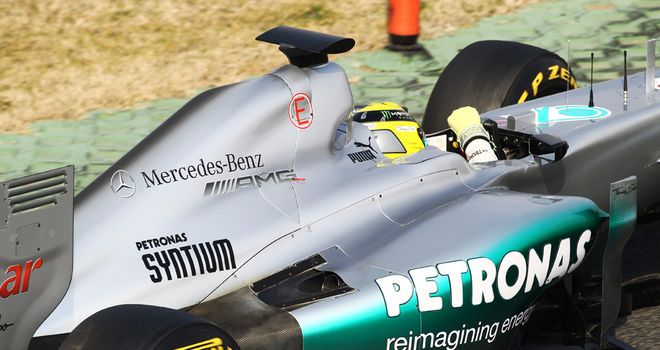 A rundown of what the drivers in action on Saturday at the Circuit de Catalunya, some competing in their final sessions of the winter, had to say about their days...
Sauber's Sergio Perez: "I am very happy with how my final test day went. We did an intensive programme with qualifying and race preparation, which was important to do. I think we have demonstrated that the car has developed well over the testing period. The team has made the most out of all the information we have collected and certainly is in good shape. Also personally I feel ready for Melbourne."
McLaren's Jenson Button: "When you get new parts, you want to go out and put lots of laps on it in order to compare it to what you had previously - but we weren't able to do that today. We had a hydraulics issue in the morning, which meant we didn't do much running. So it wasn't the easiest morning - and then we didn't do much running in the afternoon either because of the rain. We put a couple of good laps in but didn't get any set-up work done - because of the rain. It was nice to drive the new package, and I have a good feeling about it, but I need to work with it for a bit longer to find the right balance for it. Hopefully, Lewis will put some more laps on the car tomorrow."
Toro Rosso's Daniel Ricciardo: "A good day with my highest number of kilometres of the season, which is perfect preparation for Melbourne. I enjoyed the race simulation and we treated it like a real race when the rain came, with my engineer asking me on the radio to make the call about when to come in for tyres and which ones to fit. So it was good to have to make decisions and also to experience Pirelli's intermediates and rain tyres."
Caterham's Heikki Kovalainen:"A pretty good day. We were able to complete this morning's plan and we have found a good direction on setup that is giving me real confidence in the balance which is what we wanted before we head to Melbourne. The afternoon session was cut short by the rain but not before we had finished the tests we wanted to do on start procedures, pre-race programs and all the background checks you have to get done over the winter tests. I think we've now caught up with the time we lost last week so now we need to make sure Vitaly has a good day tomorrow and put us in the best possible shape for the first race in just over two weeks."
Mercedes' Nico Rosberg: "I'm happy with my pre-season testing programme, and I believe that we have made a step forward from last year. I have been able to achieve a lot of mileage which shows that the car is very reliable, and as a driver, I feel ready now for the first race in Melbourne. Unbelievably in the last hours of my test today, it was raining! So I have also been able to experience the car in the wet. Now it's exciting to go to the first race and see where we are compared to the others. Finally all the talking stops and the racing starts when we get to Australia."
Williams' Bruno Senna: "Today was a very good day. We completed some runs on lower fuel, which I hadn't done before, using all the different tyre compounds. I was then able to do a full race simulation this afternoon, to learn more about the car and tyres in a race situation. We have a lot of valuable information to look at now, which will enable us to improve for next time. Unfortunately we had to cut our race simulation a bit short due to the rain, however we still met all our objectives for the day."
Force India's Paul di Resta: "It was my final day in the car before the first race and it was a full programme with a race distance in the afternoon. It's good to get an impression of the car during continuous running and also to try and replicate the tyre compounds we expect to use in Melbourne. We've identified some more areas where we can improve in terms of balance, so that's something to work on overnight before Nico gets in the car."
Lotus's Kimi Raikkonen: "It was good to get in the E20 after missing testing last week. We had an issue with the power steering in the morning then we didn't run in the wet, so it was quite a short time for me in the car today. At least we got some runs. The car was reliable when on track meaning we gained some good data for the team. Hopefully the weather will be better tomorrow and we can complete more laps."
Red Bull's Mark Webber: "We had a pretty good run today and once again we learned a lot," he said. "However, I suppose the thing that everyone's obviously asking about is the changes we made to the car but I have to say the car was not massively different to the one I drove on Thursday. We went through our normal programme, nothing drastic happened, and we just keep working away. It would have been nice to have a few more laps today but then again we didn't have a race simulation planned, so the rain didn't really hurt us.
"For me the next stop now is Melbourne and I'm looking forward to that. It's always good to drive out of the pitlane there. Racing's what we're all here for and while testing is good, it's nice to be on track all at the same time, all with the same window of opportunity to deliver - that's what we love doing. I'm looking forward to that weekend unfolding, and the rest of the races. It'll be good to get the season going."