Toro Rosso not predicting how test in Bahrain will go after Jerez mileage woe
Team also confirm reverse driver schedule compared with first test
By James Galloway
Last Updated: 13/02/14 10:24pm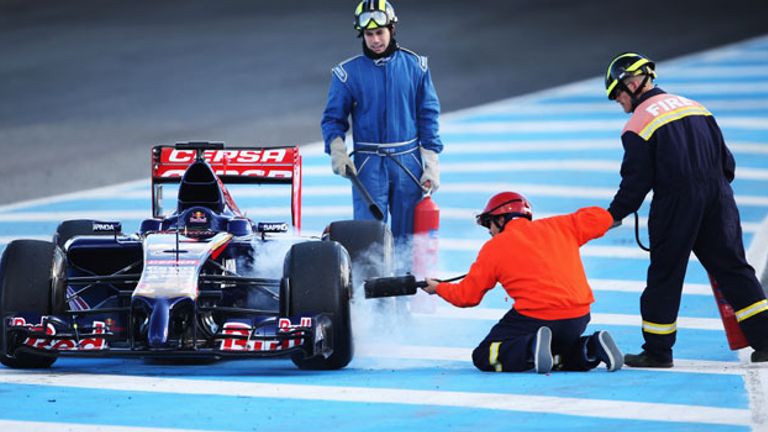 Having ended their seven-year association with Ferrari and aligned themselves with senior sibling Red Bull for F1's new engine era by switching to Renault power, Toro Rosso were affected by the problems with French manufacturer's troubled new turbo power unit at the opening 2014 test.
In all, Toro Rosso completed just 54 laps across the four-day session and now need to recover the lost mileage to their rivals across the back-to-back tests in Bahrain, the first of which begins on Wednesday February 19.
'How do we expect to get on at the tests? Clearly, after the first four days in Jerez, that is a complete mystery,' a statement on the team's official website read.
'Suffice to say that everyone in Faenza, Bicester and Viry, the latter being home to our Power Unit supplier, has been working flat out.'
Toro Rosso also became the first team to confirm their driver plans for Bahrain, with the Italian outfit to run a reverse schedule to Jerez.
'For the first of the two tests in the desert, Daniil Kvyat will drive on the first and third days, with Jean-Eric Vergne at the wheel for days two and four,' the team confirmed.
The Bahrain testing double-header represents the first time that F1 has held an official group test outside Europe since the Sakhir circuit was used by Ferrari, BMW and Toyota in February 2009.
Toro Rosso underlined the logistical challenges presented by the trip to the Middle East, with the second test ending exactly two weeks before the first race of the season in Australia.
'At Toro Rosso, the planning for the two Bahrain tests is as complex as it would be for a Grand Prix and definitely more difficult to organise than a short hop down to Jerez or Barcelona,' the team explained.
'We will be sending 25 tonnes of equipment to Sakhir with nearly all of it then moving straight down to Australia, where it will find a further three tonnes of material joining it directly from Italy. The car that will be used over a total of eight days testing in Bahrain, will return to Italy before heading down to the Antipodes.'
Ask Crofty returns as part of Sky Sports' coverage of the first Bahrain test. See the full schedule here.
The Sky Sports F1 Online team will be providing live commentary of all three winter tests with live updates from trackside also on Sky Sports News. The next test, in Bahrain, begins on Wednesday February 19.