Mercedes in profile
Last Updated: 21/01/16 4:16pm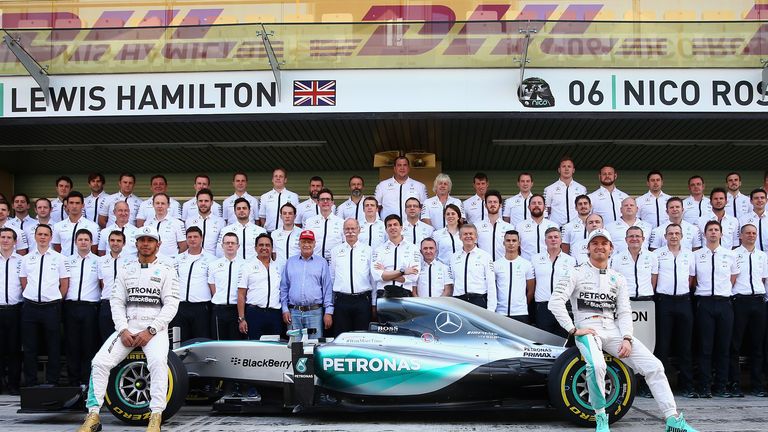 Mercedes have established themselves as the dominant force at the start of F1's new turbo era, winning 32 of the last 38 races in the process of winning back-to-back title doubles.
Reigning drivers' world champion Lewis Hamilton and Nico Rosberg, who finished 2015 in resplendent fashion by winning the final three races, will continue to drive for the team in 2016 when they are expected to be met with stiff opposition from Ferrari. 
In truth, it was a surprise to many that more immediate success didn't arrive on Mercedes' return to team ownership in 2010, particularly as they bought newly-crowned double world champions Brawn GP.
The ingredients for glory seemed to be in place: a manufacturer giant writing the cheques, a multiple championship-winning team boss in Ross Brawn in charge and the return of F1's most successful driver Michael Schumacher behind the wheel after three years in retirement.
But what will now be known as 'the Schumacher years' from 2010 to 2012 proved an undoubted letdown. With the seven-time world champion, now in his forties, not the force of old, Mercedes failed to produce a car capable of regularly challenging Red Bull, McLaren and Ferrari.
A first win for the German manufacturer as a team owner since the famous 'Silver Arrows' of 1955 did finally arrive - at the 41st attempt - at the 2012 Chinese GP, courtesy of Rosberg. But that performance proved the glorious exception rather than the more mundane rule and having delayed a decision on his future, Schumacher was effectively bumped into permanent retirement as Mercedes pulled off the coup of luring 2008 world champion Hamilton from McLaren.
A stunning run of pole positions - eight out of nine from China to Belgium between Hamilton and Rosberg - underlined the 2014 car's single-lap prowess, but only three of those were converted into race wins - at Monaco, Britain and Hungary - with the W04 at times experiencing chronic tyre degradation over the longer Sunday distances. Nevertheless, a runner-up finish to F1's standard-bearing team confirmed that concrete progress had finally been made.
The departure of the vastly experienced and respected Brawn ahead of the 2015 season left what Mercedes non-executive chairman Niki Lauda himself admitted was a "big hole" for new joint bosses Paddy Lowe and Toto Wolff to fill. But it was immediately apparent that Mercedes were starting F1's new turbo era with a vast competitive advantage, with the W05 consistently a second faster than the opposition and Hamilton and Rosberg instantly installed as champion favourites.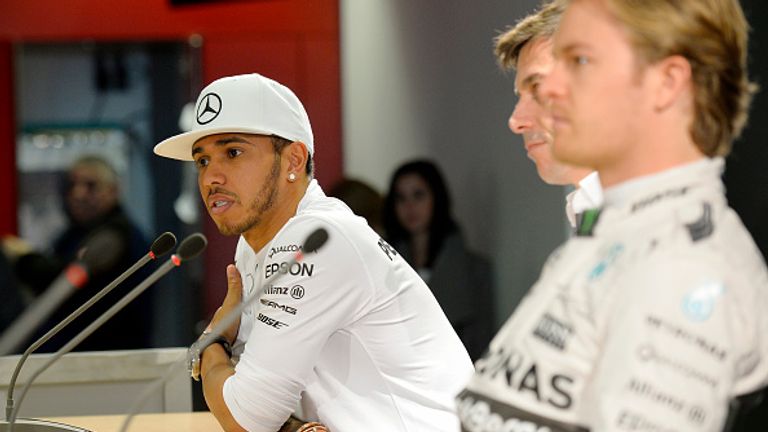 Mercedes' on-track dominance inevitably saw team-mate pitted against team-mate but Wolff and Lowe successfully managed to control both drivers as they duelled for the title, even if Wolff did admit he become weary of making sure Hamilton and Rosberg felt equal. The radio dispute in Hungary and the coming together at Spa-Francorchamps were the only major public rows of a fight that could have undermined Mercedes' remarkable dominance. Eleven one-two finishes and 16 race victories made the recent Red Bull years look competitive as the Silver Arrows set a new record for wins in a season with Hamilton securing the Drivers' Championship in the season finale at Abu Dhabi.
2015 proved to be an even more dominant year for Mercedes and a far smoother passage to the championship for Hamilton, who wrapped up his third title with three races remaining. While Hamilton became the first British F1 driver to successfully defend his title, Mercedes' record-breaking feats included 16 race victories, 15 front-row lockouts and 86% of the total points on offer.
Can the best keep getting better in 2016?