Mayo's agony continues after defeat to Dublin in All-Ireland final
By Sean McCarthy
Last Updated: 01/10/16 9:42pm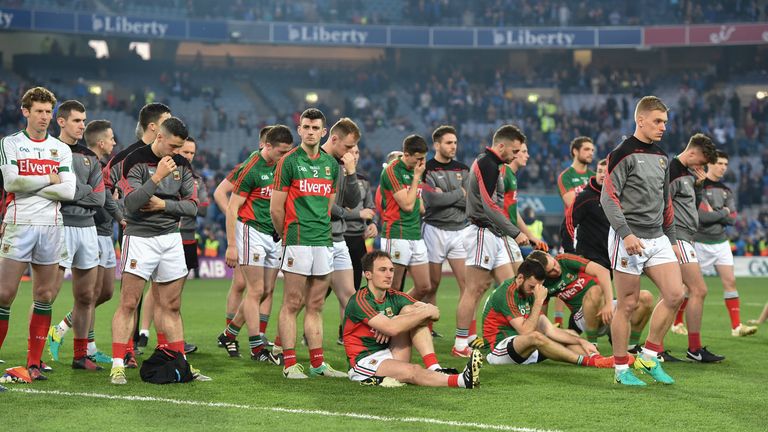 Mayo's heartbreaking quest to bring Sam Maguire back west will go into a 66th year after their 1-15 to 1-14 loss to defending champions Dublin in the All-Ireland senior football final replay.
Croagh Patrick in Mayo is considered the holiest mountain in Ireland. It's a 764 metres uneven ascent to the top where, on a good day, the views over Clew Bay and out to the Atlantic are breathtaking. 
There's a church at the top and to keep the kids quiet while they listen to mass outside on the loudspeakers, you can tell them a white lie and say if you look hard enough, you'll see the continent of north America.
That's on a good day. On a wet and windy day, the rain soaks you to the bone and makes you question not just your religion but also your sanity.
For 65 years now, Croke Park has been mainly a wet and windy day for the Mayo senior footballers and today was no different.
The pilgrimage to GAA headquarters for an All-Ireland final has happened eight times now since Mayo were last champions of Ireland, with five of these visits since 2004.
The blind faith that leads their supporters in hope that this final will be the one where they finally bring Sam Maguire back west will continue for another year at least.
The expert views leading up to this were divided into two camps. One was that Dublin would not play as bad as they did in the first game, the other was that Mayo's defence was the reason the champions' attacking powers were reigned in. 
There was a lot of truth in both statements. It only took Dublin's Dean Rock 15 minutes to match the four points he scored in the first game for example and Mayo's defence was again hard for Dublin to break down, but the loss of Lee Keegan to a black card was a massive blow to their hopes.
The term 'bottlers' has been attached to Mayo for two decades now like a harmless but annoying skin tag, so visible it's hard for anyone to divert their gaze while talking to them.
Stephen Rochford's side came back from five points down at half-time (through two own goals) and three points down after 67 minutes to force this replay. That isn't the characteristics of bottlers and today they again put it up to Dublin and could have forced the game into extra-time.
However, it wasn't to be because this Dublin side are addicted to progress and now, with back-to-back titles, no-one can deny them their place as the best team to play Gaelic football for the last twenty years.
A lot of these Mayo players have at least three losing All-Ireland finals on their CV. Alan Dillon has five with Keith Higgins and Andy Moran on four now.
The 'curse' of 1951 continues, when the winning Mayo team apparently failed to show the appropriate respect to a passing funeral and were subsequently cursed by a priest who announced that so long as any of the victorious squad were living, Mayo would never win another All-Ireland.
There are currently two surviving members from the 1951 squad alive. Whoever's funeral that was must have been a very important person. 
Mayo are going to be the main contenders to Dublin for the next few years. Their supporters have become accustomed to this feeling of failure but there is plenty of Sunday's left in this panel and manager Stephen Rochford will learn a lot from his first season in charge.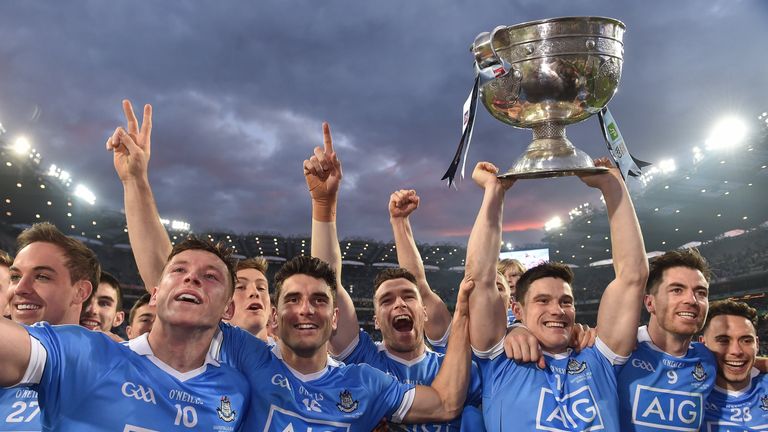 Don't be surprised if both these sides are back in Croke Park on the third Sunday in September in 2017.