GAA: Donegal manager Jim McGuinness thrilled with Ulster final win over Monaghan
Last Updated: 21/07/14 11:41am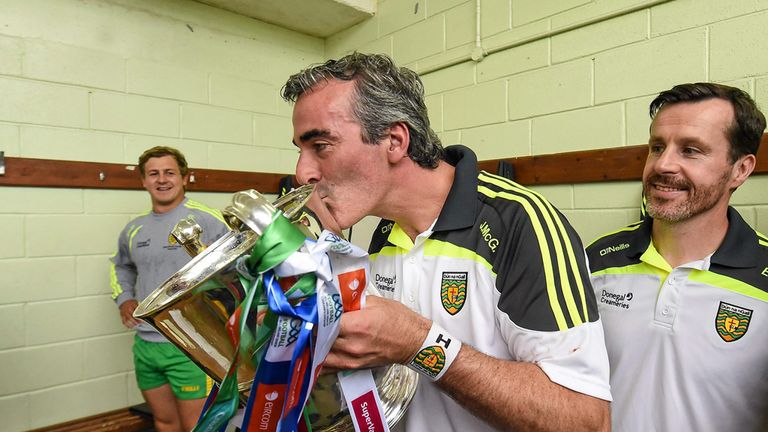 Jim McGuinness felt Donegal's latest Ulster triumph exceeded their All-Ireland win of 2012.
The Tir Chonaill County lifted the Anglo-Celt Cup for the third time in four years with a 0-15 to 1-9 win over defending champions Monaghan in Clones.
Blood and dust was the order of the day; the superb point-taking of Patrick McBrearty and the sweet, streetwise running game of the latest McHugh to star for Donegal were among the more refined pleasures.
Donegal led from the first bell until the last and Monaghan got inside their shirts, but not their minds.
We were absolutely wrote off a week out from the Derry match and we're Ulster champions today.
Jim McGuinness
"I think it's our best victory in terms of the questions that were being asked of us and what was being said about us, and had the boys got the stomach for it," said McGuinness.
"I think they proved today. I think it's our best victory because of the circumstances and because what surrounded it.
"We went into the All-Ireland final after winging Ulster, beating Kerry and beating Cork and we won our All-Ireland.
"Here, we were absolutely wrote off a week out from the Derry match and we're Ulster champions today. We were demoralised in Croke Park in the quarter-final last year. So to go from that point to put in a performance..."
Opportunity
No Donegal team had beaten a Monaghan championship outfit since 1983, and this was the first time the Farneymen lost a match in Clones in 16 games.
Donegal were organised, ravenous and composed from beginning to end. Even after Chris McGuinness rattled their nerves with a brilliant goal from nothing in the 50th minute, Donegal tapped into the memory bank. They stuck with the plan and fired off three points in a row.
"That's right, the goal got us right back in the game and we wanted to push on at that stage and take the opportunity," said Monaghan manager Malachy O'Rourke.
Instead, they got tangled up in web. Chief among Monaghan's persecutors during that period was Patrick McBrearty. The Kilcar forward didn't start but responded to the disappointment by landing three heartbreakers from downfield.
Monaghan were up for this but couldn't summon up the magical fusion of opportunism, courage and divine point-taking with which they claimed the championship last year.
Afterwards, McGuinness wrapped his long arms around his backroom men, all three of them team-mates from the era when Donegal habitually lost these showpieces.
"Delighted for Paul McGonagle, Damien Diver and John Duffy," said McGuinness. "They've waited a long time for this. They've won their Ulster championship now.
"I'm not sure how many they've lost between them – it must be close to 15 but they've got their hands on it now. It's fantastic."