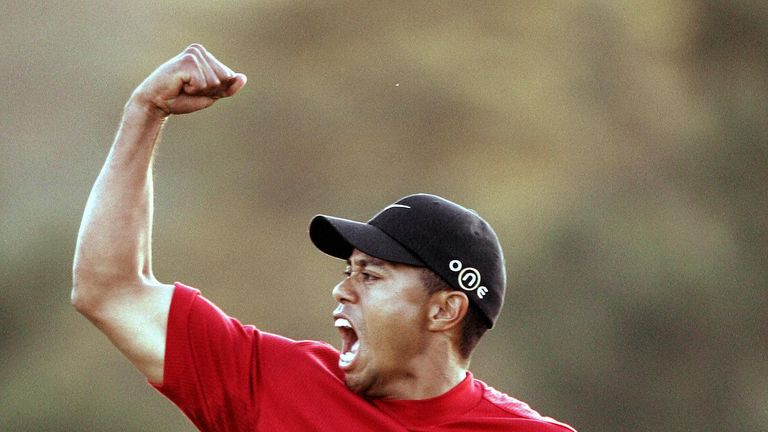 As the countdown continues to Tiger Woods returning to action at the Hero World Challenge, we look back on three of the best examples of how his short-game set up huge victories ...
The Memorial, 1999
Locked in a battle for the lead with one of his fiercest rivals, Vijay Singh, both contenders were in trouble at the 14th as they faced testing chips just to get up and down for bogey.
But while the Fijian managed to limit the damage to one dropped shot, Woods went one better despite the odds being stacked against him as he sized up the difficulty of his pitch.
There was no margin for error with the green sloping away from him and water lurking behind, but Woods landed his ball in the fringe and looked on in anticipation as it broke sharply from right to left and dropped into the cup, prompting a trademark fist-pumping celebration from the eventual champion.
The Masters, 2005
Arguably the most famous chip-in for birdie in Masters history. Woods over-hit his tee-shot at the short 16th as his final-day duel with Chris DiMarco reached a huge turning point.
Woods picked out a spot on the green 20 feet to the left of the hole, figuring the ball would role down the slope and finish within three feet of the pin for a comfortable par.
But he judged the pitch to perfection, and his ball trickled towards the cup and almost came to rest on the lip before dropping in for a miraculous birdie two.
The Memorial, 2012
Even Jack Nicklaus was rubbing his eyes in disbelief after Woods hit the best flop-shot of his career at a vital moment on his way to winning for the fifth time at Muirfield Village.
Woods was furious after dumping his tee shot to the short 16th into dense rough, leaving him a delicate pitch from a downhill lie to a green sloping away from him and water beyond the pin.
But he landed the pitch on a sixpence and exploded in celebration when his ball dropped for a remarkable birdie, prompting Nicklaus to say: "I don't think, under the circumstances, that I've ever seen a better shot."