Haye vs Bellew: David Haye says Tony Bellew must change tactics to avoid brutal defeat on March 4
By Richard Damerell
Last Updated: 18/02/17 10:06am
David Haye says Tony Bellew will suffer a "brutal" defeat if he does not make dramatic changes to his usual fighting style.
The 36-year-old former heavyweight champion has flown back to Britain today ahead of his grudge fight with Bellew at The O2 on March 4, live on Sky Sports Box Office.
Haye has dismissed Bellew's criticism of his training camp in Miami and insists the Liverpudlian needs to have drastically altered his own tactics to avoid a swift stoppage defeat.
"I don't know what he is going to do," Haye told Sky Sports News HQ. "I'm looking forward to seeing, I hope he does bring his A-game.
"I hope he does do something I'm not expecting, because if he doesn't, if the usual Tony Bellew turns up, it's going to be pretty brutal, pretty fast. It's going to be very bad for his health."
The bitter rivals were involved in a physical clash at their last press conference, but Haye intends to pay little attention to Bellew when they are reunited in fight week.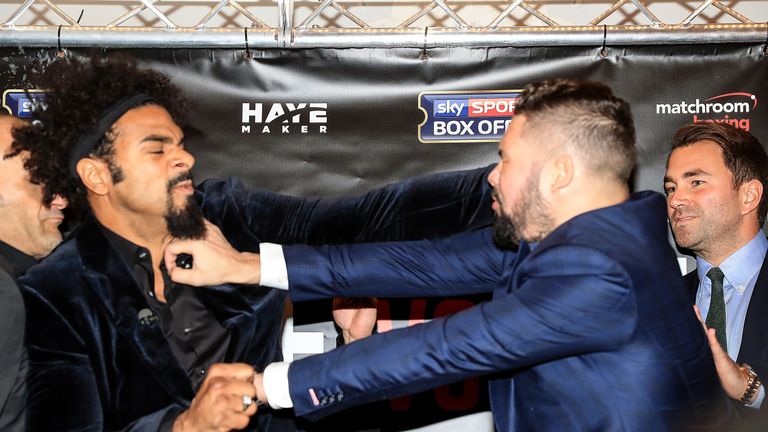 "I'm in a really happy, positive place and I'm not looking forward to his dark energy coming," said Haye.
"If you just listen to him, he's just angry and moaning and moody. I don't like that vibe. I like to stay well away from negative people as possible and he's very negative.
"Come the fight, you're going to see the darkness versus the light and you're going to see someone who is really, really positive, someone who is sharp, who watches their diet, who really takes care of themselves versus someone who - you just look at his physique - it says all you need to know about him.
"He doesn't live the life. He says he does, he talks it, but look at his body and you can see you have obviously been eating something you shouldn't.
"He obviously wasn't training as hard as he should have been. If I didn't train and I just ate junk food all day long, I would have the same body as he would, that's plain and simple."
Watch David Haye vs Tony Bellew at The O2 on March 4, live on Sky Sports Box Office. Book the event online here.