A pinsticker's guide to the 2013 Grand National line-up
A-Z guide to this year's Grand National field.
Last Updated: 05/04/13 9:26am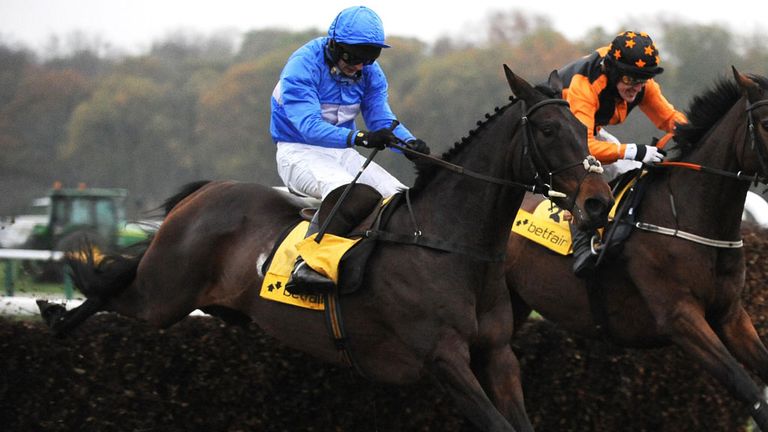 Always Waining: Has turned up at Aintree in shocking form for the last three years and then proceeded to romp to victory in the Topham Chase over the big fences. This race is almost two miles longer however and Always Waining may indeed be waning by the finish. 3/10
Any Currency: Tried his luck over these fences in December but unseated at the 15th and has not done much in two runs since. Don't waste any currency on him! 1/10
Auroras Encore: Ran a stormer to lose by a head in the Scottish National last year but it's all gone disastrously wrong this season and a repeat is unlikely from Encore. 0/10
Ballabriggs: Hero of the hour two years ago when he won this race by just over two lengths but things were very different back then, what with the Euro in meltdown, the British economy tanking, the coalition government hugely unpopular and Manchester United winning the title. The world has moved on now... maybe. 4/10
Balthazar King: Has been enjoying life on the cross-country circuit lately but also won a good handicap at Cheltenham last autumn. Comes here nice and fresh, represents a top team in Philip Hobbs and Richard Johnson, and should go well on the ground so plenty to like here. 8/10
Becauseicouldntsee: Has fallen in this race two years running and has been 'enjoying' a QPR-style 2012/13 campaign. Showed a bit more last time, but very tough to fancy. 1/10
Big Fella Thanks: Lovely horse who has completed three times in the National but finishing positions of sixth, fourth and seventh suggest he does not quite have what it takes at the business end. 3/10
Cappa Bleu: Stayed on for fourth in this race last year and shrewd trainer Evan Williams has been planning his 2013 bid ever since that day. Got close to an in-form winner on his prep run and, still at a double-figure price, must be worth an each-way punt. 9/10
Chicago Grey: Carrying an absolute dream weight, having won a Grade Two event since the weights were published. Quite a short price now though, may want the ground a bit softer, and jumping not always perfect. 5/10
Colbert Station: Strongly-fancied Irish raider who is massively on the upgrade and has AP McCoy on board but has not run over fences very often and may find this all too much at this stage of his career. 5/10
Forpadydeplasterer: 'A good two-and-a-half miler can win the National,' say the sages as they knowingly stroke their chins. Unfortunately, the sages haven't backed the National winner since the '60s so give Pady a miss. 2/10
Harry The Viking: Part-owned by Sir Alex Ferguson and would therefore be a very popular winner indeed among the watching Liverpool public. They can relax as he's been in shocking form this season. 0/10
Imperial Commander: One of the best chasers of recent years, winning the Gold Cup in 2010. Proved he is no back-number when second at Cheltenham in January but that is very much his track and lumbered with top weight here. 4/10
Join Together: Represents last year's winning Paul Nicholls/Daryl Jacob combination and not without a chance as he can jump these fences, but throws in the odd nightmare run and may not be the type for this. 3/10
Joncol: Used to be a real class act but the Wars of the Roses were still raging in those days and it's now a different story. Won't stay this trip either. 0/10
Lost Glory: Wins a lot of races and trained by master handler Jonjo O'Neill. This a different kettle of fish from what he's used to and he may not love it but not the worst 50/1 poke ever. 6/10
Major Malarkey: Has crept into the field at the foot of the weights but has been pulled up four times since he last won and that's not the profile of a National winner. 0/10
Mr Moonshine: Hasn't won for ages, probably won't stay, and hasn't done much on his recent starts. You'd have to drink a crate of moonshine hooch to fancy this one. 0/10
Mumbles Head: Bit of an oldie now and not really a golden one. Fell at the first when he last tried these fences but hopefully he'll make it round this time. 0/10
Ninetieth Minute: If Fergie turns up to watch his horse, he surely won't be able to resist having a few pennies on this one. Money normally goes to money but this lad hasn't done enough this season to suggest his backers will be collecting. 1/10
On His Own: On His Own by name and on his own by nature too when it came to the ante-post betting on this race. Loads going for him and has big-race king Ruby Walsh on board, but hasn't got round in three of his last six so far from a good thing. 6/10
Oscar Time: Second in this two years ago but lightly raced since due to injury and not much has gone right when he has turned up. Has not actually finished ahead of another horse in three runs this year. 0/10
Quel Esprit: Has a touch of class but that just means he's got a lot of weight, and out of sorts this season. Quel Esprit dans le sweepstake? Sacrebleu! 2/10
Quizcover Fontaine: Fell in this last year and not much to show for his efforts this season but has a fourth in an Irish National to his name, and Willie Mullins has decided to give him another crack at this. Could stay on for a place. 6/10
Rare Bob: Ran a cracking prep race and another Irish raider who is very well weighted if on song. Has a squeak but his penchant for jumping blunders is concerning. 4/10
Roberto Goldback: Brilliant at Ascot in the autumn but things then went downhill faster than Franz Klammer. Better ground may bring a revival but stamina to prove as well. 3/10
Saint Are: Built like a National winner but doesn't jump like one. A relative youngster too and needs more battle seasoning. 2/10
Seabass: Katie Walsh is bidding to become the first woman to partner a Grand National winner and there's nothing fishy about her chances on Seabass. The 10-year-old was third last year and suggested he can improve on that when third in a key trial for this last time. Has quite a big weight but that's really the only negative. 8/10
Soll: Won well at Sandown last time but that was on heavy ground and didn't cut much ice in two far better races previously. 2/10
Sunnyhillboy: Looked the winner all the way last season, only to get caught on the line. A couple of poor runs this term can probably be ignored and could definitely be a factor, but he's up in the weights and last year may have been his big chance. 7/10
Swing Bill: Has got round on his last two runs over the big National fences and could well do so again but well beaten into 10th last term and will find it hard to better that at the age of 12. 1/10
Tarquinius: Three very good runs out of his last five but was beaten by almost 70 lengths last time, which is obviously a worry. He's a big price though and could surprise if this is a going day. 6/10
Tatenen: Hampered when he unseated in this race last year and could get round with a bit more luck but best form at trips just short of three miles, so it's not going to happen for him over four and a half. 0/10
Teaforthree: Progressive stayer whose prominent racing style should be suited to this but suddenly flopped at Haydock last time. That's a negative but reportedly he was under the weather and he should go well based on his overall record. 7/10
The Rainbow Hunter: Looked good at Ascot in November but jumping errors have slipped in on his last two starts, which doesn't bode well. 1/10
Treacle: Stays longer than the in-laws, pretty consistent, lightly raced this season and triumphed last time out. Fell at the 10th last year but, if he gets round, he could be the most dangerous outsider. 8/10
Viking Blond: Extremely likely to improve on last year, when he came down at the first, and a couple of fair runs this term, but hasn't actually won since his novice days. 2/10
Weird Al: Top class form earlier in his career but as fragile as a Ming Vase and has lost the plot this year, pulled up on both his starts. 0/10
What A Friend: Has a huge weight here despite the fact he has not won since April 2010 and was beaten over 30 lengths on his sole run this term so far. Up against it. 0/10
VERDICT:
Irish horses dominate the betting but there are plenty of Brits in with a chance too and Balthazar King and CAPPA BLEU look sure to go close, with the latter tipped to improve on last year's fourth.
Treacle is an outsider with a bit of a squeak and his fellow Irish raider Seabass will hopefully run well once again too.
1 CAPPA BLEU
2 Balthazar King
3 Treacle
4 Seabass