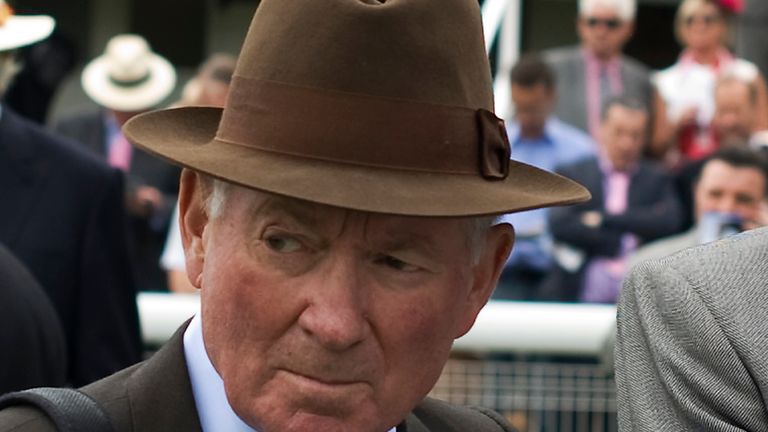 Two horses trained by Barry Hills have been named among a total of eight horses that tested positive for morphine as the British Horseracing Authority announced the disciplinary panel hearing will take place on September 25.
The horses concerned are Soul Intent and Jolly Red Jeanz, who failed drugs tests after winning at Epsom and Chester respectively in July.
Veteran trainer Hills came out of retirement to take over the running of his late son John's stables after his death three months ago.
The BHA revealed that seven of the eight cases, involving five trainers, were sufficiently similar to be heard together.
The BHA is satisfied that the source of the positive samples was a contaminated batch of feed and that the trainers took all reasonable precautions to avoid breaching the rules of racing.
No financial penalty will be imposed upon those trainers involved, but their horses will be disqualified from the relevant races.
The BHA confirmed the seven horses which tested positive, the highest profile being The Queen's Estimate, trained by Sir Michael Stoute, after she finished second in the Gold Cup at Royal Ascot.
Russian Realm is the second horse trained by Stoute caught up in the case.
The other horses are Tony Carroll's Ocean Legend, Gay Kelleway's Royal Alcor and Strath Burn from Charlie Hills' stable.
The eighth case involves trainer Eve Johnson Houghton.
While that is also related to feed contamination, the BHA has said there are differences in the circumstances and this case will be heard separately in due course.
Her horse is Charlie Wells, who tested positive after winning at Chepstow in June.
The BHA has not ruled out the possibility of further positive samples of morphine being detected, but said there are currently no indications of any additional positive samples.
Feed suppliers Dodson & Horrrell have undertaken a full investigation into the case.