Two new fence designs are tried on the Grand National course at Aintree on Saturday
Aintree officials expect there to be no noticeable difference when two new fence designs are tried on Saturday.
Last Updated: 07/12/12 3:56pm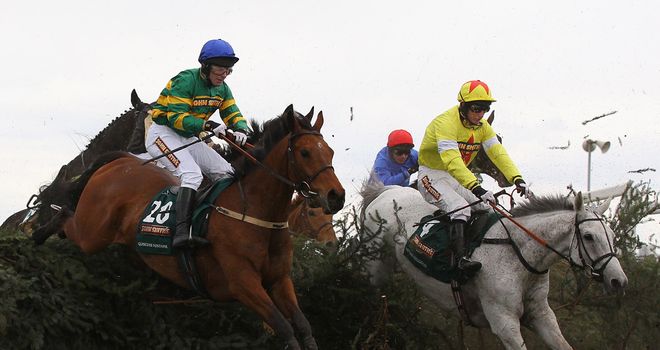 Four obstacles have been rebuilt with softer cores, and will be used for the first time in the Betfred Becher Handicap Chase and the Betfred "Goals Galore" Grand Sefton Handicap Chase.
To the naked eye they will look the same but should not be as hard on the horse if the top spruce is knocked off during a race.
Clerk of the course Andrew Tulloch insisted this experiment had been in the pipeline for the last couple of years and not down to the review by the British Horseracing Authority and Aintree following the John Smith's Grand National in April.
Two horses died for the second successive year prompting the review and a package of measures aimed at addressing public concern.
"This is something we've been looking at for the last two or three years," said Tulloch
"We've been looking at the timber frames which we've always had on the National fences and we're just trying to come up with an alternative which, should the spruce be removed from them during racing, would provide a slightly softer option if any horses then jumped a bit too low.
"The issue is to try to keep the fences up to height and have between 14 and 16 inches of spruce. If any gets knocked off, any subsequent horses further back in the field will be jumping over a softer frame than the timber frame which they would do traditionally.
"This is one of the things I am more excited about because I think it will, if successful, make quite a bit of difference as when horses leave a leg they are not hitting a timber core and tipping up.
"Since the National we've spent another £100,000 putting in additional pop-up irrigation. We don't stand still."