Kauto Star leaves Ditcheat
Kauto Star has left the care of trainer Paul Nicholls as he prepares to embark on a dressage career.
Last Updated: 12/12/12 8:21am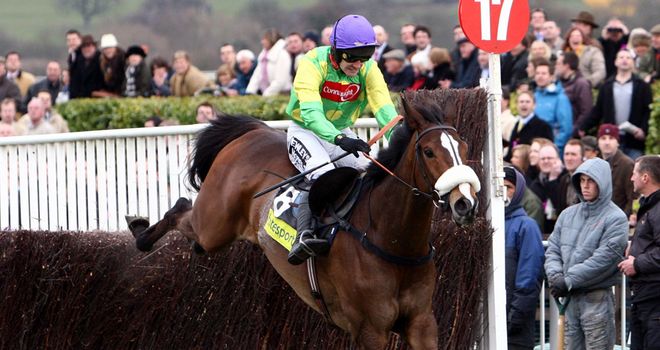 The winner of five King George VI Chases and two Cheltenham Gold Cups had been officially retired in late October and was expected to remain with Nicholls Manor Farm Stables in Somerset until Boxing Day, when he was due to parade at Kempton.
However after owner Clive Smith announced on Monday that the 12-year-old would be moving away to be prepared by European bronze medalist eventing rider Laura Collett and long-time Great Britain manager and coach Yogi Breisner for a new career in the world of dressage, Nicholls and his team took the decision to ask Smith to remove the horse from his yard.
The winner of 19 races for the stable, including four Betfair Chases and two Tingle Creeks, Kauto Star had been with Nicholls for eight years and was still being reguarly ridden out by his head lad Clifford Baker.
"It is with great sadness that I have to report that Kauto Star has left the yard for the last time," Nicholls said in his Betfair column.
"It has been no secret that Kauto's future has been a great source of debate since we announced his retirement.
"And, to be brutally honest, this morning I felt the time had finally come for me to take control of the situation, and to start making the decisions.
"Now, I am fully aware that Kauto is Clive's horse and he can do as he wishes, even though I would personally have loved Clifford to have looked after him for the rest of his years.
"But what upset me and my team here is when Clive announced that he had spoken to experts about the horse's future - but failed to consult and listen properly to the team that had looked after him here for the past nine years. That really upset us."
Nicholls went on: "So we had a team meeting here this morning. And after listening to everybody involved - there were about six of us in the meeting - I rang up Clive, said I don't want to fall out, but we think it is in the best interests of everybody concerned to take Kauto to Yogi Breisner's this afternoon so that he could start his new career in the dressage field as soon as possible.
"Which we did with the saddest of hearts. But I like to think with a lot of dignity, too. And, yes, there were plenty of tears too. He was a member of the family here at Ditcheat, and we will all miss him so much.
"I would just to like say that it was a privilege for us here at Ditcheat to train the horse. Good luck, old boy. You were the best - and deserve the best."
However, Smith responded on Tuesday evening to developments, saying that he was "extremely disappointed" with Nicholls and claiming that he had kept the trainer up to date throughout over the matter.
"When Paul rang me I was on the runway heading to New York and he dropped the bombshell," Smith told Press Association Sport.
"The idea originally came about after talking to Di Arbuthnot of Retraining of Racehorses and she put me in touch with Yogi Breisner.
"Two weeks ago I had a coffee and a chat with Yogi and he suggested dressage and I was very impressed with the idea. Not that either of us thought he'd shown any previous inclination, it was just something new. Yogi suggested Laura Collett who is a European champion and a very good rider.
"Paul Nicholls has made out he didn't know anything about it, but I've kept him informed since May. We talked about eventing and he knew eventually he would be doing something away from the yard.
"I agreed to put him back into training but we made the decision on October 31 to retire him. We agreed he could stay at the yard until Boxing Day, but at Sandown on Saturday, I told him the dressage thing was coming about.
"I'm extremely disappointed in Paul Nicholls."