Russell stunned by Friday haul
Davy Russell is still trying to take in what happened at Cheltenham on Friday where he rode three winners.
Last Updated: 15/03/14 2:19pm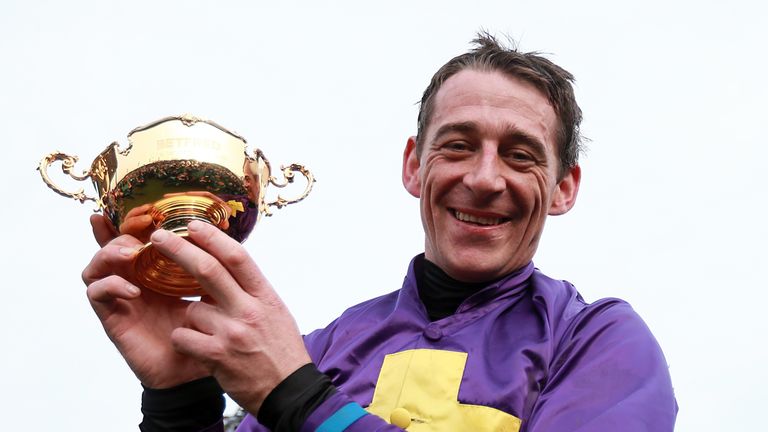 Russell, who lost his job as retained rider for the powerful Gigginstown House Stud operation to Bryan Cooper halfway through this season, ironically won the Triumph Hurdle and Grand Annual in the Gigginstown colours on Tiger Roll and Savello respectively.
Cooper broke his leg badly earlier in the week, enabling Russell to step in for some choice rides and he is well aware how quickly fortunes can change in horse racing.
"It still hasn't really sunk in," he told Racing UK. "Gordon (Elliott) had been giving me good vibes about Tiger Roll and that got the whole thing rolling.
"Jim (Culloty) had been telling me for a while that his horse was coming back to himself. I'd been to ride him out and Jim kept saying "he's there now".
"The fellow in the last (Savello), again, Tony had done a marvellous job with as he's quite highly-strung but I always knew I'd get a nice ride off him.
"After jumping two or three fences there was only one way I was going to be able to win the Gold Cup, I just had to try and creep into it. Sometimes it works out.
"Once I'd seen the video of the finish, my horse was idling in front and pricking his ears, I'm sure the stewards took the view that the best horse won and I hadn't caused enough interference to stop anybody else winning.
"It hadn't gone my way earlier in the week but that's the nature of the game. It's a day I'll remember for a long time.
"There was very little I could have gained by showing my disappointment (at losing the job), that's just the way it was, they made their decision which they are entitled to do.
"I was lucky that when I wasn't going so well people still used me and that made a difference."