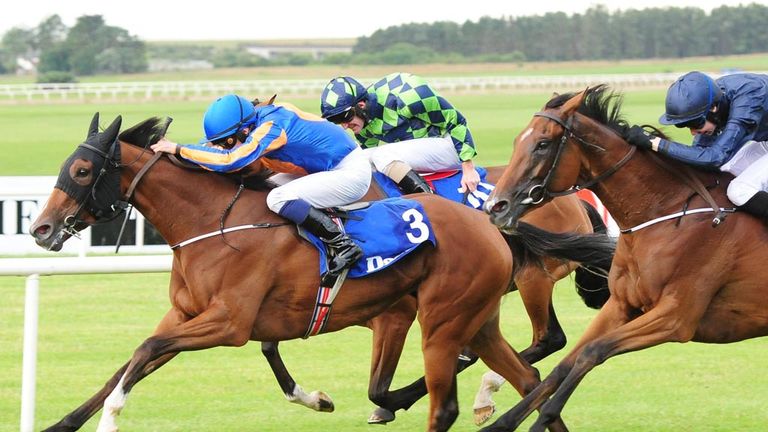 Our panel of Dave Ord, Will Hayler and Sky Bet's Michael Shinners give their views on the weekend racing action.
Q: Tiggy Wiggy proved a class apart in the Weatherbys Super Sprint, leading connections to consider going for the Nunthorpe or the Prix de l'Abbaye. If she was yours, would you be taking that sort of path, or sticking to her own age group?
Dave Ord: It's interesting to see connections leaning away from the Nunthorpe on Monday. If she was mine I'd have a dart - and I sense they still might if there's cut in the ground at the Knavesmire. She's clearly quick, and very, very good. With all the allowances at York she'd make them all go on the right surface. Whether she'll be as good over six in the Lowether, which is Plan B, would have to be something of a doubt. If she were mine we'd be Nunthorpe-bound. But she isn't - and seemingly isn't.
Will Hayler: I think I understand what you're saying, Dave. And I think I agree. Any two-year-old with as much speed as she has got ought to be running in the Nunthorpe AND the Abbaye. Even though the weight allowances were reduced a few years ago, they are simply still far too generous. Poor Admiral Rous made his assessments when we didn't have anything like the modern training facilities we have now. Two-year-olds are now far more physically advanced than was the case 50, maybe even 25 years ago.
Michael Shinners: Take her to the best meetings would be my policy and therefore the Coolmore Nunthorpe looks the obvious next challenge. The speed shown was scintillating and with a weight-for-age concession that she will get, I think she holds a serious chance. All ground seems the same to the Hannon horse, although having said that I don't think I would like it rattling fast for her.
Q: What on earth are we to make of the Irish Oaks? Is Bracelet a fast-improving filly who can mop up more Group Ones as the season goes on, or did she just win a middling Classic in which the favourite failed to fire?
DO: You really wouldn't know where to start would you? The delay with Volume requiring her rear shoes to be removed was clearly more than an irritant to connections and was detrimental to the chances of a few of the leading fancies. Bracelet was supplementing her Ribblesdale gains and showed a commendable attitude but I'd be surprised if Tapestry wasn't the best of this bunch by the close of the campaign.
MS: I think she was a deserving winner and a filly very much on the up. It was interesting that we saw plenty of interest for her prior to the Investec Oaks, only for her to reportedly have a slight setback. She looks a filly very much on the up and I take her form at face value and think she is an exceptional filly.
WH: Goodness - a substantial difference of opinions there. I'll take the Ord side on this argument and suggest that Bracelet will not go down as one of the all-time great winners of the race, although time may prove me wrong. I guess, the biggest disappointment for me was Marvellous, who may now have run her last race. Tapesty, on the other hand, could yet be the one to prove the pick of the bunch now that her form is back on an upward curve.
Q: Did the performances of Tarfasha and Volume have any effect in terms of your view of Taghrooda's prospects in Saturday's King George? Can she be the first three-year-old filly to win since 1976?
DO: Volume went close to winning in Ireland despite the pre-race drama and in any case I'm very sweet on Taghrooda for Ascot. She treated that Oaks field with disdain and getting all the allowances on Saturday I think she has to be a massive player. She's lightly-raced and will improve throughout the campaign.
MS: I think she is the one to beat. The form after her victory at Newmarket took some knocks but she still bolted up in the Investec Oaks. The way she travels and then quickens up is brilliant to watch. Although I respect Telescope he still has to prove it at Group One level and therefore I'm keen on Gosden's Filly.
WH: The combination of the weight and age allowance does make her a very tempting proposition for that race, but I'm probably just in the Telescope camp now that he has grown up and become more tractible. I was really impressed by his relentless gallop in the Hardwicke.
Q: Jack Garritty is to leave Kingsclere to return to his Yorkshire roots and ride for our columnist Richard Fahey. Which apprentices have caught your eye so far this season?
DO: Joe Doyle. Madrassa was a fourth winner of the week for him at Redcar on Sunday and required a tactically -stute rider from a young jockey going places. He's tremendous value for his seven-pound claim.
MS: Without doubt my big eyecatcher has been Joe Doyle who was yet again shown to great effect winning the last at Redcar yesterday. He doesn't seem to panic and is very neat and tidy in a finish. He is excellent value for his claim.
WH: Two votes for Doyle junior. But I think it's a hell of a crop at present, and I'm a big fan of a number of the current apprentices, including Jason Hart, Cam Hardie and Ned Curtis - who doesn't get the chances he should.
Q: Give us one horse who caught your eye for the future anywhere this weekend?
DO: This is very weather-dependent but White Flag continues to shape as though ready to win again. Tim Easterby's charge is down to a rating of 54 now and despite the underfoot conditions being too lively wasn't beaten too far at Redcar on Sunday. She's only modest but when there's cut in the ground will be winning.
MS: I was very taken with the performance of the Richard Fahey-trained Spring Offensive at Redcar. The vibes prior to the race were that the Sir Michael Stoute trained Indelible ink would be hard to beat, but the way the son of Iffraaj quickened clear, suggested he could be a very likely type for a decent nusery over a mile.
WH: Spot the two members of this panel who were both at Redcar on Sunday! I'm always a little wary of putting up a Godolphin horse as they can suddenly lose their way, but I was so impressed with Winter Thunder at Newmarket on Saturday that I will have to mention him. He hammered some perfectly-decent handicappers and already looks worth a try in pattern-race company.