Surrey Storm crush Hertfordshire Mavericks at London's Copper Box Arena
Storm win 67-45 to remain top of Vitality Superleague
By Raz Mirza
Last Updated: 11/03/17 8:04pm
Surrey Storm crushed arch-rivals Hertfordshire Mavericksicks 67-45 in the UK's biggest ever domestic netball match at the Copper Box Arena on Saturday night.
A sold-out crowd saw defending champions Storm maintain their unbeaten start to the Vitality Superleague season with four wins out of four to move onto 12 points while the Mavericks have just one victory.
Surrey took a 15-12 lead after a close opening quarter as both sides were more than happy to get involved in a physical battle.
Shooter Megan Craig was lethal in front of goal as she helped her side open up an eight-point advantage for a 31-23 lead at half-time.
The Mavericks were punished for playing too many lateral balls across the court as the impressive Naida Hutchinson, Mikki Austin and Georgia Lees moved quick-ball through the centre court while starving their opponents of possession.
Hertfordshire heads were dropping as they trailed 52-34 and things got worse as Storm ran away with the contest with a clinical final quarter to win 67-45.
"We know that every single game is going to be tough, but I was so proud of the girls and pleased with the performance," former Mavericks star Hutchinson told Sky Sports. "The key was to break down their defence, get turnovers and make sure we score them."
Head coach Tania Hoffman said: "I absolutely loved it. The atmosphere was great, the stadium was great and the fans were phenomenal, but I'm really pleased that the girls went out there and played really well."
You can follow the next Vitality Superleague clash between Team Northumbria and Manchester Thunder on Sky Sports Mix from 7.30pm on Monday March 20, and don't forget to catch all the action across our Sky Sports platforms. Follow us @SkyNetball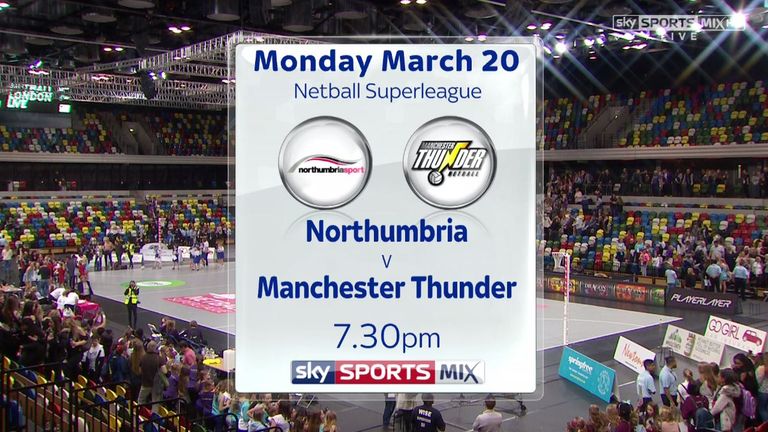 The regular season league home and away matches run from February to June, culminating in semi-finals and a Grand Final to determine the league champion.