NFL: San Francisco 49ers add Jonathan Martin and Blaine Gabbert in trades
Last Updated: 12/03/14 10:24am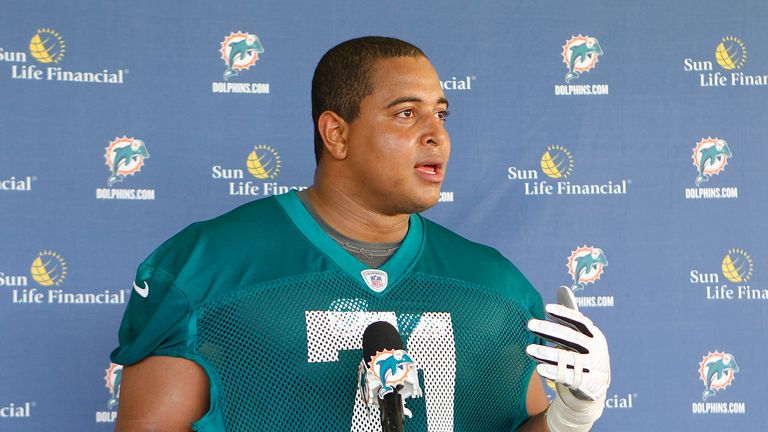 The San Francisco 49ers have traded for Miami Dolphins offensive tackle Jonathan Martin and Jacksonville Jaguars quarterback Blaine Gabbert.
Martin was widely expected to leave Miami after being involved in a bullying scandal which has embroiled the Dolphins in recent months.
An investigation for the NFL recently found that Dolphins guard Richie Incognito and two other offensive linemen engaged in persistent harassment of Martin, another offensive lineman and an assistant trainer.
Martin has now left to become re-united with 49ers head coach Jim Harbaugh, for whom he played under at Stanford, while Incognito's future in the NFL remains unclear. The Dolphins have reportedly replaced Martin with former Kansas City left tackle Branden Albert.
The 49ers have given an undisclosed draft choice to the Dolphins, although it is reportedly a conditional seventh-round pick in 2015.
Gabbert, meanwhile, has seen his time at the Jaguars come to an end after spending three difficult seasons in Jacksonville.
He was drafted with the 10th overall pick of the 2011 NFL Draft but was unable to establish himself as the Jaguars' franchise quarterback. He is expected to be Colin Kaepernick's back-up in San Francisco.
"We thought highly of Blaine as an early entry into the 2011 NFL Draft," 49ers general manager Trent Baalke said. 
"He is a high-character individual that will be given every opportunity to develop within our system and we are looking forward to working with him."