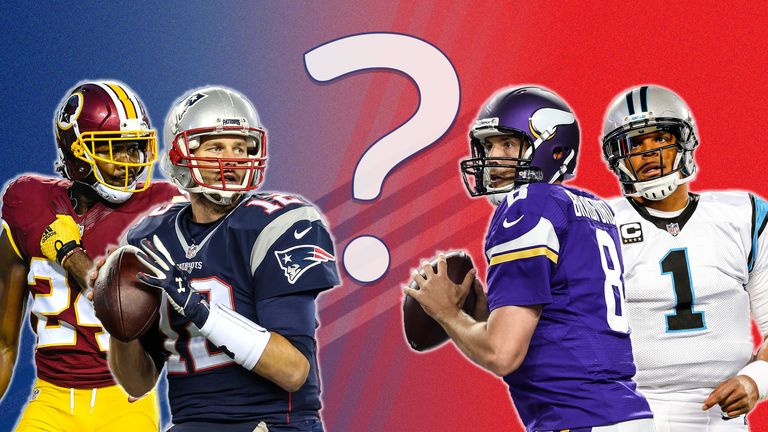 It was all still to play for going into the last game of the week, but Kansas City's 30-27 overtime win handed a last gasp victory to our Pittsburgh Steelers fan, Sam.
Sky Sports reporter Richard Graves, who was out in Dallas for the Cowboys' Thanksgiving day victory over the Washington Redskins, put up a competitive 12-4 record but the last two results of the week went to Sam, leaving him with an impressive 14-2.
This week Richard is looking to bounce back as he takes on Chicago Bears fan Ben McClymont. The Bears have had struggles of their own throughout an injury-dominated campaign, and Richard is hoping to subject the franchise to another defeat this season.
Richard's 2016 Results
| | | | |
| --- | --- | --- | --- |
| | Richard | UK Fan Base | Season Record |
| v Jaguars | 10-6 | 11-5 | 0-1 |
| v Bengals | 10-6 | 7-9 | 1-1 |
| v Redskins | 5-11 | 9-7 | 1-2 |
| v Raiders | 8-7 | 8-7 | 1-2-1 |
| v Vikings | 9-5 | 10-4 | 1-3-1 |
| v Eagles | 9-6 | 9-6 | 1-3-2 |
| v Patriots | 8-7 | 7-8 | 2-3-2 |
| v Bills | 8-5 (OT loss) | 8-5 (OT win) | 2-4-2 |
| v Giants | 8-5 | 10-3 | 2-5-2 |
| v Panthers | 9-5 | 8-6 | 3-5-2 |
| v Seahawks | 10-4 | 9-5 | 4-5-2 |
| v Steelers | 12-4 | 14-2 | 4-6-2 |
Dallas Cowboys @ Minnesota Vikings
Richard: No team has more wins. No team has fewer losses and no other team than the Dallas Cowboys can clinch a play-off place this week. If Dallas were to win in Minnesota and either the Buccaneers or Redskins lose, the Cowboys would have their place in the post season confirmed.
However, with a 6-5 record, the Vikings still harbour play-off aspirations of their own. Much of their success this season has been built on their defence - a unit which ranks third overall, second in points allowed (17.5 per game) and is also second with a +12 turnover differential. In addition to quarterback Sam Bradford not having thrown an interception at home this season - all of that will have to come into play if the Vikings are to win this game.
Most crucially, a run defence which ranks 14th in the NFL will have to step up and shut down Cowboys running back Ezekiel Elliot, who has 1199 rushing yards his season. Wide receiver Dez Bryant looks ominously more like the receiver of two years ago with five touchdowns in his last six games, creating more headaches for a Vikings team who've struggled all year offensively themselves - they are dead last in total offence! Cowboys
Ben: With the Vikings on their way down after that 5-0 start, the 'Dak and Zeke show' will continue to roll. It is impossible to bet against these boys right now! Cowboys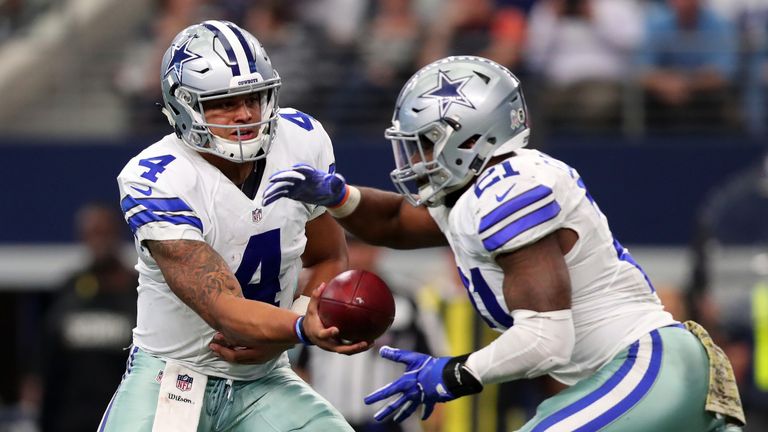 Kansas City Chiefs @ Atlanta Falcons
Richard: The Atlanta Falcons remain the most potent offence in football this season, leading the league with 32.5 points per game on average, but as the Chiefs proved on Sunday night, when outlasting the Broncos in Denver, they are genuine post season contenders themselves. 
It's four years since these teams last met and on that occasion, Falcons wide receiver Julio Jones had a superb day - finishing with 108 receiving yards and 2 TDs. He is once again the main threat going into this game. However, Kansas City's opportunistic defence has feasted on turnovers this season, leading the league with a +14 differential and they'll relish this challenge. Throw into the equation linebacker Justin Houston who recorded 10 tackles, three sacks and a forced fumble in just his second game back from injury last week and this has all the makings of a classic match-up. 
If this was in Kansas, I'd have no hesitation in taking the Chiefs. They've won 18 of their last 21 regular season games and they continue to dig out results. However, in Atlanta, at the Georgia Dome, this Falcons team is tough and their defence is better than many believe. It's nothing more than a gut feeling, a coin flip game but I'm taking the Falcons to maintain their grip on the NFC South with victory in this one. Falcons
Ben: Atlanta can continue to impress with their exciting offence and I expect them to see off the Chiefs, despite a strong showing from Kansas City on Monday night. Jones will have another big game, winning the battle against top cornerback Marcus Peters. Falcons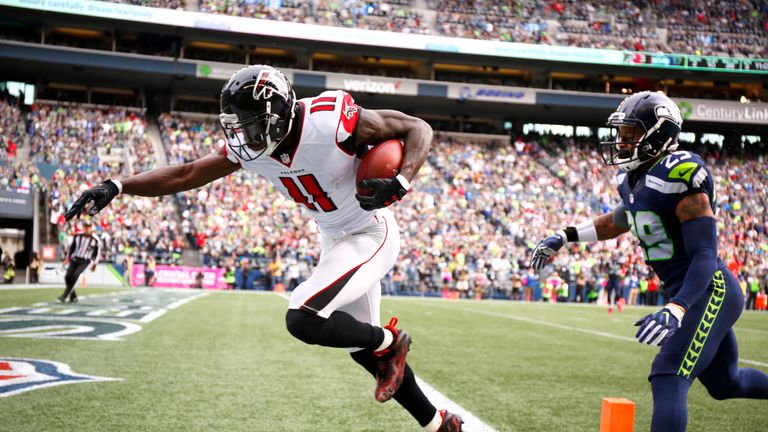 New York Giants @ Pittsburgh Steelers
Richard: Jekyll and Hyde is the best way to describe the 2016 Pittsburgh Steelers. On the road they've been ordinary at best this season but at home, they've been an explosive, high scoring offensive unit. Much of that is borne of the relationship between quarterback Ben Roethlisberger and wide receiver Antonio Brown. The pair hooked up for another three scores in last week's win in Indianapolis - Brown leads the NFL this season with 82 receptions and is tied for the lead with 10 touchdown receptions. 
However, here come a New York Giants team riding a six-game winning streak, boasting the second best record in the NFC at 8-3, with a defence which is looking better as the weeks progress. Defensive end Jason Pierre-Paul had three sacks, a forced fumble and a 43-yard fumble return for last weekend's win over Cleveland.
But that in itself is a cause for some concern. In an offence that boasts Odell Beckham, Victor Cruz and Eli Manning, it was left to the defence to finally put clear daylight between the Giants and the winless Browns. The 27-13 final score was actually flattering! Make no mistake, the Giants offence will have to turn up in Pittsburgh and give their defence the opportunity to take over this game. 
The Giants attack heads into Pittsburgh ranked 21st overall and 21st in scoring (21 points per game) against a Steelers unit which, despite several poor road games, still averages 24 points per game. This will be a test in every sense of the Giants' play-off credentials. Steelers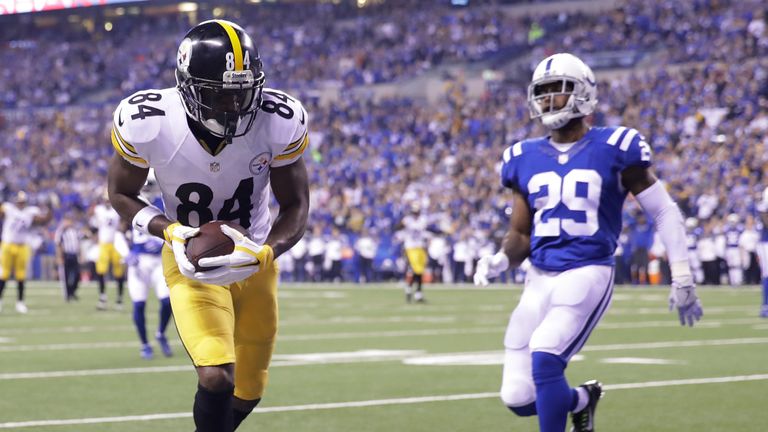 Ben: Pittsburgh will put an end to the Giants' winning streak. New York were less than convincing against the Browns and I think the Steelers will keep themselves in play-off contention with a home win. Steelers
Carolina Panthers @ Seattle Seahawks
Richard: This fixture is usually a close affair and nearly always produces drama. Throw into the mix that the Panthers beat Seattle home and away (including the play-offs) last season and there's a little more spice as we head into the festive month. Oh... and did I mention these two teams are tied for the best regular season record through December and January over the last five seasons, 19-5?!
This is a different season though and here are different teams. Seahawks head coach Pete Carroll shouldered the blame for not preparing the team properly ahead of last weekend's defeat in Tampa Bay, while the Panthers lost another close game, going down 35-32 in Oakland. 
No doubt Seattle, back on home soil and buoyed by that fervent 12th man will look to make a statement on Sunday while question marks over Carolina's self belief must be asked after losing a third straight game by less than one score. The Panthers defence isn't the force it was last season, and Seattle's vaunted 'Legion of Boom' will still feel they can play - the prospect of defensive end Michael Bennett returning is cause for confidence. They lead the NFC West by three games and there's little reason to believe that gap narrows this week. Seahawks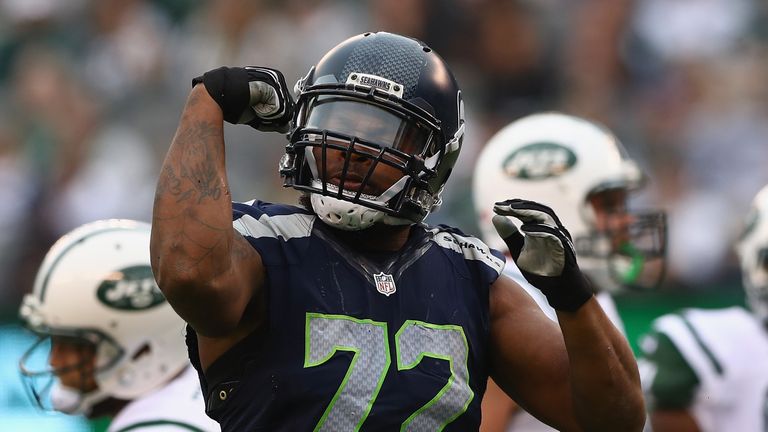 Ben: The Seahawks don't like show-boaters in their building and I fancy the Seattle defence to stop Cam Newton this weekend. He nearly got out of jail after a terrible first half against the Raiders, with some big throws and another rushing touchdown, but I think Seattle will put last week's disappointment behind them and see off the Panthers. Seahawks
Indianapolis Colts @ New York Jets
Richard: With a 3-8 record, the Jets are already planning for next season. Indianapolis have problems of their own with a 5-6 record but victory here would not only get them back to .500, it would keep them in the race for the NFC South. They trail the division-leading Houston Texans by just one win and who knows, they could be tied for the lead with Houston and Tennessee at the end of this weekend. 
QB Andrew Luck missed the defeat to Pittsburgh last week and the Colts will hope he passes concussion protocol ahead of this game - the extra day will certainly help.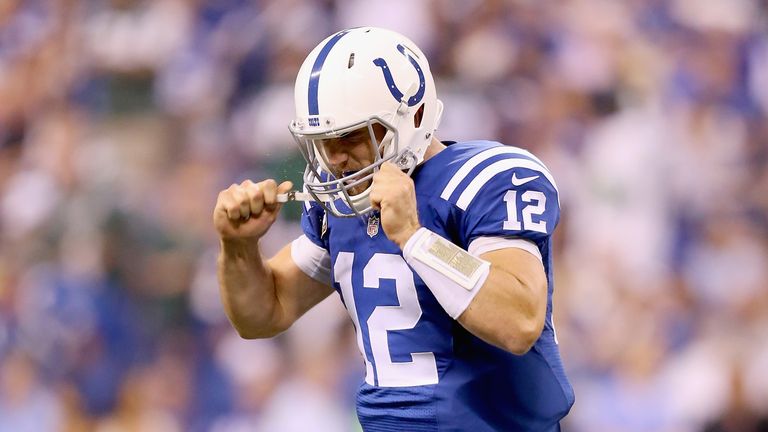 Ultimately, this game will come down to who takes better care of the ball and who makes the fewest mistakes! The Jets have committed 22 turnovers this season, while the Colts have a -5 turnover differential and their defence is only ranked better than Cleveland and San Francisco. 
Indianapolis do have offence though and Andrew Luck is a big part of it - averaging 24.5 points per game. That's around six points more per game than the Jets and although none of these stats make great reading, it's enough to give the Colts the edge on Monday night. Colts
Ben: Luck's return is huge for Indianapolis - he will come back and lead the offence to a comfortable win over the Jets. Big game through the air to sink Darelle Revis and New York. Colts
Week 13 Predictions
| | | |
| --- | --- | --- |
| | Richard | Ben |
| Cowboys @ Vikings | Cowboys | Cowboys |
| Chiefs @ Falcons | Falcons | Falcons |
| Lions @ Saints | Saints | Saints |
| Rams @ Patriots | Patriots | Patriots |
| Broncos @ Jaguars | Broncos | Broncos |
| 49ers @ Bears | 49ers | 49ers |
| Texans @ Packers | Packers | Packers |
| Dolphins @ Ravens | Ravens | Ravens |
| Eagles @ Bengals | Eagles | Eagles |
| Bills @ Raiders | Raiders | Raiders |
| Buccaneers @ Chargers | Chargers | Buccaneers |
| Redskins @ Cardinals | Redskins | Cardinals |
| Giants @ Steelers | Steelers | Steelers |
| Panthers @ Seahawks | Seahawks | Seahawks |
| Colts @ Jets | Colts | Colts |