It has been a long season for Minnesota Vikings running back Adrian Peterson.
It has been a patient recovery for Peterson since tearing the meniscus in his right knee during the third quarter of the Vikings' 17-14 win over the Green Bay Packers in week two.
However the former Comeback Player of the Year has had a positive week, as he began sprint training again at the Minnesota training facility.
And he had an unexpected involvement in the Vikings' 17-15 defeat to the Dallas Cowboys on Thursday night, albeit from the sidelines.
Cowboys quarterback Dak Prescott found himself under pressure late in the second quarter and looking to avoid losing field position, threw the ball away to the sidelines where Peterson reached up and caught it overhead.
The Cowboys' victory was their 11th in a row and pushed Minnesota deeper into an NFC North division battle.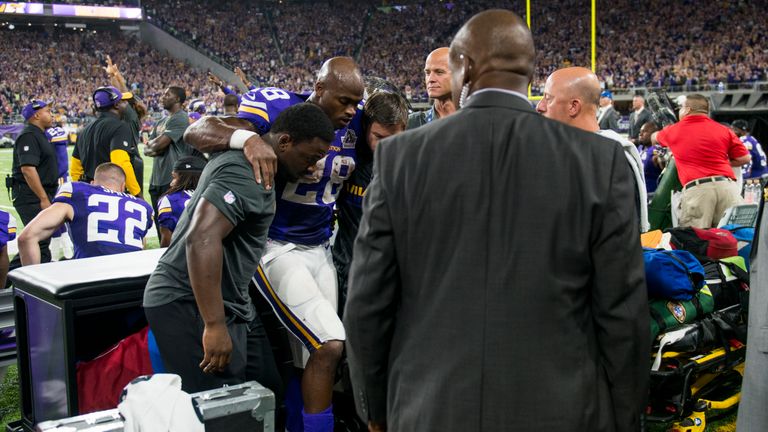 Reports indicate that seven time Pro Bowler Peterson is 'ahead of schedule' in his recovery, which is good news for the Vikings's offence, which currently ranks bottom in yards average per game.
The team are currently averaging 2.8 yards per carry. They will have to go some to rank worse than the 1940 Philadelphia Eagles, who managed less than a yard per carry, but it is still poor reading for those in the Vikings backfield.
At 5-0 analysts were asking if Peterson had held the team back by being too much of a focus in their attack. There are very few making that suggestion now, and all at the Vikings hope he will be back before the end of the season.
Upgrade to Sky Sports now and get 12 months half price. Hurry, offer ends December 4th!