Former NFL star Corey Wootton on the lost art of tackling
"The fundamentals of tackling have disappeared. It's dying out"
By David Currie
Last Updated: 13/10/17 11:06pm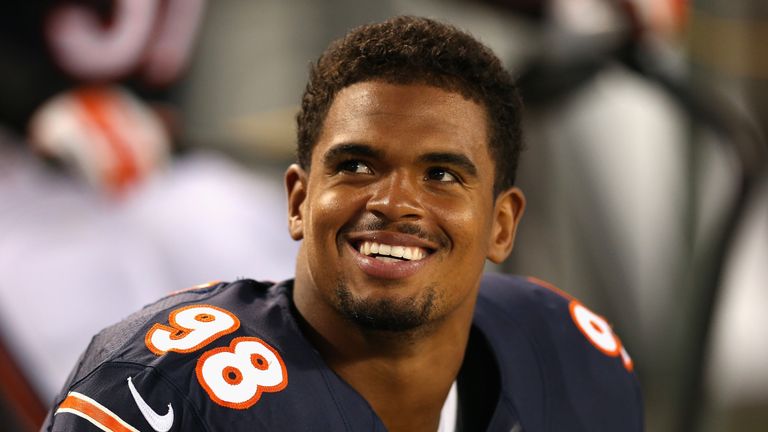 "A tackle was cool. But, a sack, that's the equivalent of getting a goal in football."
That's how six-year, former NFL defensive end Corey Wootton best describes the feeling of taking down a quarterback, possibly all too aware of the country hosting him, for his two-week stint as part of the Sky Sports NFL team.
"You feel like you're on cloud nine," Wootton added. "There's no better feeling, you do a celebration, the whole crowd gets into it."
Wootton's Peter Crouch-style robot celebration already cased a bit of a stir on @SkySportsNFL Twitter, and was seen on 12 separate occasions during his six seasons in the NFL, four of which were spent with the Chicago Bears.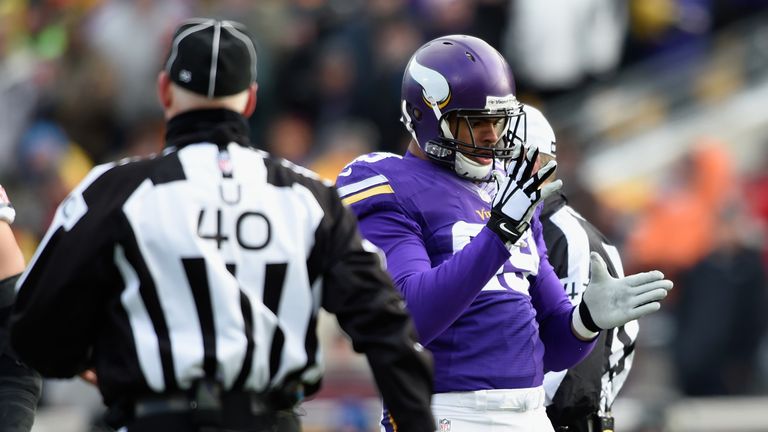 But, Wootton opted to retire from the NFL in the summer of 2016, soon after his wife Taylor gave birth to their first daughter. At just 29-years-old, like a growing number of players, he left the league early.
In September 2015, 87 out of 91 former NFL players tested came back with positive results for the degenerative brain disease Chronic Traumatic Encephalopathy (CTE), which it is thought stems from suffering repeated blows to the head, the likes of which are frequent in the NFL.
And it's not just players' futures CTE is impacting, but the league's itself. In the 2011 collective bargaining agreement between the NFL and the players association it was decided that there'd be a reduction in the number of offseason practices, a prohibition against training camp 'two-a-day' sessions, and a limit on contact practices in both the pre-season and regular season.
That agreement came one year into Wootton's professional career, but he feels it has been counter-intuitive.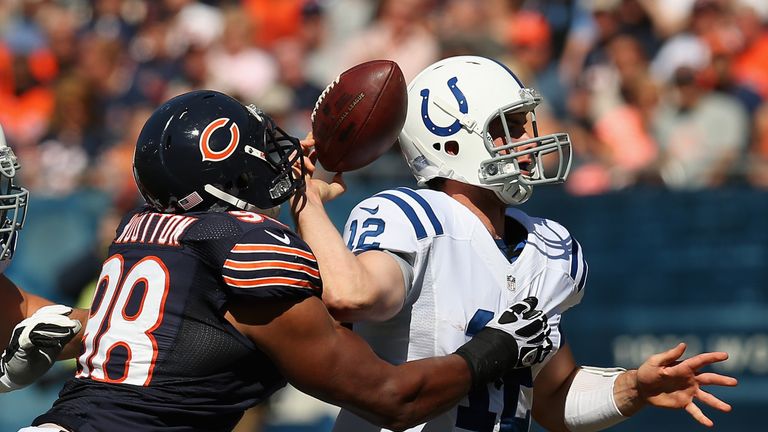 "The league are really conscious of hits to the head, blows to the head and they're trying to protect the quarterbacks - the Tom Bradys and Aaron Rodgers' - a lot more. But, fewer two-a-day practices, fewer tackling drills, all it means is guys aren't used to tackling as much.
"It's all about repetition. You can't be a great quarterback if you're not out there getting reps, throwing the ball every day to your receivers, and it's the same with tackling.
"As a result, nowadays, there's so many more big hits. Guys know how to tackle, but by not doing it every day, you create bad habits. Conditioning is also a factor - guys are getting tired, and when you're tired, you become lazy and lean on these bad habits.
"You look at the injuries in the league every year since the CBA changed things - it seems like more are getting injured as a result."
The New York Giants will certainly testify to that, losing as many as four of their wide receivers - including Odell Beckham Jr to a season-ending broken ankle - in their defeat to the Los Angeles Chargers on Sunday, while further big names like J.J. Watt, Derek Carr, David Johnson, Dalvin Cook and Chris Carson have all been lost to injuries through the first five weeks of the season.
Green Bay Packers coach Mike McCarthy echoed Wootton's sentiments last year, when speaking on the CBA after a spate of injuries to start their 2016 season. "People don't want to hear coaches say it, but how can you not be in tune to the fact you're spending five less weeks with the players in the offseason?" he said. "It's not the best formula. I think it has been proven since then."
Arizona Cardinals head coach Bruce Arians said tackling had become "a lost art" when speaking to Sky Sports ahead of their International Series game against the Los Angeles Rams at Twickenham, on Sunday, October 22.
Wootton agrees. "The fundamentals of tackling have disappeared. It's dying out. That's why a great tackle now really stands out, because you don't see it as much these days.
"If you teach correctly chest-to-chest tackling, or shoulder tackling, it keeps your head out of it, most of the time. Sometimes a secure, easy tackle is the most efficient one.
"But without proper practice, they're getting away from that and guys are going full speed in the game, looking to inflict pain, which is dangerous."
Dangerous enough for Wootton to call time on his NFL career.
"My daughter, it made me put things in perspective," Wootton added. "My goal was always to play in the NFL, and I achieved that. I played six years. I realised what was important to me, my family.
"I had a great time, some of the best experiences of my life, but I knew there were other plans for me."
The NFL's loss is Sky Sports' gain.
Join Corey Wootton and the rest of the Sky Sports NFL team when Week Six continues on Sunday with three live games on Sky Sports Action, starting with Green Bay Packers @ Minnesota Vikings, from 5.30pm.