NFL: Atlanta Falcons tight end Tony Gonzalez's retirement plans could be on hold
Atlanta Falcons GM Thomas Dimitroff says he hopes Tony Gonzalez will postpone his planned retirement for another year.
Last Updated: 15/02/13 5:39pm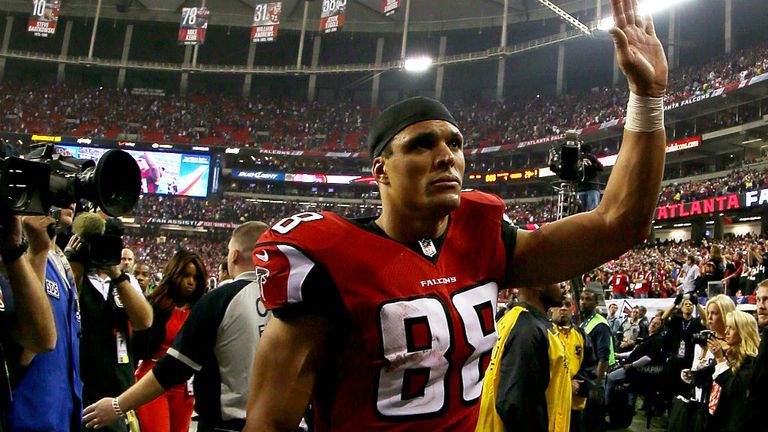 The soon-to-be 37-year-old Gonzalez said after Atlanta's play-off defeat to San Francisco that he would 'probably' be retiring after 15 seasons in the league.
He has since said he is 95 per cent certain he will not return next season, but Dimitroff says he does not believe that Gonzalez is that convinced he wants to hang up his pads.
The Falcons finished as the top team in the NFC and only just lost out on a place in the Super Bowl with a narrow defeat by the 49ers in a tight AFC Championship game in Atlanta.
Dimitroff says head coach Mike Smith has talked with Gonzalez and feels that the tight end, who seems a certainty for the Hall of Fame in the future, could be persuaded to return, given how close Atlanta came to a Super Bowl appearances this season.
"Tony has done so much for us on and off the field and I don't believe, not stating that he would be lying to anyone, but I don't believe the 95 percent," Dimitroff told NBC's Pro Football Talk. "I want to believe it's a lot closer to 50/50, to be honest with you, and we've had discussions.
"Obviously Mike Smith has had discussions with him. We're all in a good place. Ultimately it's up to Tony to decide if he wants to come back and potentially catch 100 balls again.
"I think it's one of those situations that Tony was so effective for us down the stretch and I can't imagine that his appetite wasn't sort of whet from his contributions in the play-offs."
After the Falcons lost to the Niners, Gonzalez said: "It's probably the last time I'm going to wear that uniform. All good things come to an end, and like I said all season long, this is probably my last one. What an unbelievable ride."
Although Atlanta will look at tight ends in the draft, Dimitroff insists Gonzalez still tops their list for next season, although there is no timeline for a decision to be made by either party.
Gonzalez has found a good fit with the Falcons after so many years with the Chiefs, and quarterback Matt Ryan hit him for 93 catches, 930 yards and eight touchdowns this season as he made a 13th Pro Bowl.