NFL Draft: Manchester's Menelik Watson looking to start with Oakland Raiders right away
Manchester's new NFL star Menelik Watson is ready to contribute to Oakland right away, dismissing talk of being too raw.
Last Updated: 28/04/13 10:06pm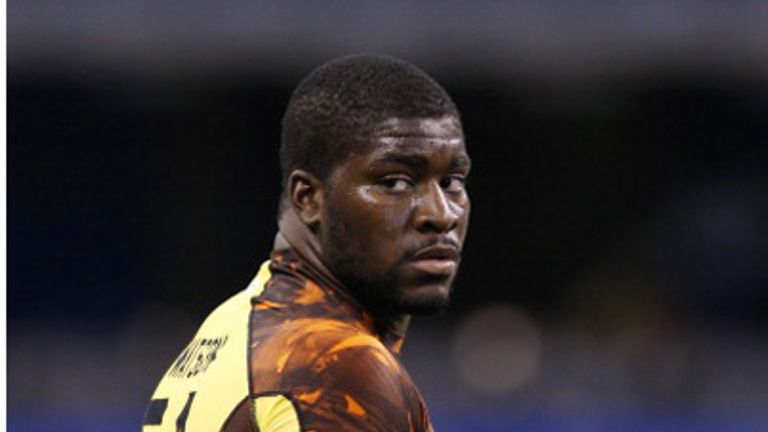 Watson was one of the big stories at the NFL Draft in New York, with him coming in as a highly-rated offensive lineman despite his relative lack of experience in the game.
A former boxer, basketball and soccer player, Watson has developed quick hands and feet, and those coupled with his physical attributes convinced the Raiders to select him in the second round with the 42nd overall pick.
Watson says playing at Florida State with a number of other top players helped him to develop quickly, and he insists he can offer the Raiders something right from the start of his career in Oakland.
"I don't consider myself raw. I just think the way I do things is a lot different than the traditional," said Watson. "There's obviously still a lot of techniques I need to learn, there's a lot of little things.
"The great thing about football is that, more so than other sports, you never really learn everything. I definitely do know there are a lot of technical things I need to polish up. I don't necessarily consider it being raw."
Watson will join fellow British import Jack Crawford in an ex-pat community in Oakland.
"Yes, I know Jack Crawford. Me and him, he will tell you, we played each other when we were 15, 16 years old in the English national championship game and we actually beat them by 25 points.
"But yeah, Jack was one of the top prospects in England and in parts of Europe too at the time. He was really good."
Watson admits that when he first converted from basketball to American football he found it tough to adapt, but it did not take him too long to settle into life on the gridiron.
"I found it baffling because I didn't understand a thing that was going on. As soon as I knew what the plays were. I think I was doing well, but a lot of times I didn't really understand assignment-type things, so I went out there and I never go half speed.
"But I would say once I got about my second game in, third game in, I knew who I could get. I was like, 'Perfect, now I can go over and just smash them in the face or run them up field, block them and stuff.' After that, everything started speeding up after that."
High life
Oakland are looking to rebuild their team after another disappointing year last year, and Watson believes he fits in perfectly to their hard-working, no-nonsense attitude they are trying to instill in their squad.
"That's me to a T. I was at the draft and I didn't really want to go because I'm not really into the glitz and the glamour. I'm really a work guy. I really just want to hurry up and get to work.
"I don't go out and I'm not into the nightlife. The biggest reason for coming out is I wanted to get myself a job and get myself an occupation. I think that's pretty much it. That's me to a T."
Watson originally tried out to be on defence, but his skills were quickly spotted to be more suited to that of an offensive lineman.
"I went out there the first day, I went for defence, and I had a good day at defence, but I really wasn't sure if it was the right fit.
"Then Kyle Long, son of Howie, he was there with me at the time, so as I walked off the field he told me that I need to change my jersey and come on offense, so he was like, 'Come on, you're going to play offensive line.'
"I went out there and they were like, 'Well, we like you at tackle,' so obviously Kyle played left tackle so I went over to the right side.
"It was just really comfortable and really easy just concentrating on the ends and being able to set angles and have your feet keep up with the quick guys."