NFL Combine: Lamarcus Joyner out to prove himself ready for NFL
Florida State defensive back Lamarcus Joyner is trying to prove size isn't everything by impressing at the NFL Combine.
By Colan Lamont
Last Updated: 24/02/14 3:40pm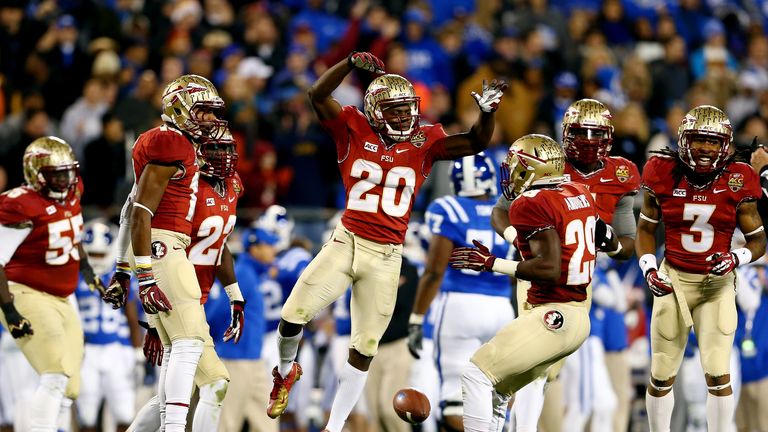 The Combine in Indianapolis is all about 'the measureables' with running drills and bench pressing part of the rigorous process. But some players don't have the freakish genetic gifts other players are blessed with.
Joyner is among these and he is using the Combine as one last shot to prove that he is THAT exception to the rule. One such player facing the pressure of a lifetime is former college superstar Lamarcus Joyner.
Even as the dust settled on the Rose Bowl field following Florida State's epic come-from-behind win over Auburn in the National Championship, team leader Joyner only had limited time to savour the experience before working towards another dream: The NFL.
Despite Joyner's diminutive frame, it seems he was destined to reach the top and show he can play with anyone. Though in his mind, his lack of size is irrelevant.
"It is all about the mental aspect, when you think about it everyone can play at a high level," he said. "The game is 90% mental and only 10% physical. I have to be smart because I'm undersized."
He knows that everyone in the NFL is bigger, stronger and more physical than what he may have faced before. But Joyner believes teams will value his athletic ability and more importantly his intelligence to play the game for a very long time.
Size no issue
"At the end of the day, they (scouts) should all recognise I can play the game. For some guys they just have that fire in them. For me I'm a football player and will prove myself."
For Joyner, the NFL Scouting Combine on could determine his future. With a league full of giants and teams looking for secondary prospects fitting the mould of 'The Legion of Boom', he will have to prove against the grain is a good thing. At 5'8" and under 200 lbs, he is small but the game film says otherwise. He can't wait to stake a claim.
"I'm excited about being able to talk to coaches about stuff like this. You know that they watch you but you don't really know what they're thinking. I'm just ready to go and see whatever happens. You never know what's going to happen so you prepare yourself the best way you can and go from there."
Joyner played his final high school season at St Thomas Aquinas - who have supplied more Drafted NFL players than anyone else over the last three years. Former head coach of 34 years George Smith had nothing but praise for his former student.
"Lamarcus was very hard working, extremely tough and a good student," said Smith. "He made the most of what he had and has been a captain wherever he goes. You know what I'm talking about if you've seen him play."
With three young sons, Joyner is more than just a football player and considers himself a family man. But he doesn't like to be defined, especially not on the football field when it comes to his role, with a chuckle he said.
"That's a tough one. I love playing football, I'll play wide receiver! If I had a preference I'd tell guys I'm a defensive back because I can play cornerback and I can play safety. I just want to be around the ball, so put me on the depth chart as a DB, not cornerback or safety. I'm not going to limit myself. And that's just my heart, that's my mentality."