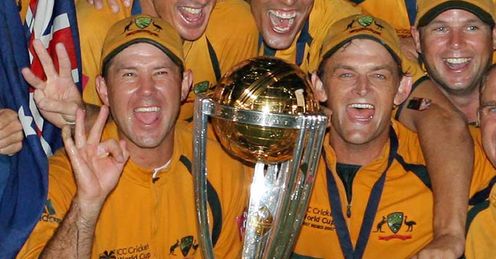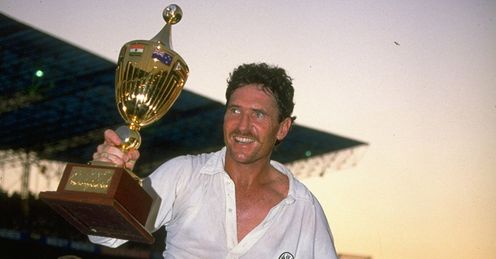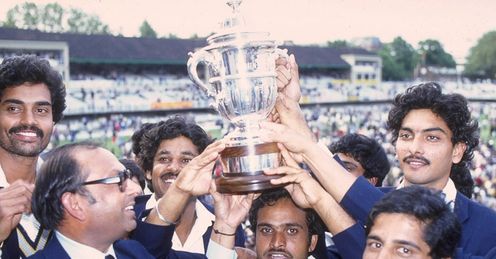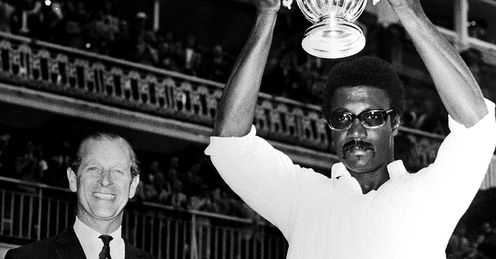 1975
The Prudential Cup (as it was known for the first three editions of the tournament) took place on English soil just as one-day cricket was beginning to grow, albeit without the coloured clothing and fielding restrictions that we've become used to today. East Africa and Sri Lanka were invited along to complete two pools of four teams. The matches were also 60-overs-per side and many teams did not treat it much differently to a Test match - Sunil Gavaskar sensationally carried his bat for India to make 36 not out against the hosts, who waltzed through their group but were then skittled for just 93 by Gary Gilmour and Australia in the semi-finals. The West Indies, however, proved the side to beat. Skipper Clive Lloyd smashed a century on a scorching summer's day at Lord's to help his team post a sizeable total of 291 in the final. The last-wicket pairing of Dennis Lillee and Jeff Thomson threatened to get Australia home, but they eventually fell 18 runs short.
1979
Again England were the hosts, and again West Indies were the side to come out on top. Sri Lanka qualified for the event by winning the inaugural ICC Trophy, while Canada were the other 'minnow' in the two groups of four, with the top pair in each going through to the semi-finals. Australia did not make it, a squad left in ruins by World Series Cricket finishing behind England and Pakistan. New Zealand also reached the last four, but missed out on a place in the final when they went down to the hosts by nine runs. However, West Indies - who had topped their pool - proved unstoppable in the final, thanks mainly to a superb century from Sir Viv Richards and a 66-ball knock of 86 from Collis King after he had come out to bat with his team in trouble at 99-4. Chasing 287, Mike Brearley and Geoff Boycott made half-centuries but their go-slow policy left the rest of the order with too much to do - they crumbled from 183-2 to 194 all out at Lord's.
1983
For the third straight time the World Cup was held in England, though this one saw a new name on the trophy. Eight years on from Gavaskar's non-innings, India suddenly embraced one-day cricket. They were not the only team to pull off an upset though; Zimbabwe - helped by a half-century from future England coach Duncan Fletcher - made an immediate impact in the competition when they stunned Australia in their first match. It still wasn't enough for them to qualify, with each nation playing their group opponents twice in the round robin stage. England topped Group A but were beaten by India in the first semi-final at Old Trafford. Having easily disposed of Pakistan in the last four, West Indies were still the red-hot favourites to make it a hat-trick. They looked well-placed when they dismissed their opponents for just 183 but medium pacers Madan Lal and Mohinder Amarnath ripped through their powerful batting line-up with three wickets apiece. Fittingly, it was India's inspirational captain, Kapil Dev, who took the winning catch.
1987
The World Cup finally made a move out of England as India and Pakistan were named joint-hosts. That wasn't the only change either - for the first time matches were 50-overs-per side, whilst neutral umpires were also used. The format of two groups of four teams remained and the two hosting nations topped their respective pools. England and Australia joined them in the semi-finals and then went and upset millions by knocking out the home favourites. A knock of 70 by Javed Miandad couldn't spare Pakistan from defeat against the Australians, while Graham Gooch's hundred helped England ease to a 35-run win over India in Bombay. The final is still remembered for one moment - Mike Gatting's ill-judged reverse sweep. Chasing a target of 254, England's captain had eased his way to 41 in a stand with Bill Athey before he attempted something risky to opposite number Allan Border's first ball. The rest, as they say, is history - Australia won by seven runs to lift the Reliance World Cup.
1992
Changes aplenty in 1992, as Australia, who disappointed on home soil, and New Zealand staged an event that saw coloured clothing, white balls (one at each end, in fact), the use of floodlights and a round robin stage that saw eight competing nations play each other, with the top four going through to the semi-finals. The innovations didn't stop there; New Zealand opted to open the bowling with a spinner in Dipak Patel and used a pinch-hitter (Mark Greatbach) at the top of the order to counter the fact that teams were only allowed to have two players outside the fielding circle in the first 15 overs. The Kiwis topped the group but fell on home soil against a Pakistan side that would have been knocked out had rain not saved them against England in Adelaide after being bowled out for 74. The two sides met again in the final and this time Imran Khan's 'cornered tigers' came alive. The veteran skipper combined with Javed Miandad to put on 139 and left to chase 250 under the lights at the MCG, England were bowled out for 227.
1996
For the first time the 12-team tournament, which included Kenya, the United Arab Emirates and the Netherlands, was spread across three nations in India, Pakistan and Sri Lanka. Both Australia and West Indies forfeited matches in Colombo due to security fears, meaning Sri Lanka - employing not one but two pinch-hitters - topped Group A. The other pool saw South Africa dominate, Gary Kirsten hitting a then-record ODI score of 188 against the UAE. India's 39-run win over arch-rivals Pakistan in the quarter-finals was watched by a capacity crowd in Bangalore and there was a full house for their semi-final against Sri Lanka too, though sadly the crowd forced an early conclusion as rioting spectators stopped play with their side slipping to defeat. The second semi was no less dramatic, West Indies losing eight wickets for 37 to snatch defeat from the jaws of victory. Australia progressed but suffered at the hands of Aravinda de Silva in the final. He took three wickets and then smashed an unbeaten century to steer Sri Lanka to victory.
1999
The World Cup returned to English soil with a new twist: The Super Sixes. A total of 12 teams were split into two pools with the top three progressing to another group. Each qualifier carried through their points from the first stage to the Super Sixes, where they played the three countries who had qualified from the other pool. The new format left spectators slightly confused and the mood was not helped by England being knocked out early. Australia nearly came a cropper quickly too before going on an astonishing run of results. They beat South Africa at Headingley in a thriller made famous for Herschelle Gibbs' drop of Steve Waugh, who allegedly responded with "you've just dropped the World Cup". The two nations met again in the semi-finals and did not disappoint - the run out of Allan Donald meaning a dramatic tie saw Australia progress on better net run-rate. The final, sadly, was a non-event. Pakistan bravely opted to bat first at Lord's but mustered only 132. Australia eased home with a whopping eight wickets and 29.5 overs to spare.
2003
South Africa, Zimbabwe and Kenya shared the staging of the eighth edition of the World Cup, one that was hit by the news of Shane Warne's drugs ban before a ball was bowled. The controversy didn't end there - both Zimbabwe and Kenya progressed through to the Super Sixes thanks to games against them being forfeited over security concerns. The Proteas, meanwhile, tumbled out when they made a mess of understanding the Duckworth-Lewis system - in the end they needed just one more run. Kenya's win over Zimbabwe, who saw Andy Flower and Henry Olonga take a stand against Robert Mugabe's regime by wearing black armbands to mark the "death of democracy", in the second round meant they amazingly clinched a place in the last four. However no one could stop Australia. Ricky Ponting's side were pushed hardest of all in the group stage by England in a right royal Ashes battle. In the final Ponting smashed 146 not out to help wrack up a total of 359-2. India never got close in reply, despite Verender Sehwag's 82.
2007
Finally, having won the first two World Cups and then losing the 1983 final to India, West Indies got their chance to be the hosts. The Caribbean promised a carnival atmosphere but it ended up being a complete disaster. Brand new stadiums ended up being left empty due to high ticket prices and with the hosts' hopes ending early on, interest soon waned. A total of 16 teams were divided into four groups; Ireland, one of the associate nations, tied with Zimbabwe and then shocked Pakistan to come out of Group D, while Bangladesh sent heavyweights India home early. In the end Sri Lanka and Australia were left standing. Adam Gilchrist's knock of 149 made sure Ricky Ponting got his hands on the trophy again, though not until a farcical ending to a farcical tournament as the final finished in the dark. Sadly, the cricket was overshadowed by the sudden death of Pakistan coach Bob Woolmer, with the former England international intially thought to have been murdered.
Sky Bet Odds:
Click Here for Your Free Bet