Premier League Darts Week 3: Rod Harrington previews Belfast clashes
Has Phil Taylor's weight loss affected his throw? Rod Harrington previews the darts in Belfast.
By Rod Harrington
Last Updated: 18/02/14 4:33pm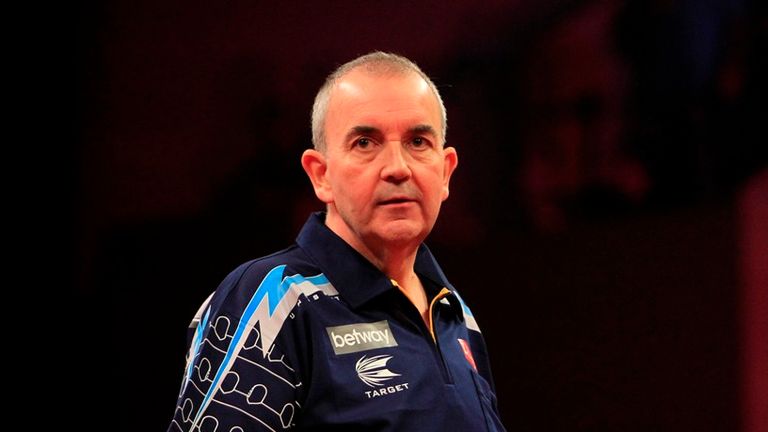 Peter Wright v Phil Taylor
Phil Taylor got a bit of a kicking against Michael van Gerwen in the opening week of the Premier League and I put that down to a lack of match practice. Then on the next Saturday he lost to Keegan Brown in the first round in Wigan, which was a surprise, but he won the Sunday tournament in very impressive fashion and I thought he was up for it again.
Then I watched him very closely in Bournemouth against Adrian Lewis last Thursday night when he lost again and I have to say he didn't look strong enough in the arm. I've studied his throw over the years and he really used to push with his wrist over the last foot of his throw - but last Thursday it looked as if he was lobbing the dart a little bit. We can go into aerodynamics, but to boil it down to basics, I don't think he's throwing the dart hard enough.
I had a chat with John Part recently, who has put on a lot of weight. When that happens you put weight on all over your body - including your arm - and that means his arm is now heavier. That means John will get tired quicker and he needs more strength to throw his dart in the same way. John had never thought of that - and I think the opposite has happened with Taylor. In my opinion, he has lost weight in January (and looks and feels good for it), but I think that means he's lost a bit of muscle strength.
That's not to say he won't turn up in Belfast and maul Peter Wright. The World Championship finalist has been playing well, but lost to Richie Burnett in Holland at the weekend and missed a few doubles at crucial times. Even if I was allowed to gamble, there's no way you'd get a penny out of me on this game. I can never back against Taylor because he could easily turn up and throw a 120 average - but we all know how strong Wright is at the moment. It's a tough game to call, but if the old Taylor turns up then Wright will have one hell of a game on his hands...
Dave Chisnall v Michael van Gerwen
Dave Chisnall is taking too long to get into his rhythm at the moment. It happened in his games in Holland over the weekend and he needs to start matches quicker. If you take three or four legs before you starting hitting big numbers then you're going to lose in this short format.
Michael van Gerwen is mega up for this, especially after winning the tournament in Holland at the weekend. The final against Mervyn King was incredible (and by the way, all credit to King who played extremely well for the whole weekend and if he keeps throwing darts like that then he'll be in with a shout of getting into the Premier League again). I've got to go for Van Gerwen to win on Thursday because I think he will get out of the gate quicker and hold onto the lead. He has an air of ultra-confidence about him at the moment - and nine times out of 10 that works. If he doesn't take Chisnall seriously he will lose, but Dave needs to get out of the gates quickly to give himself a chance of even a draw.
Wes Newton v Adrian Lewis
Wes Newton didn't play well early on against Barney last week and went 5-2 down, but then turned three legs around very quickly with some big finishes and ended up winning the match. He played well at the weekend and is a solid player, who you can't take lightly. He's a 95 to 98 average player most of the time and if his opponent hits 104 he will win - but otherwise Newton has a chance.
Adrian Lewis wasn't very consistent at the weekend, especially in the match he lost against Chisnall - and that's unusual because he's been playing extremely well of late. Maybe it's because he drove out to Holland (as he often does) instead of taking a flight and that extra tiredness and time cost him. He's had two or three days of rest and I think he will rock up and win in Belfast. I have to back him, strictly because of his extra scoring power - but Newton has plenty of consistency and will have a good go.
Raymond van Barneveld v Simon Whitlock
We saw glimpses of the old Barney last week, which was a shame. He went 5-2 up on Wes Newton and then it was as if the new Barney went off stage for a cup of coffee and the old Barney turned up and started looping his darts with little strength. That saw him lose the game.
But I've got to go for a Barney win here, purely on the form book. Simon Whitlock just hasn't been doing it lately. He hasn't played well in the UK Open qualifiers or in his Premier League matches and maybe that's down to some of the cold and flu he's been dealing with. Although Barney lost last week, he did get 5-2 up very quickly and I think that result will have woken him up ahead of this week's matches.
Robert Thornton v Gary Anderson
This is a battle of the Jocks, but I've got to go for Gary Anderson, who played well against Simon Whitlock last Thursday and repeated that form in Holland over the weekend. I chatted with him a lot last weekend and he's feeling very confident; he has his scoring power back and I think that extra power will see him just nick this game against Robert. However, as ever, if Gary messes around with his doubles then Robert won't let him off.