Grand Slam of Darts: Ted Hankey hoping to step up PDC career at Wolverhampton
Ted Hankey is eagerly awaiting his return to Wolverhampton for the William Hill Grand Slam of Darts.
Last Updated: 09/11/12 4:57pm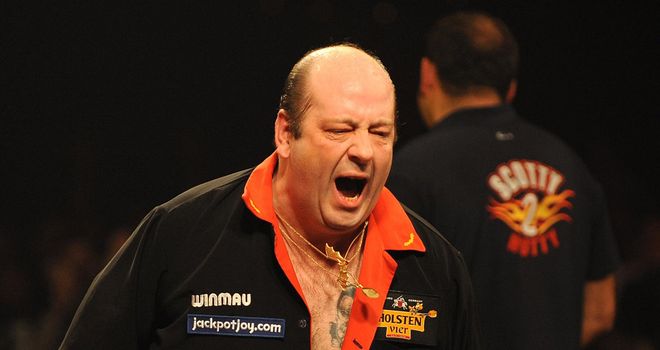 The two-time Lakeside Champion enjoyed his best run in three years at the Grand Slam 12 months ago by winning through to the quarter-finals - and even left the Wolves Civic stage to cheers during last year's tournament.
Hankey will begin the tournament against UK Open champion Robert Thornton on Saturday night, and has also been drawn with in-form Michael van Gerwen and fellow former World Champion Steve Beaton in Group B.
"I want to win the first game this year," said Telford's Hankey. "Once the first game's out of the way you know the others are going to be tough anyway, so if you get one win under your belt then you can relax a little bit.
"All the groups are tough to be honest, so when the draw came out I said to myself that it doesn't really matter who I play. It's the best of nine legs, and if you play well enough you'll win.
"I'm looking forward to being on stage again, being on TV again and in Wolverhampton. It would be nice this year to see the crowd cheering for me again and singing 'Super Ted'.
"It was cracking last year and I really enjoyed it because the crowd were great to me, and it's one of the reasons I'm looking forward to it so much this year to be honest.
"I had a really good time and hopefully I can have a good run this week too."
Hankey moved onto the PDC circuit in January, and although he qualified for the UK Open in June has missed out on the World Matchplay, European Championship and World Grand Prix since.
However, he said: "I know I've missed some of the PDC's majors but if I'd still been in the BDO I wouldn't have been on stage until the World Masters in October anyway so it's not been too much different for me only playing in the UK Open.
"Obviously missing out on the big tournaments on the PDC circuit has been disappointing but I've enjoyed the year.
"I'm playing well but I've not been finishing at the right times. It's a different game up on stage than it is in the floor tournaments though, and that's where I should shine."
Hankey's preparations for the tournament have been accompanied by the birth of son Aaron last month.
"Little baby Aaron's spot on - he's a little cracker," said Hankey. "My wife Sarah's over the moon and everybody's happy, and he's spurring me on to go forward now."