Former world champion Ted Hankey suffered mini-stroke at Grand Slam of Darts
Ted Hankey will be out of darts for some time after it was revealed he suffered a mini-stroke at the Grand Slam.
Last Updated: 19/11/12 9:51pm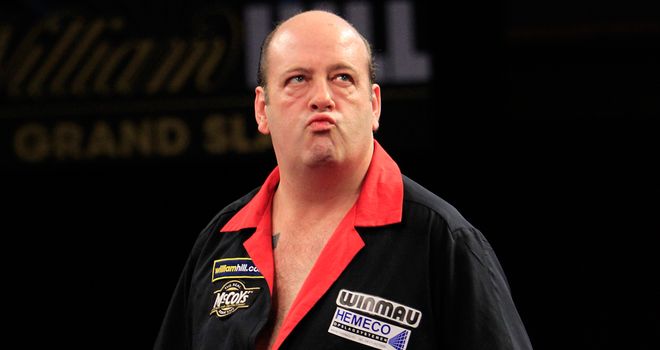 Hankey was at odds on stage in Wolverhampton during his 17-minute defeat to Michael van Gerwen where he scored woefully, was constantly rubbing his eye and struggling to count his score.
The performance led to much speculation about 'The Count' with some reports suggesting the 44-year-old was drunk, but his manager said afterwards that he was suffering from a chest infection.
However, the diagnosis has been much more serious with the 2000 and 2009 BDO world champion suffering a transient ischaemic attack (TIA).
"Ted will having 6 to 8 weeks rest no darts at all start again next year if given the all clear by the doc," said Hankey's manager Dave Stevenson on Twitter.
"Here is what was wrong with @TedHankeyDarts last week at the GSOD Ted had a Transient ischaemic attack (mini stroke) the symptoms are the face may fall on 1 side causing mouth or eye to droop may not be able to raise arms due to weakness may have slurred speech sudden loss of vision dizziness balance and co-ordination problems.
"These are some of the things Ted was going through and yet still managed to compleat (sic) the game. Ted would like to say a huge thank you for the kind comments he has received."
Stevenson also confirmed that Stoke thrower Hankey has also been diagnosed with diabetes along with high blood pressure and cholesterol.
"He'll have to change his lifestyle," said Stevenson. "It all came out during the tests and it's now just a matter of looking after him."
Stevenson says Hankey was just finding his feet in the tournament after a 5-0 thumping in the opener, as he followed it up with a fine win over Steve Beaton.
That made the performance against Van Gerwen all the more puzzling.
"He was starting to play well," added Stevenson. "He got beat by Thornton but he had chances to be four-nil up there and he then won against Beaton.
"Ted's a quality player. What Van Gerwen's done this week, he could have beaten Ted without what happened but we'll never know."
Hankey will miss the 2013 PDC World Darts Championship as he continues his recuperation, with the qualifiers set to begin next Monday.