Phil Taylor wary of Michael van Gerwen ahead of PDC World Championship final
Phil Taylor believes it is going to take a "massive effort" to defeat Michael van Gerwen and claim his 16th world title.
Last Updated: 31/12/12 3:44pm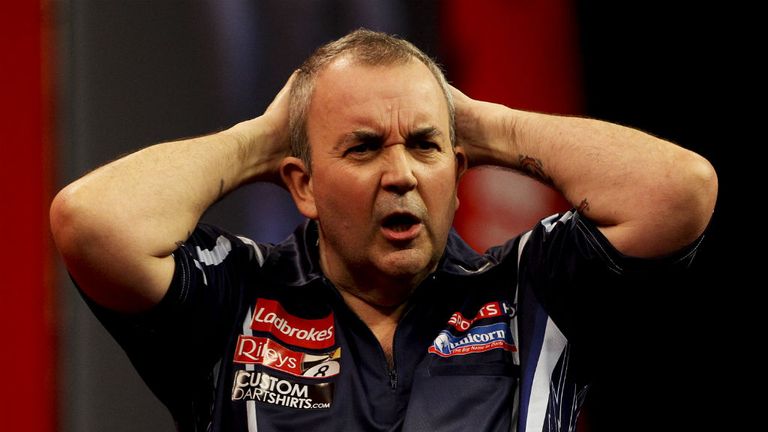 Taylor and Van Gerwen will go head-to-head in what promises to be an exhillerating final after both came through their respective semi-finals by a 6-4 margin on Sunday night.
'The Power' overcame illness and a resurgent Raymond van Barneveld while Van Gerwen threw the second nine-darter of this year's competition to help him progress past James Wade.
Speaking to Sky Sports News, Taylor said of his opponent: "The lad is phenomenal. He doesn't show any fear and has probably played the best darts I've ever seen in my career, apart from perhaps Dennis Priestley and 'Barney'.
"His form at the minute is unbelievable. It's going to take a massive, massive effort to just stay with him I think.
"What you see with Michael is what you get. He puts his heart on his sleeve and goes out there. He's a lovely lad, one of the nicest people you could ever wish to meet. He doesn't think about it and he doesn't fear anybody, and nor should he.
"I saw a little bit of vulnerability in his game last night against James, who I thought was coming back at him. But then he spurted on again.
"He's putting the effort in and he's getting his just rewards. I think he can improve even more, he's that good a player."
The bookmakers cannot split either player in the pre-match betting with Van Gerwen winning his last two meetings with Taylor.
And the 15-time world champion admits his health is a concern going into the final.
"I'm not very well, so it's been a bit hard to practice, he added. "On my days off I've been trying to rest up and recuperate, to get my energy levels up.
"It'll be an early night for me tonight. I've had it for about seven or eight days, I should have gone to the doctors."