Premier League Darts 2014: Rod Harrington previews Week 5
Michael van Gerwen v Adrian Lewis will be like two heavyweights slugging it out, says Rod Harrington.
By Rod Harrington
Last Updated: 05/03/14 3:11pm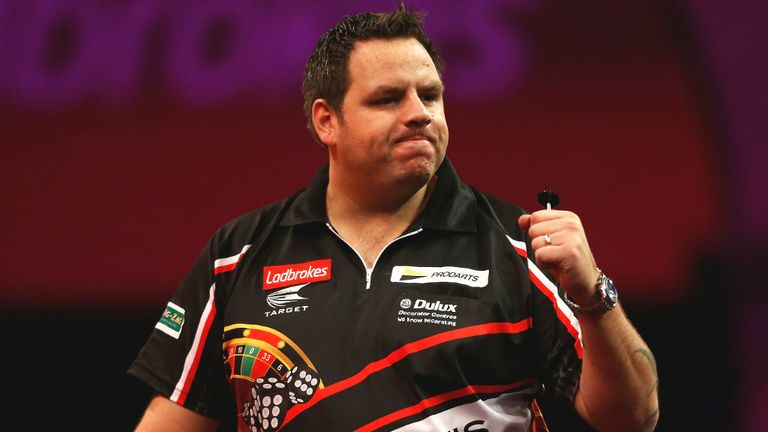 Adrian Lewis v Michael van Gerwen
Last week in Glasgow the new arena was like an amphitheatre with everybody facing the stage - and that gives you a better atmosphere. At the top of the show I could feel the sound waves pushing my shirt against my chest. It will be completely different in Exeter, which is one of the smaller, more man-made arenas - but because it's smaller it will feel like there's just as much atmosphere and noise.
I won't be in there this Thursday, but wherever I am I will be trying to watch this match and it will be a big favourite for the crowd. I've commentated on matches between these players in big tournaments even in Australia and whenever these two get at it then it's like a couple of heavyweights knocking seven bells out of each other. I think we will get more of the same on Thursday, even though Adrian Lewis was a little bit out of sorts last week. He missed a few early doubles against Peter Wright and lost 7-1, but I think a new Lewis will turn up here. On the form book you'd have to go with Michael van Gerwen to nick it, but if Lewis turns up with his treble-20 power then the crowd are in for a cracking game.
Wes Newton v Simon Whitlock
Simon Whitlock hasn't got any points yet and if he loses this week then I think he will be relegated; the next few matches will only get tougher because he will be putting himself under more pressure. However, I do think he will pick up the two points this week. He played well in his defeat to Taylor and he has been feeling better after illness. I think he will rock up and nick a close game.
I know I keep saying Wes Newton will lose each week, but if you look at the stats in the last three weeks none of his opponents have played well against him. Fair play to him, he has shown guts and determination to get over the line - and he probably wouldn't have shown that a couple of years ago - so that's commendable. He is learning the game and good on him.
Phil Taylor v Gary Anderson
Phil Taylor won his first match of the Premier League season last Thursday and averaged 105, which was very important. People have been writing him off, but he averaged more than 101 the week before which wasn't that bad. He hit doubles early on against Simon Whitlock last week, got in front and stayed there.
But The Power will have to be very careful against Gary Anderson, who is possibly playing his best darts for several years. He has got his scoring power back and proved it against Dave Chisnall last week when he put the turbo on when it looked like he could be about to lose. He has been taking out doubles and if he does that then he is always dangerous. Phil needs to get in front, get some consistency back and he needs to regain his power in shot-outs between 60 and 120. If he can pull those shots off he will get to Gary - but you wouldn't get a penny of my money on this game because there are so many variables.
Peter Wright v Robert Thornton
Last week I think Robert Thornton was trying to please his Glaswegian mates too much because I don't think I've ever seen such a turn-around in form from a player in seven days. On the previous Thursday against Gary Anderson he was electrifying and was averaging 122 after five legs - but last Thursday he couldn't hit a thing. I was commentating and couldn't believe what I was watching because I expected him to be solid and beat Newton. It's a nightmare being a pundit sometimes!
Thornton needs to up it because Peter Wright's overall game is exceptional right now. I don't think he can be relegated and a couple more points will nearly see him into the play-offs. He upset Adrian Lewis in his victory last week, but there was no malice and what happens on stage should stay on stage. If you went on the form you would have to pick Wright to win but it wouldn't surprise me if it was a draw.
Raymond van Barneveld v Dave Chisnall
Barney is the favourite for this match - and justly so. Dave Chisnall is taking two or three legs to get into a game and start hitting 140's and 180's - and over this short format that is a long time. If he does that against Barney he will lose, because as we saw last week the Dutchman is tough to beat when he gets in front. That's why he's a five-time world champion.
Last week Van Gerwen missed loads of doubles in the very first leg. Barney nicked it and got in front and got his confidence up, but it could have been totally different because Barney's game is so fragile. If Chisnall can get 3-0 early on then he will win because in my opinion Barney doesn't show any fight or determination when he goes behind. However, Barney did not play a tournament at the weekend so will not go to Exeter on a downer after a loss. He will be on a high after beating Van Gerwen and I think he will win.