It has been the season of Iker Casillas.
Jose Mourinho wanted Real Madrid to take the controversial, us-against-the world-line and while that has given them a sense of unity, Casillas was the level-headed guy who kept them focussed on the football. Mourinho has enjoyed that because he likes people challenging him in creative ways.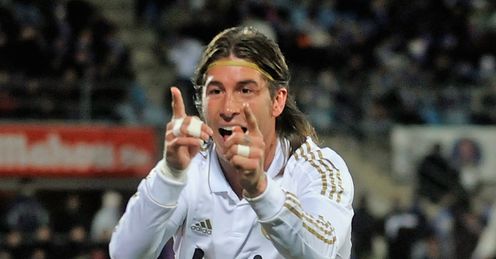 Mourinho has to be the best manager in the world, having now won the league in four countries (at Porto, Chelsea, Inter Milan and Real Madrid).
His teams have had a common style of being solid at the back, but he has been a bit more attacking this season because he has never had such quality in a squad as he has in this Real Madrid one. They have broken the goal-scoring record and deserve a lot of praise.
We will talk more about Real's achievements next week...
Guillem answers your questions...
Have a question for Guillem? Then send it in here or use the feedback form below, and then look out for his answer next week.
CLASS LARSS
Hi Guillem, as a keen Celtic and Barca fan, I always wondered how Henrik Larsson was looked upon in Spain. Back when he played for Barcelona they had a great team and it would usually be a toss-up between him and Ludovic Giuly as to who played along with Samuel Eto'o and Ronaldinho up front, while he changed the course of the Champions League Final against Arsenal in 2006 I would like to hear your thoughts on him and also what his status was like in Barcelona? Thanks, John Henderson (Celtic fan)
GUILLEM SAYS: Larsson was a success at Barcelona and the kind of player that they perhaps missed this season; a very professional player who can come on and make a difference. He is seen as a hero and some people in the Catalan press are suggesting it would be a good idea to bring in someone like Didier Drogba to fill that kind of role. I know Drogba is in love with Spanish football and Barcelona but, in my eyes, Chelsea are still favourites to keep him for another year.
SOLD SHORT?
Hi Guillem, As a Valencia fan I'm worried that our squad is lacking both flair and consistency in all areas. Do you think this will be the summer in which we will not have to sell in order to improve the squad? Mark McKenna (Valencia fan)
GUILLEM SAYS: I don't know how you can say Valencia lack flair and consistency in all areas when they are third in the league behind a stratospheric Real Madrid and Barcelona. That may be Valencia's problem: the fans expect things that they cannot fulfil. Valencia have been up and down but so have every other team in the world apart from Real and Barcelona, and even Barcelona have had bad moments. Valencia have got to the semi-finals of the Copa del Rey and the Europa League; that is Unai Emery's best season as a manager and yet the club still do not renew his contract. Valencia owe money and there is a possibility that Roberto Soldado could be sold. He admitted himself that if PSG want him that he would be willing to go. Until they sort out the situation with the new stadium, the building of which has been delayed, Valencia will still have to balance the books.
TALL ORDER?
Hola Guillem. Firstly, keep up the good work with your posts on the skysports.com website, always a good read. There are rumours that Barcelona are looking to sell Dani Alves but I feel he would be very hard to replace as he brings a lot to the team. What is your view? Also, do you think Barca will try to add some height to the team this summer as it is something that has caught them out against teams like Real Madrid and Chelsea? Cheers, Rod Massie
GUILLEM SAYS: Barcelona will accept a big offer for Dani Alves because they need money for a centre-back, a left-back and a striker. Alves is one of those players who would be difficult to replace but would generate some funds. That doesn't mean he will go but he is on the market. Secondly, more than height, the main problem for Barcelona - who had the best defence in La Liga remember - is to replace Xavi and Carles Puyol who can only play 30 games per season now.
HEADED TO THE REDS?
Dear Guillem, I am wondering now that Barcelona have set their sights on Thiago Silva, Jordi Alba and Neymar, does this clear the road for a move from a Premier League team for Javi Martinez and Fernando Llorente? They are two very talented players and a team like Manchester United are crying out for them. Do you think they would consider a move to United? I know it was mentioned in the past that Barcelona would be going for them but I hope they will come to United as they would be perfect for us. Thanks, Wajid Iqbal (Man United fan)
GUILLEM SAYS: Javi Martinez will cost 40million euros so if anyone wants to pay that money he will go but Athletic Bilbao don't need to sell. He can play at centre-back or in centre midfield but although there is interest, people are put off by the price. Fernando Llorente is different. He has one year left on his contract and he will either sign a new deal or Athletic Bilbao may be forced to accept an offer from abroad. I'll have more Llorente news to bring you in the coming weeks...
CENTRE OF EXCELLENCE
Hello Guillem, I wanted to know whether you feel it's time Real Madrid started breeding Raphael Varane at centre-back. I'm sure you'll agree that he is a great talent and whenever Varane plays in the back with Pepe, Iker Casillas seems more assured. Do you think Sergio Ramos should be drafted back to his favoured attacking right-back position and Varane in next to Pepe? I think so because Ramos provides a more attacking option for us than Alvaro Arbeloa. Thanks in advance, Vishal Vijaykumar (Real Madrid fan)
GUILLEM SAYS: Ramos has been the best centre-back in La Liga and he will continue in that position. He became Real's centre-back in week four and that is when Real started to play the football they wanted to play. He is fast, strong and can anticipate, he can take the defensive line high up the pitch and he is brave leader. Real can build from the back thanks to him and Ramos and Pepe will remain as the centre-backs next season. Real are, however, looking for an attacking right-back to complement the more defensive Arbeloa.
Keep your questions coming in and don't forget to follow Guillem on Twitter: @GuillemBalague
Stay tuned to skysports.com next week as Guillem reflects on the La Liga campaign.
Comments (6)
Barry Mcfeely (Liverpool fan) says...
Following Barca's promtion of Tito Vilanova to replace Pep Guardiola, do the Barca heirarcy have an idea in mind to now promote from within always, similar to the philosophy of the old Liverpool bootroom which produced so much sustained success because everyone knew the philosophy and workings of the club? And if Tito didnt succeed, is there another coach in the youth system who you think could step up to the top level? Gracias Guillem
Posted 14:36 10th May 2012
Vishal Vijaykumar (Real Madrid fan) says...
Cheers Guillem, Kaka had shown a fantastic return to form at the start of this year, good performances in the league along with crucial match winning performances and goals against Apoel in the champions league. Why is it then that Mourinho doesn't play Kaka often ?? He has hardly featured in the last 3- 4 games. Do you think Mourinho is over dependent on Ozil ? Ozil is a great player but highly inconsistent at times. As a Madridista, i'm concerned about Jose's over reliance on Ozil as the sole playmaker. Will appreciate your views on this matter. Thanks in advance Vishal Vijaykumar ( Real Madrid fan)
Posted 08:10 10th May 2012
Adil Osman (Barcelona fan) says...
Hello Guillem i wanted to know wether pep would ever think about being manager of the national spainish team. He said he needed a break well if he was in charge of spain that would be ideal for him because he would not need to be managing every day and most of them are barcelona players with other talents he has not worked with eg. ramos casillis silva alonso and they play like barca i would like your view thanks.
Posted 15:49 9th May 2012
Mark Bodewig (Bayern Munich fan) says...
hi guillem im a bayern fan whats your opinion on the champions league final? who do you think will win?
Posted 18:48 8th May 2012
Afeez Ogunnupebi (Real Madrid fan) says...
Hi gilleum...touching on the issue of real madrid being in the market for a right back,do you think there's any chance of madrid getting Dani Alves from barcelona since he is in the market and also because there are not many good attacking right backs out dere in europe?I know this is a long shot,but is there any chance at all.Also do you think madrid would get a playmaker to play beside alonso for next season?
Posted 16:15 8th May 2012
Cem Tikici (Barcelona fan) says...
Hi Guillem, i wanted to ask you about the situation regarding Tito Vilanova. I feel that most people do not know much about him in terms of football pedigree, albeit he did not have the most interesting careers as a footballer. Would there be a issue of trust and respect towards Tito from within the dressing room. Also do you beleive that Tito would stick to the playing style which brought so much success and or add something suttle but yet again different, such as a 'big man' upfront such as Llorente, Drogba, Cavani, Hulk or maybe even Klose (as he is with respect coming to the end of his career and would not expect to play every game) albeit the Zlatan experiment was not a success. Finally what are the future talent coming from La Masia we all know of Montoya, Barta, Rafa Alcantara, Grimaldo and etc, but the more younger generation? Great post again and allways a pleasure to read, I would be so glad if you can address these questions. Keep up the good work.
Posted 15:40 8th May 2012