By the standards of the Elite League, that was actually pretty tame. Coventry and Nottingham set the bar too high last season. C'mon, the goalies didn't even get into it!
But who's to blame when the beautiful game of hockey spirals out of control?
Shall we blame the officials? Broadway Tom Darnell put on another marvellous performance, super-charging the mid-table rivalry by blowing his whistle when he should have bitten his lip and chomping down when he should have exhaled deeply through his silver aerophone. Unfortunately, Broadway Tom always gets confused when he visits Cardiff, forgetting that he's a stage-hand at the Big Blue Tent and not hogging the spotlight at the Wales Millennium Centre. It's hardly a surprise that there was another post-game brawl at a Broadway Tom show. After all, he does love an encore.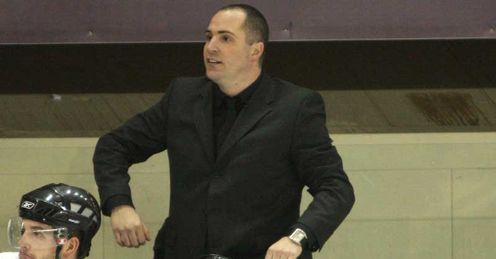 Broadway's leading lady, Mike Hicks, is also guilty as sin. He only put one sugar in Broadway's coffee in the second intermission. Broadway never got back on track after that.
Shall we blame the stewards? The fluorescent jackets who get paid with a cup of hot chocolate and a match programme? Are they really willing to sacrifice life and limb for the sake of throwing themselves in between the crazy train that is Benn Olson and whoever the clown was who got all up in his grill? The stewards are there to A: Have a nice little chat with the fans. B: Make sure people aren't spoiling anyone's view and C: To watch the game, while sipping hot chocolate and reading their match programme. If you want to know where Block E, Row D, Seat 9 is, ask a steward. If you want to stop Benn Olson and a jacked up Devils fan going at it then call the police. Maybe the Devils can leave a few donuts on the back door to avoid having to pay up for a couple of Bobbies to hang around behind the bench and put Max Birbraer in a strait jacket whenever he gets a match penalty.
Shall we blame the coaches? Gerad Adams and Paul Thompson spent Sunday night washing the blood off their hands, scrubbing with warm water and soap to remove the evidence that it was the two of them who masterminded this whole event.
Adams signed a middleweight pit-bull in Devin "The Dude" Didiomete, who he has kept unleashed all season long. Devin the Dude is free to tweet, eat and urinate where he wants with not so much as a blink from Adams. Thompson went to the heavyweight division and signed old Ryback himself, Big Benn Olson, who was last spotted chanting "Feed-Me-More, Feed-Me-More" as he skated a lap of honour around the blue tent. Or should that be CM Olson, after the way he got into it with a fan? G and Thommo knew who they were signing.
They wanted to put bums on seats and other players on their backsides. They didn't expect that every fan in the building would believe the pantomime they were watching and take it seriously though. Harsh luck old boys. Devin the Dude and CM Olson are good for business. Devin reminds me of Boris the Blade from Snatch, no matter how many beatings he takes, he keeps coming back for more. He. Will. Not. Die.
How about Neil "Paul Heyman" Francis and Mike "Mick Foley" Egener? Franny is a legendary trash talker; he can get under your skin like a syringe and fill you full of poison. Egener fell for the okeydoke, taking the bait and walking right into Franny's trap. Perhaps Egener was eager to get a fight bonus, or maybe the Blaze had put a bounty on Franny's head? A free trip to Nando's if you take out the Devils' assistant coach, that kind of thing.
Everyone will act like this is bad for the game, but deep down everyone knows you don't sell British ice hockey on saucer passes and soft hands. The attendance for the next meeting between the teams just went up a ton.
The bans will be heavy. Devin the Dude will not be allowed breakfast on the second Thursday of every month. CM Olson will be forced to watch Hull vs. Edinburgh in slow motion. Franny will be banned from the bench, and will have to endure the mental torture of discussing powerplay philosophy over cocktails with Paul Ragan in the crow's nest. Broadway Tom will no longer be permitted to watch Glee the night before a game. Egener will be condemned to a darkened room with nothing but a stopwatch, calculator and a DVD player showing back episodes of the EIHL Highlights Show and will have to count the number of times the words "Galbraith" and "Jade" are mentioned on average.
The fan who got involved will be punished the most severely. He'll have to go for coffee and cake with Corey Neilson at least four times this season.
And finally, Brad Voth will be suspended for six games.