The Lions tour teeters on the brink. Victory Saturday will see them acclaimed as heroes, winning a first series in sixteen years; defeat however will leave them rated amongst the poorest Lions parties of recent times.
This is, make no mistake, an Australian team there for the taking. Yes, they are Aussies and will not go down without a fight but they are struggling to find any shape to their game. Both sides are equally hampered with injuries - which has some bearing upon the scrappy technical quality of the first two Tests - but the lack of ambition in attack from the Lions was hugely disappointing, full stop.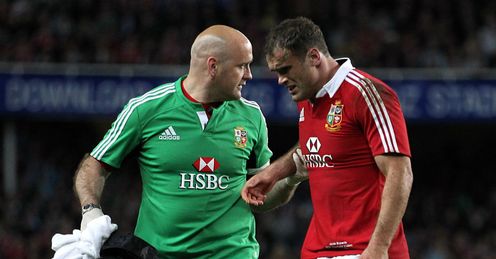 If not now, then when? The Lions were fortunate winners of the first Test and second best in the second Test. We now know that had Christian Leali'ifano not been carted off within a minute of the first test, the series would now be over with the Lions left with nothing but pride to play for.
As it is they have what will doubtless be called 'a shot at immortality'. That will be wild hyperbole. They are simply not that good a side and the opposition they face are lacking the class needed to make victory an epic one.
The flip side of the technical mediocrity has been the raw drama. For both tests to go to the final kick is quite something in terms of excitement. Purists might be disappointed but those tuning into the game as rugby virgins will be left gasping at the tension.
Stuart Barnes
Quotes of the week
Through no fault of their own the Lions have not faced down a full strength Super 15 team at any stage; this is not the stuff of heroes. But they are still level and still in their fighting with a great chance to win this series.
Given the fact that the Lions have not won since 1997, this Saturday is one of colossal importance for the Lions; the management has never hidden the fact that this tour is not about the heroic archaic nature of the tour but rather victory. Now we are six days from the final battle and any way, any how, will do.
The flip side of the technical mediocrity has been the raw drama. For both Tests to go to the final kick is quite something in terms of excitement. Purists might be disappointed but those tuning into the game as rugby virgins will be left gasping at the tension.
Lucky winners?
Had Leigh Halfpenny kicked the last penalty the Lions would have been the luckiest series winners of them all. As it is the shoot-out in Sydney enables them to elevate the entire tour with one magnificent effort.
If they play as conservatively as they did in Melbourne they will not succeed. The fear about Warren Gatland's inability to find a game to complement the power game is being realised. But that power game could yet blow Australia away in the decider.
The key man is Jamie Roberts. If the medical team can get him onto the pitch at 100% the Lions can turn the series around. In his absence the Lions have been stuck behind the gain line. Mike Phillips is a front foot player whose technical deficiencies are exposed with slow ball. A long back and a slow service makes life hard for those around him.
Yet with the forwards advancing over the gain line and attacking the breakdown, clearing retreating opponents out, he is deadly. He utilises his power and acceleration at the fringes and draws defenders to him. This creates space for Johnny Sexton and the so-far blunted Brian O' Driscoll to work their Irish magic. If Roberts starts, so should Phillips.
The combination of power and sleight of hand brings the power runners like George North onto the ball on the gain line, charging at defenders going backwards; game over. The power game is a sort of endless cycle with Roberts the man charged with the task of setting the wheel afire.
Back row conundrums
Another man who should play on Saturday is Sean O' Brien. Both flankers were excellent in defence but the Lions have to find as many ways as possible, not simply to slow Australia down but gather the initiative and force Michael Hooper and company to do the defending.
At the time of writing, the extent of Sam Warburton's hamstring injury is unknown. If he is ruled out, Gatland might be forced into starting the Irishman. It would be cruel on the captain who is a fine player and man of real integrity but the balance between attack and defence would and has to be better.
If the captain is fit the manager will not play O' Brien on the flank as Dan Lydiate was the better of the two flankers in a defensive, destructive capacity. It would be a gamble to throw him in as Number Eight but it would be a gamble worth taking. Gatland has shown the courage to make changes to a winning team, now he has to show the wisdom to get the balance right.
The line-out remains a major disappointment and the scrum could cost the Lions the series if Alex Corbisiero is unfit. Mako Vunipola played with great heart - like an Australian prop of old indeed - but technically he got away with constant boring-in. What an irony if a French referee blows the Lions out of the game against a superior Wallaby scrum. It is a real possibility.
Positives
Those are the worries, here are the hopes. That justice is served and James Horwill misses the final test. A one-match ban would seem about right for the crime with neither side happy but the judge a fair one (early Sydney Monday morning as I write and no verdict yet).
The skipper out would be a big blow for the Wallabies. He has played with great authority this tour. The other great hope that is not a matter of conjecture is that the James O'Connor experiment at fly-half will be continued. Robbie Deans is just about the only man in Australia who thinks this talented winger is a top notch fly-half and nothing is going to sway him from this judgement.
More than anything else, O'Connor's un-Australian depth in attack and his endless charging into traps set by the Lions defence, is holding Australia back. If the Lions win, he and Jamie Roberts have contrasting roles to play.
In Melbourne there were too many spills. It didn't deflect from the excitement but let us hope for thrills that accompany technical excellence. There has been nothing between the teams to date and another close call is likely. Wouldn't it be great if the game was high on quality and excitement...oh and it would be no bad thing if the boys in red won.
By lunch time Saturday (UK time) the Lions will be national heroes or soon to be forgotten failures. Knives are being sharpened even as garlands are being made. Saturday is win or nothing. For all the disappointments about Saturday's lack of quality there is nowhere on earth I would rather be than the Olympic Stadium, Sydney this coming Saturday. I am no believer but I shall be praying pre-kick-off; praying for a great game but, most of all for, well, you know what. I take the Lions to win by one point.
Watch every Lions game live only on Sky Sports. Click here to sign up or upgrade now.
Comments (16)
Mike Davies says...
You've got to see this in the context of Gatland's career. He came to Wales hoping that like Henry he would then be given the All Blacks team. That didn't happen., and no-one else is too keen to employ him either. So he's stuck with Wales. He's using the Lions simply to ensure his adoration inWales. Otherwise, why on earth dig out poor old Shane Williams and take him out to Oz for how long? A couple of days? Four hours? What on earth could that be about other than ingratiating himself with the Welsh. It's a wonder he hasn't picked Gareth Edwards for Saturday. So it is with all his selections: they're all made with en eye on his home crowd. Hogg, Tuiilagi, Twelvetrees and all the rest might just as well have stayed at home.
Posted 14:09 5th July 2013
Sandy Powell says...
My three concerns when Warren was appointed, first he'd appoint Sam as captain, two he'd take a large squad of Welsh players and third he'd play the Welsh way, Sam has been a no-no, at least three or more Welsh should not be there, Phillips, Evans, Tiperic and Roberts who's past his sell by date Sheridan, the Aussies hate him, and he's still regarded as the strongest player in the game,the Armitage brothers, regarded as the best street fighters in the French game, Laidlaw, a No9/10 and another kicker, the young English second row who's name has slipped my mind, he's like a back row forward, maybe Darcy to have partnered BOD, then backed up by Jonathon Davis and Manu and Easter the best No 8 ball carrier in the UK and Ireland. By starting the test with 10 Welsh players Warren has done the Welsh players a big favour for the Autumn series and next 6 nations, its called getting experience, but done no favours for the last test. What he's saying is that there's only five worthy players capable of starting the game from three other countries, that's an insult. The Aussies know the Welsh style and brute force and ignorance isn't going to win the game. Who takes over the captaincy if W-jones gets injured, there's no one, the last Autumn series, Wales where a disaster and not one of the so called senior players stood up to be counted, and no plan B, maybe Farrell should be wearing that captain's arm band, he's very vocal and points fingers at players when he has too, just like his dad, let's hope he gets a go. AND l wonder if all the coached where in agreement with Warren's selection, something tells me maybe not. l'm a Welsh man so fingers crossed. Best of luck Lions Sandy Powell
Posted 20:14 4th July 2013
Angus Watson says...
Regarding criticisms of Stuart Barnes' "blessing in disguise" comment (made on Australian/New Zealand TV coverage), which was in relation to Sam Warburton's hamstring strain. A little mystified by the criticism of Stuart Barnes here. Critics of Stuart might be perfectly entitled to think that Warburton is actually performing better than O'Brien. However you also imply that Stuart should be ashamed for using the word "blessing" when alluding to a hamstring injury, on account of it being "insensitive". Could these critics please take a yellow card for bringing their politically correct gibberish into the game of rugby. "Blessing in disguise" was a fine piece of journalistic metaphor that conveys very well the cruel realities of test rugby and the selection decisions involved. Stuart Barnes has a flair for finding insightful words on the fly, and these eloquent turns of phrase were a breath of fresh air to all of us who were tuning in Down Under. This journalistic artistry is why Australians and Kiwis like to hear what this Brittish commentator has to say. In almost the same breath, Stuart told the Australians that he felt very sorry for Sam Warburton. So what more do you want? If you prefer your journalism watered down, it surprises me you are following the Lions on Stuart's pages at all. Perhaps you should be following the Lions via the Rob Andrew column in Cosmopolitan.
Posted 12:17 2nd July 2013
Neale Vaughan says...
Just been reported that James Horwill has been cleared to play in the 3rd test. a sensible result and thank god those ignorant idiots in the IRB did not get away with this rubbish. Go the mighty Wallabies.
Posted 04:28 2nd July 2013
Eoin O donnell says...
For me guys like vunipola and Cian Healy empitimise exactly what is wrong with European rugby such a big emphases is put on creating props who are exceptional with ball in hand but in scrum time are well the less said the better. If there is anything that test should have showed us its how important the scrum is. I mean Munster pretty much based there past hineken cup successes on there dominence in the gritty scrum and ruck forwrds play that is no longer exsistent in the game and yet a combination of some of the best props in Europe can't even compete with a relatively weak by Southern Hemisphere by the big boys standard scrum
Posted 02:22 2nd July 2013
Anthony Johnston says...
Stuart, be careful what you wish for. If Horwill is given a suspension it sets up a very dangerous precedent for everyone. Most importantly, there is history around infringements in Lions games - think about Umaga's tackle on BOD (who missed the entire series). No-one can argue that Horwill's incident was worse than a spear tackle with the resulting injury...it is this precenedent that nneds to be considered, not an off-hand statement that "he deserves about a week".
Posted 00:33 2nd July 2013
Andrew Walbran says...
I believe it is vitally important to win the battle up front allowing players such as Roberts , O'Brien and Tuilagi as ball carriers to do what they do best (make yardage with ball in hand)... This allows guys like North,O'Driscoll and Bowe to feed off Sextons game management... The lions need to play with the same intensity as Wales did against England in the Grand Slam decider a few months back as the platform set by the forwards allowed Wales the freedom to exploit weaknesses in Englands defence..If I was Warren Gatland I'd lay the law down.....no pussyfooting around get stuck into them ....Ferociously !!
Posted 19:11 1st July 2013
Wayne Jones says...
Stuart, I have always been a great admirer of your view and opinion, but I have to say that you are teetering on the brink of commentator' slippery slope in courting controversy for it's sake. I as others have seen your comments regards Sam Warburton on aus tv. The comment that it would be a blessing in disguise is hugely disrespectful to say the least and bordering on the offensive to be positive about one man's huge misfortune in sustaining a serious injury whilst giving his all for his team. I challenge you to re watch the game and not come to the conclusion that Warburton was immense and almost single handed kept the lions in the game. No coincidence they lost upon his departure. You have damned him with faint praise throughout the tour and I am very sorry to say that you appear to be coming across as keen to see negative in all aspect. Your highlighting of Vunipola elbow on Ash-coop!! A complete non event. As I said a big supporter of yours previously but poor comments re Warburton who I believe deserves an apology for insensitive comments.
Posted 18:30 1st July 2013
Chris Lewis says...
Hi Andrew, I know that's what he meant but I have seen the footage and it's what he said. I just think whoever it might be that's just been injured and going to miss the biggest game of his career then you don't say it's a blessing in disguise. We need to get behind them all now. We were poor on Saturday but still came close. If the selection is right on Saturday then I truly believe we will win the match because we won't play that bad again. Maybe we should just get George the sack carrier North too carry the whole Aussie team on his back and win it that way!!!
Posted 18:10 1st July 2013
Andrew M says...
Chris, i wouldn't take it too personally. I believe stuart was saying that with O'Brien starting it would help the Lions' attacking game and provide a(nother) ball carrier in the pack - the Lions definitely looked short of ball carriers on saturday.
Posted 16:32 1st July 2013
Ramon Himera says...
So are you saying that gatland has tried to play the only game he knows (power) but has been missing roberts? if so then why not play tuilagi as a like-for-like? The Lions need to play with the verve and high tempo that has become synonoymous with them. Gatland deployed them tactically like Wales and they lost all three of their recent tests against the Wallabies narrowly. But they still lost. Time to deploy the attacking talent and go for broke. if you're going to go down then go down playing Lions rugby. The fans will not mind that. I'm still watching the matches from SA !!
Posted 15:05 1st July 2013
Michael Hoskins says...
Greg Lewis, you really are one-eyed aren't you? In the first test they knew how he reffed so why did they not prepare? in the second the Lions scrum got away with boring in all game - if a NH ref had reffed that they would have been blown off the park.
Posted 15:01 1st July 2013
Chris Lewis says...
I have just seen your interview that you did on Australian tv and I have to say what you said about Sam Warburton is not just disrespectful but couldn't be further from the truth. He was outstanding and yes most of his work was in defence but surly that wasn't down to Sam. Look how many turnovers he had for starters!! I like Sean o' Brian but he wouldn't be as effective as Warburton in that area. There is no coincidence that when Sam went off, the lions conceded. For you to say Sams injury is a blessing in disguise is disgusting and completely offensive. I think you should think before you speak, even if it is on a different countries television screen and maybe a public apology to Sam Warburton wouldn't go a miss.
Posted 13:16 1st July 2013
Neil Goldsmith says...
I thought the Lions were one dimensional and very predictable. The Aussies knew how to defend, the Lions were relying on running over them. Once that did not happen we were stuck. The lack of a genuine 12 has shown, the Lions have gone with outside centres only. Once Sexton is under a ruck there is no inspiration. The lions need a second 5/8 and someone to run better lines, not simply into people. Picking and driving one up doesn't work, it needs to go two out using the 7 as a link player. There needed to be a bit more invention with the line-out as well, why not one right over the top to the inside centre or a waiting 7? or to the 9 to run through the line out?
Posted 12:41 1st July 2013
Greg Lewis says...
The only reason this series isnt over and the Lions victorious is that the first test ref was a complete joke only missing the red nose and the second test ref made four or five critical errors, all in favour of the Aussies gifting them the game. With anything approaching even handed competent refereeing this would be a done deal.
Posted 12:08 1st July 2013
Matt Slade says...
I couldn't agree more about the lack of attacking intent (such a shame given the history of the Lions). I don't actually see many players in that team who break the gain line frequently. the entire back row is defensive and not good with ball in hand, O'Brien has to start, simple. The lack of an attacking No8 is showing now aswell as Heaslip was almost invisible (Ben Morgan would have been perfect for this role). If Roberts isn't fit, Tuilangi has to start. the current midfield has no punch at all. I agree that Phillips has to start, but only if Roberts/Tuilangi starts. Corbisero for Vunipola if fit. It is there for the taking, its as poor an Australian team as I've seen for some time, without mavericks like Cooper & Guiteau the backs just aren't firing.
Posted 11:25 1st July 2013