There will be some frustration in the England camp that the Ashes aren't starting next week after the demolition of the West Indies.
There are two reasons for that. Firstly, the side has built up some good momentum but the first Test against Australia is still some seven weeks away.
A whole raft of one-day games fill that gap and, as one-day cricket is not their strongest suit, England might just get knocked off their stride a bit.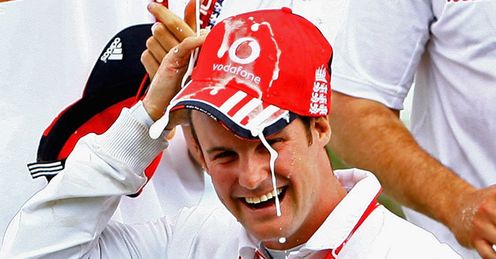 Secondly, there will be some disruption within the camp when Paul Collingwood takes over the captaincy from Andrew Strauss during the ICC World Twenty20 tournament.
Such change is far from ideal for the embryonic management team of Andy Flower and Strauss, both of whom must be delighted to get some early results under their belts.
Success eases the pressure and gets people off your back, plus there's nothing better than a couple of victories to make you feel good about yourself. Flower can now go about things with a little bit more authority as well.
It's difficult to say how far this new and obvious sense of enjoyment that we see on the field is linked to winning games and how much can be apportioned to the change of regime but from the outside the team looks happy, the players enjoy each other's company and that's a terrific sight.
Mike Atherton
Quotes of the week
LIVE ON SKY SPORTS
England v West Indies
10.30am, Thur, Sky Sports 1 & HD1
The Zimbabwean needed this series victory because over the last couple of years as number two to Peter Moores he's only been associated with modest success and then during his caretaker spell in charge England failed to win in the Caribbean.
Strengths
Strauss and Flower are the sort of people I would have enjoyed playing under. They are both pretty calm, know their cricket and are decent people.
As captain, Strauss has not shown as yet that he has a magnificent instinct for the job in terms of tactical decision making. That's not to say he's done a bad job so far; in fact the contrary is true.
But his strengths are in other areas - in his own game and the way he goes about his business in such an elementally sensible way; he speaks well to the media and you can sense that he carries that authority into the dressing room.
He is the right man at the right time yet without has not shown that he is a Mike Brearley in any sense.
To be fair, I haven't played under too many captains who are in that mould. Respect comes from a number of different areas, your batting, the way you deal with people, the decisions that you make, the honesty that you show; it's a package and for most of it Strauss is spot on.
It's difficult to say how far this new and obvious sense of enjoyment that we see on the field is linked to winning games and how much can be apportioned to the change of regime but from the outside the team looks happy, the players enjoy each other's company and that's a terrific sight.
Winner
Australia will now know they can expect a tough game this summer.
They will have looked at what happened in the Caribbean this winter and sensed that England were striving hard but not quite getting there, but that things were being put back together after tricky times with Moores and Kevin Pietersen.
Now, they will sense that England have stepped up a level and are in pretty good shape to take them on. Similarly, Ricky Ponting's side has improved over the last six months so the Ashes are bubbling up nicely.
Strauss will be able to more than hold his own against Ponting; he's not the type to back down or shy away. Ponting has obviously got a massively impressive record behind him but how much those records count when you step onto the pitch, I'm not sure.
Strauss is experienced himself, if not as a captain as a Test cricketer, and knows from his participation in the 2005 series that Ponting and company can be beaten; you should never underestimate the importance of being an Ashes winner.
Tussle
Meanwhile, James Anderson is maturing into a top-class bowler; he's leading the attack, he's bowling consistently and his control of the swinging ball is outstanding. It's all very well being able to swing the ball but controlling it is a different thing entirely.
He's fit, has great stamina and a good temperament. It is going to be a fascinating tussle between him and Phil Hughes at the top of the order.
The Australian has an unorthodox style, playing a long way leg-side of the ball so if Anderson swings the ball then he is in for a battle. Equally, Hughes may well get hold of Anderson and - if he does - I'm sure he won't be the last bowler to suffer that fate.
Ravi Bopara was another big performer against the West Indies and he has clearly taken a lot from these last two Tests; he came into the Wisden Trophy series with a great deal of confidence and he looks very cocksure of himself at the moment.
Now he has to make sure he doesn't go overboard because he's going to face a tougher challenge against Australia.
The West Indies put down a number of catches off Bopara; if they had taken them you are looking at a guy getting 20s and 30s and 50s, not hundreds. Australia are unlikely to spill those chances. I've no doubts that he's got all that it takes to do well but he mustn't get carried away.
Unfortunately for him, Tim Bresnan is the player who is most vulnerable ahead of the Ashes if Andrew Flintoff regains his fitness before the first Test; if Cardiff turns, then Monty Panesar could play. In either case Bresnan misses out.
On the face of it, he doesn't look like someone who is going to play a lot of international cricket but he's clearly very handy and someone who can come in and do a job; you need people like that as much as you need your superstars but if he plays a lot in the Ashes then something will have gone wrong.
Looking forward, I'm sure the West Indies will be much more competitive in the one-day games. There players can be very aggressive and like to play with a lot of freedom and the shorter formats of the game will suit them.
I just feel that England have confidence surging through them and are capable of winning the one-day series against a West Indies side that has taken a real knock.
Comments (7)
Derek Coventry says...
I think the one-dayers will give a great chance to try out the likes of Morgan and I would have preferred Bell to Shah. I think the absence of Pietersen is a blessing as too much expectation is always expected of him and I think the Aussies will have plans to restrict him. I think the last ashes tour will give the Aussies a misleading opinion of their chances this summer. This time Strauss has the captaincy that he should have been given in Australia and there will be a more positive atmosphere in the English dressing room.
Posted 12:05 21st May 2009
Anand Sridhar says...
I was a livid follower of australian cricket from the past decade or so. it saddens me to the extreme not to see warne,mcgratch,hayden,gilly etc in action. but that said & done i think this ashes will be as competitve as it was in 2005. The one big factor england will be missing this time is simon jones's swing,he mesmerised one & all. The australian team is stil formidable with young philip hughes & the all-rounder marcus north being the newest recruites in their squad. Let the games begin in july..
Posted 07:21 21st May 2009
Will Eden says...
for me , the venues of the ashes series are all wrong and by the end of the second test at lords the ecb and whoever else decided these venues will find their decisions will come back to haunt them. no trent bridge and old trafford is a huge mistake. cardiff is to all intents a neutral venue as it is an unknown quantity and an unproven venue (1st test is a scandal!), england wlill lose at lords so will possibly be 2 down after 2 tests. on the basis that lords has to have a test and the mcc members "grouse shooting" means it has to be the 2nd test. i would have picked the following venues:old trafford/lords/edgbaston/trent bridge/oval who did pick the venues anyway?
Posted 22:50 20th May 2009
Dave B says...
Darren Kok - I agree with you, the Aussies are stronger than people think. 8/10 months ago they looked poor but they have improved this year and are a better unit. They do lack a spin option & depth in their pace attack but the batting line up has depth with Haddin & Johnson looking capable of getting significant runs. Johnson with the ball will do well but the lack of support from the other end should help England. I'm not sure the bowling attack England had against the Windies will be able to pressurize the Aussies like we did in 2005 so Flintoff need to be fit & I think we need Harmison on form & wanting to play (Onions & Bresnan won't frighten them). Sir Ian & Bumble both predicted an easy win for England, Nasser & Gower went for a tighter series (with England as victors). I'm not so sure; England will need to produce the intensity of 4 years ago. Can they do it? I'm looking forward to the battle.
Posted 16:40 20th May 2009
George Staples says...
Yes England have performed well to win so convincingly BUT why has no one included the West Indies rating in world cricket. They are the third worst team, just in front of Bangladesh and Zimbabwe. Their captain is not a good team leader and is very unpredictable. Only four of the West Indies team can be called world class players. England have as yet proved nothing. England will need a more understandable selection policy and form players will have to be included. The Aussies have honed their skills against top class world ranked opposition and have unearthed some good talent. Hoggard may well trouble them with his pace and swing but for some reason has been discarded. We can but hope. Odds: 60 - 40 against.
Posted 13:51 20th May 2009
Kaustubh Verma says...
I think the more aware Australia is of a resurgent England, the more resolved they will be, the harder they will practice and prepare and the tougher they will be to beat. Also the West Indians are no competition to England in such conditions and I hope England are not led into a false sense of supremacy. A 2-0 win over West Indies will never have the same effect as a 1-1 draw Vs SA/India. My money will be on Australia to take the Ashes and that too easily...wait and watch!
Posted 19:49 19th May 2009
Darren Kok says...
As much as I would love to see England smash the Aussies, I still think the Aussies have the edge over the English. People talk about them losing Hayden, Martin, Langer etc.. yet they still have a great batting order in Ponting, Hussey, Clarke and Katich. Haddin is also fast becoming a wicket-keeper/batsmen. I also watched the whole of the South Africa-Aussie series home and away and Mitchell Johnson was superb against us. He can move the ball into and away from the right hander and with the conditions in England I think he will play a major role. A bowling line-up of him, Brett Lee and Stuart Clarke is hardly average. Come on England! Do us a favour so we can get to the top of the Test rankings!
Posted 16:14 19th May 2009