It's fitting that one of the great amphitheatres of world cricket should stage the final act of this Basil D'Oliveira Trophy.
Centurion and Cape Town provided fights to the finish but having survived both and cut a swathe through South Africa in Durban, England know this is a series they cannot lose.
So the hosts have it all to do and if the imposing, high stands at the Wanderers are full there should be a terrific atmosphere in the 'Bullring'.
Overhead
This is a venue that generally produces quite interesting cricket; the pitch has pace, bounce and carry and swing bowlers tend to do well here thanks to the thundery, humid conditions that often emerge throughout the afternoon.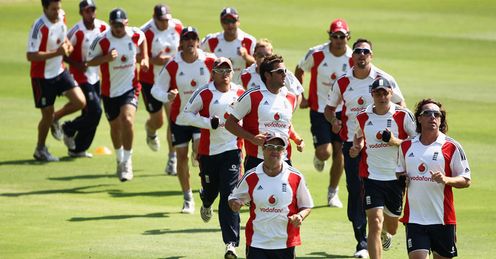 Just ask Matthew Hoggard, whose 12-wicket return inspired England to a series-winning 77-run victory here on the 2004/05 tour.
As I write, it's raining here for the first time in a couple of days following an unusually wet December.
Despite that, the pitch didn't look any different from a typical Johannesburg strip when I went out in the middle. There is quite a lot of grass on it but that grass is rolled in.
Should Andrew Strauss' side leave these shores having won both the one-day and the Test series it will be a significant achievement and a splendid platform for this winter's Ashes.
Mike Atherton
Quotes of the week
LIVE ON SKY SPORTS

South Africa v England
8am, Thu, Sky Sports HD1, Sky Sports 1
Online with Sky Player
Click
here
to remote record
Much has been written about South Africa's intention to prepare a result pitch but that's been overplayed in my view. Of far more interest are the overhead conditions.
If it's bright and sunny this pitch will be nice to bat on, if it's cloudy and overcast the ball should zip around much as it did on my last tour here in 1999/2000 when we collapsed to 2-4.
Opportunity
This England team is probably not as good as the side that won in South Africa in 2004/05, principally because the current attack lacks the pace and potency provided by Steve Harmison and Andrew Flintoff.
Moreover, it's hard to argue that England have been the better team this time around. South Africa have had the better of two Tests to England's one but they have been guilty of failing to take their chances.
By contrast, England have done well to hang on and their 1-0 lead is as much a tribute to their ability to tough out a result as it is to seize an opportunity.
Should Andrew Strauss' side leave these shores having won both the one-day and the Test series it will be a significant achievement and a splendid platform for this winter's Ashes given that when they arrived in November South Africa were the No 1 ranked side in both formats.
Given that they are 1-0 ahead and the players who were most under pressure (Ian Bell, Alastair Cook) are scoring runs, I don't expect England to change their side for the final Test.
Friedel de Wet's back injury means South Africa have to make at least one change but the inclusion of debutant Wayne Parnell will not weaken them much.
Left-armer Parnell is a pretty decent replacement because he offers a variety of angle with the ball and is handy with the bat; the downside for South Africa is that his follow-through marks will be perfect for Graeme Swann to bowl into.
Undermined
The week-long gap between Tests has allowed both sets of players three days off before getting stuck back into training, a period that must have benefitted South Africa.
Had there just been two or three days between the draining draw at Cape Town and the start of this Test I think South Africa would have found it tough, physically and mentally, to get themselves up again.
Now the squad should be refreshed and focused on the task in hand - although I wonder if that's completely true for Paul Harris and Ashwell Prince.
I don't think the selectors will leave Harris out for this one (even if I'm sure they've had a quick think about it) but you could argue that the whole episode surrounding Imran Tahir's inclusion and subsequent withdrawal from South Africa's squad for the upcoming tour of India could have an undermining effect on the spinner.
This issue also suggests that South Africa are not the most organised set-up off the field. To be unsure if a player is qualified or not to play for your country smacks of more than a little incompetence to me.
As for Prince, well he is struggling. He's short of confidence and is a real worry at the top of the order, where he doesn't look like a natural opening batsman.
England feel they've got the wood on him, that this is an area they can exploit; if Prince does get through the new ball, then Graeme Swann is lying in wait and looks all over him too.
Nor did Prince cover himself in glory in the third Test when he called for a review despite being absolutely plumb to Swann in the second innings.
But, just to reassure Lancashire fans that the county hasn't got a duff buy for 2010, Prince is still a pretty good player! How South Africa need him to show it from Thursday.
Comments (8)
Andrew Onslow says...
Rain interuption on saterday 16/1/10 Having listened to the comments about over the top appealing,surely everyone are different and reacts to situations differently,to say it should be toned down is silly when it`s the fault of the game if a player fails to appeal then the player won`t be given out,why oh why if a player is out why is he not given out come what may and then you can ask for less appealing
Posted 12:42 16th January 2010
Nick Dryden says...
Another shocking decision by Strauss to bat first. Strauss may be a very good player and a ''good chap'', but there just there seems to be no end to his bizarre thought processes. Everyone but everyone knew this was a prepared bowler's ''result'' wicket and he gives the S. Africans first use on it !!! How many own goals can Strauss keep giving away ? In the West Indies, Strauss wouldn't make the opposition follow on, batted for an eternity and scored so slowly, even deploying a night watchman. At Headingly in the Ashes, he decided to bat first on an overcast ''swinging'' morning. In a recent one day game, Strauss didn't take a batting power play till only 2 wickets were left. Back to this South Africa tour and in the 2 matches we were mightly lucky to get out of jail with, playing so negatively and down to out last wicket on both occasions, Strauss inserted the opposition to bat first on batting paradises with only 4 bowlers ! On paper we may have beaten the Aussies and we are doing ok against South Africa, but that really doesn't tell the whole picture.
Posted 11:43 16th January 2010
David Roberts says...
With De Villiers not walking a few minutes ago when given not out by umpire, does this now come into the "cheating" category.? Now we have reviews, all batsmen should walk if they've hit a ball and leave the non hits to reviews.
Posted 10:34 16th January 2010
Tony Lock says...
Just look at amla prior to jimmys 4th ball in the final over before lunch .About a yard out of his crease.DAY 2.
Posted 00:17 16th January 2010
Guy Sp says...
What's happened to cricket ? Is it following football into the mire. In Europe, footballers sincerely believe that deceiving the referee is all part of the game. But as Thierry Henry found, winning games by cheating can undermine an entire career's work. Now we have Graeme Smith standing around waiting to be given out by a clueless 3rd umpire who can't even turn his sound equipment up (how did he get the job in the first place ?). Why didn't Smith walk ? Has cricket degenerated into farce? I understand the South Africans felt the English players were up to no good tampering with the ball in the last test. But weren't sufficiently sure to press ahead with an accusation. Who is looking after the image of the game of cricket ? And why doesn't sportsmanship mean anything in games these days ?
Posted 16:43 15th January 2010
Ashley Brown says...
aup right i gt this arguemaent goin does i know the line belongs to a umpire But whe the the bowler comes to the crease is it true the font foot can be just on the line and also behind the line and and the line is the umpires only on a no ball and when thay is a run out and a stumping thanx ash (p.s this arguement has been goin on for ages and i have been playin since i was 8 now im 21 a good leg spinner and tell bumble he has to come to sandiacre cricket club the heart of derbyshire)
Posted 15:11 14th January 2010
Chris Hyland says...
Can't wait for the final test... I have to agree that on paper England are not as good as the last touring team to SA, but there is an admirable resilience and I am hopeful we can go onto bigger and better things in the future... beating the Aussies in their back yard! I must say it's been a fantastic serious in SA!
Posted 16:43 13th January 2010
Pradeep Madhavan says...
Your observation on the Tahir eligibility fiasco are almost certainly correct. On the one hand it shows SA are desperate for another spinner. On the other it indicates to Harris that they don't think he is worth it.
Posted 22:32 12th January 2010