It seems as if I triggered something of a debate on the blog when I suggested last week that this current FC Barcelona side might just be the best team we've ever seen.
Now, I love an argument about football as much as anybody, but if you're going to disagree with me, you're going to have to avoid churning out the same old clichés!
According to many of you who commented on last week's blog, there's no way we can possibly rate this Barcelona side because La Liga is a two-horse race and that winning it proves absolutely nothing, because the rest of the competition aren't even at the races. Those who have disagreed with me also claim that the Premier League is a far more open, even and tougher opposition. Is that so?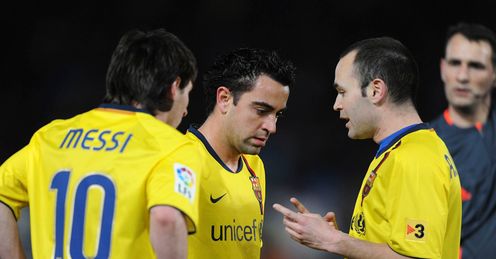 Well then how come it's been six years since anyone other than Chelsea or Manchester United won the Premier League title? Arsenal were Champions in 2003-04, the same season that the La Liga title was won by Valencia.
And what about this myth that the rest of the chasing pack are much closer to the leaders in the Premier League? In the six years since Arsenal were Champions, the gap between first place and sixth place in the Premier League has averaged 28.8 points. In Spain that gap between Champions and the European contenders averages 24.8 points.
The Spanish competition had 11 Ballon d'or nominees out of 23, while the Bundesliga (five) and Serie A (four). The Premier League had three.
Guillem Balague
Quotes of the week
LIVE ON SKY SPORTS
Sevilla v Almeria
7pm, Sat, Sky Sports 3
Atletico Madrid v Deportivo
9pm, Sat, Sky Sports 3
Barcelona v Real Sociedad
6pm, Sun, Sky Sports HD1
(Starts on red button)
Zaragoza v Real Madrid
8pm, Sun, Sky Sports HD1
The argument usually goes something like this: "Ah, but the teams down the bottom of La Liga are rubbish; there are no easy games in the Premier League!" Is that right?
The gap between first and last in the Premier League? 65 points on average - while in Spain, the average points gap between top and bottom is 56.6 points over the same six year period.
I imagine many of you will argue that even if La Liga is more competitive, the Premier League is more exciting. Well, quite how you measure excitement is impossible to define; but if it's in terms of goals scored, again, La Liga just about comes out on top over that same six year period.
Best players
Quality? Well that's impossible to measure with statistics. But judging by the 23-man shortlist for the Ballon D'Or, La Liga wins hands down. The Spanish competition had 11 Ballon d'or nominees out of 23, while the Bundesliga (five) and Serie A (four). The Premier League had three. And now that the winners have been announced, all three play for FC Barcelona.
We should probably also mention that there were no English players on that shortlist, compared with seven Spaniards. Ten of those on that shortlist took to the field in last week's el Clasico, and half the players on the pitch were world Champions with Spain. It's rare for half the players on the pitch in a Premier League match to be English, let alone World Cup winners!
No doubt some will respond by stating that all of this proves that La Liga simply throws money at attracting the biggest players in the game. If it were that simple, Man City spent more than anyone on the planet. How many Ballon D'or nominees turn out for them at Eastlands every week? None. Meanwhile Barcelona take to the field with possibly seven, even eight academy players week in week out.
If the best players are choosing to play in Spain, it's not only about the cash. José Mourinho told Revista a fortnight ago that managers, players, even referees have a 'the responsibility to make sure el Clásico will be a super game, that the world will get the show they deserve'.
Two days later, Johan Cruyff added that Mourinho used to consider winning the only priority, but that now he has changed - he has realised that there is far more to football in Spain than grabbing three points every weekend.
Guillem answers your questions...
Got a question for Guillem? Then send it in here or use the feedback form below, and then look out for his answer next week.
SHARING AWARDS?
Hi Guillem. With respect to Ballon D'Or, we in Myanmar think that for obvious reasons, it would be the best decision to award it to all the three players jointly, namely Messi, Xavi and Iniesta. Don't the organizers have the means to award the honour collectively to these great footballers, who invariably offer beautiful and breathtaking spectacles playing together? In other words, are there no provisions or rules to present a collective award? Thein Sun Tun
GUILLEM SAYS: We are talking about an individual trophy. This is the closest it's ever been to a collective reward, in that the three of them belonged to La Masia (Barcelona youth academy). You cannot just give it to them all. Captains and coaches of national teams vote, so it is impossible to pre-organise it.
My line is that Xavi may get it and pass it on to Iniesta - because he always passes it to him! I'll be very happy if either Iniesta or Xavi win it. In terms of Xavi, this will probably his last chance that to win it. With Iniesta, he is the favourite, but will probably be able to win it again in his career.
ENRIQUE FOR SPAIN?
Hi Guillem, I love the blog and love listening to your opinions on TV. I'm a Newcastle fan, and over the last season-and-a-half, we've seen the rise of Jose Enrique. Besides Evra and Cole, he has to be the best left-back in England. He is starting to get attention from the media as being a quality player and is being linked with a move to Spurs (which frightens me as we need him). What is the view of Enrique in Spain? Could he be a possible replacement for Capdevilla in the National Team? The way Enrique plays is so 'Spanish' and I think he would fit into the national team well. Thanks, David
GUILLEM SAYS: It happens a lot that if you move to England, you go off the radar in the national team. This is a strange case, because playing in the Championship automatically means you will not be considered for the national team. I enjoy watching him play, as he has a mixture of English and Spanish - he is tall and strong, but can play the ball. He has got to play at this level for a little while. Capdevilla is a European Championship and World Cup winner, and of course needs a replacement and the position is up for grabs. Canella and Jose Angel, both from Sporting Gijon, could take it. Monreal from Osasuna, and why not Jose Enrique. But, he disappeared from the radar of the newspapers, who are probably too centered on the players in Spain.
BRILLIANT BARCA
Again we see who are really are the best team in Spain, or even the world. People forget that Jose Mourinho didn't win everything in his first season, whereas Guardiola had the best start a manager could want with six trophies in one year! 5-0 to FC Barcelona cancelling out any doubts as to who the better team is. In all honesty, the Barca players are better, e.g. Messi v Ronaldo, Xavi v Alonso, Villa v Benzema. Madrid are like the Man City of the La Liga and Barca are like United. They spend big and have a star studded team, but they can't buy the spirit and friendship in a team. Mourinho is a great manager, but he isn't God and he can't stop Barca. Leon O'Reilly
GUILLEM SAYS: Mourinho had difficult times at Inter in his first year. He tweaked here and there and the team became stronger in the second season. He has seen his limits at Real Madrid, and he didn't know who he could count on but, after the last week, he now knows. He faces the biggest challenge of his career because Barcelona are the best team in the world, and, in my eyes, probably in the top three teams of all time. It is becoming a bit of a head-to-head. It will come down to the two games that happened last season, and will probably happen this season, so you need to beat Barcelona. One thing that happened in el Clasico is that Mourinho will have played in a different way. I'm not sure if it was down to instructions or mentality, did they know they needed to push up or defend deep? They could not do it like Inter did against Barcelona.
DE GEA TO UNITED?
Hi Guillem, I was wondering if you could clarify the David de Gea to Manchester United rumours. Are United prepared to match his buy-out clause and, despite de Gea recently rebuffing suggestions of a transfer, is he open to moving? Finally, were he to move next June, I take it he would arrive as United's new first-choice keeper with the other new goalkeeping arrival Anders Lindergaard playing back-up to de Gea? He is a top class keeper and one of only a few who I think could take over the mantle from VDS. Thanks, Shane Farrington.
GUILLEM SAYS: According to my sources Atletico Madrid know that de Gea could move to an English side - that being Manchester United. There is an issue with his agents that may make things a little bit complicated. His agents have a mandate until the end of June, and after that he will probably be taken over by new agents. If that's the case, it looks like the new agents may have a deal with United, and if they take over, this may well be respected. If it's with the old agents, it's up in the air. I think they have been to see him and liked him. Somebody at Atletico told me that he is practically gone. I may be being a little bit ambiguous, but I think that this could be the case.
If you've got a question for Guillem, send it to skysportsclub@bskyb.com.

Comments (111)
Shane Farrington (Manchester United fan) says...
Hi Guillem, I was wondering how far you think Malaga can go under their new coach Mauel Pellegrini? They seem to have some useful players at the club such as Jesus Gamez, Seba Fernandez and Eliseu. Add to this the recent signing of Enzo Maresca and more money set to made available by the rich owners in the upcoming transfer window and the future looks bright. If they can find some consistancy could you see them getting a European spot within a couple of seasons? Thanks once again, Shane Farrington.
Posted 22:15 12th December 2010
Guy Broadhurst (Leicester City fan) says...
In reference to the question of which league is better ask yourself this....would you rather today have watched Bolton v Blackburn or Barcelona v Sociedad? Quite simple really isnt it......one was a game the other was a show.....what amazes me is why Bracelona fans and players celebrate goals...whats the point? Its like me beating a 4 year old at arm wrestling and then celebrating how strong I am. GB trots out statistics over the last 6 years....what he doesnt say is how the 2 leagues have changed over the last 6 years!! Lets take the same statisticas at the end of this season over the last 2 seasons and you will see the reality is quite different. Unless they start splitting the TV revenue and sorting out RM and Barcas debt La Liga is going to die. I am watching this whilst Barcelona v Sociedad is on the TV...you will note I didnt say whilst WATCHING A GAME OF FOOTBALL. Anyone who prefers LL over the EPL doesnt know anything about sport.
Posted 21:38 12th December 2010
Kevin Hughes (Manchester United fan) says...
Hi Guillem. I think your spot on but I would go a little bit further. Barca are the greatest team in the world ever ... by a mile. They have all the ingredients. Great defence, best midield in the world, best frontline in the world and possibly the greatest player ever to play the game in Messi. All the stats back it up. best start to a season this season I believe, possession stats, if Barca beat Sociedad, points total last year and most importantly, their trophy haul in the last two seasons show that, 1st Spanish treble in there aswell. Even more impressive, they have done it in the right way, by concentrating on youth and giving them a chance at the highest level; and by playing the right brand of offensive high intensity football. That mixed with their quality makes them impossible to play against and makes them the best... ever. If this Barca side only make your top 3 can you name your two other sides? and possible in order?
Posted 20:50 12th December 2010
Michael Wilde (Manchester City fan) says...
well firstly city have spent alot and tevez is clearly one of the best players in the world and would go as far as saying he is better than both spanish starting strikers in my opinion. then my other point is if the spanish league is so good look at the players who have moved from the EPL ronaldo and owen examples when they have gone there they have destroyed the league quite easily and that leads me to the last point the reason our player dont get nominated is the reason that all the characters high up in football have a problem with the way football is played over here.
Posted 19:56 12th December 2010
Andy Jones (Manchester United fan) says...
You are right in all of your statistics and facts guillem and no-one can argue the quality there is in la liga. But there are a few things you have left out which suggest la liga isn't quite as dominant as you suggest. In the past 6 years as you mention, how many spanish teams have made it to the champions league final vs english? I count 2 spanish (Barca 05/06 & 08/09) vs 6 English (Liverpool 04/05 & 06/07, Arsenal 05/06, Man Utd 07/08 & 08/09, and Chelsea 07/08) which surely suggests more quality in the English premier league over the past 6 years. Is the premier league not the most watched league in the world? with the biggest fan base? Without mentioning the FA cup being the most watched domestic cup competition in the world. La Liga cannot boast these things.
Posted 19:03 12th December 2010
I Straw (Marseille fan) says...
I think it may be premature to start calling Barcelona the best team ever. I have to agree with a lot of comments on here in that you can make the stats say what you want but don't get me wrong this Barcelona team is the best I've ever seen in my life time. However if we look at the game you can see that the game is now best suited for their play. Who's to say that 20/30 years ago when it was a lot more physical and pitches weren't as amazing as they are now that this Barcelona team would've been able to handle the physicality of the game of football, and where referees generally let this aggressive game carry on. So my point is, in this era where now smaller more technical and high skilled players are chosen over hieght and strength the Barcelona team is the best i have ever seen. I mean who's not to say that Arsenal were the best team ever when they went unbeaten for a whole season or Manchester United who have (like Barcelona) consistently been winning trophies after trophies every season and being one of the first teams to win the almight treble in th 98 season. The pace the power and the strength of the Premier league at the moment is too strong for la liga, i mean lets not forget Barcelona got beat off Hercules at the beginning of the season so lets not get carried away
Posted 16:23 12th December 2010
Paul Buckle (Tottenham Hotspur fan) says...
Since the year 2000 Spain have won UCl 4 times outright. England twice on penalties. Europa league 3 different spanish teams (Sevilla Ath madrid valencia) have won it 4 times between them.Liverpool once for England.Supercopa, 4 different Spanish teams and only Liverpool for England. If you like statistics they tell me which league is the strongest!!
Posted 16:10 12th December 2010
Kev Alman (Liverpool fan) says...
Max the chelsea fan says La liga has been a dull two horse race over the past six years. That has been the same as the EPL over the same period. M Utd and Chelsea winning just about everything. Hardly a strong and competitive league.
Posted 13:42 12th December 2010
Paul Hanaphy (Manchester United fan) says...
No way is the Barcelona defence good enough! Puyol is extremely slow and the likes of Vidic are far better. What's more i don't recognise the Ballon D'or as proof of anyone's ability seeing as no one at uefa or fifa likes English football. Also how can they be the best team in the world when they're not the best in Europe? Inter are. In short i foresee Chelsea as a massive threat to Barca and if they meet Chelsea will win and either they or united will win the Champions League. We'll see who's got the best team in the world then eh?
Posted 13:41 12th December 2010
Grant Barker (Manchester United fan) says...
I have to agree, La Liga has overtaken the Premier League in most areas now! The players that Real Madrid and Barcelona have are unbelieveable! And i think the arguement that premier league fans make about the quality outside spains top 2 is cluthcing at straws to find something to criticise! Having seen United play Valencia home and away in the group stages of the champions league, i was impressed by them! If you look back to when i believe the premier league was at the peak of its powers, was the 2007/08 season resulting in the United v Chelsea champions league final. We had Ronaldo, Rooney, Tevez, Drogba, Torres, Gerrard, Lampard, Ashley Cole, among others, all at the top of there game and in great form! I know many of these players are still in England, but i dont believe they look as good as they did then! Now La Liga have Messi, Ronaldo, Villa, Xavi, Iniesta, Kaka, Ozil, Forlan, Aguero, Pedro etc! The quality is incredible! These things work in cycles i believe, Serie A was the power in the 90s, then it was La Liga with Madrids mega signing policy, then obviously the money of the premier league bought a lot of success in the last 5-6 years! Its just spains turn again!
Posted 13:14 12th December 2010
Yaqout Rashid (Manchester United fan) says...
la liga better than epl? not a prayer!... id love to see barca down at the brittania and put 5 in the net... wouldnt happen. why? coz the epl is played with heart and guts and no self respecting footballer would roll over the way real did in el classico
Posted 12:33 12th December 2010
Matthew Smith (Arsenal fan) says...
No surprise that all the Rangers and Celtic supporters on here think La Liga is better, since they're also playing within in an endlessly boring cycle of the same two teams swapping the title year in year out. The Barcelona love-in that rages on around football at the moment is hilarious. Despite their obvious flair and team spirit they are possibly the worst 'sportsmen' in any sport in the world. Play acting, cheating and intimidating officials is their stock in trade and no amount of trophies can obscure how they sully their reputation every season and bring the game into disrepute. I would watch Spurs v Arsenal or Man U v Liverpool over El Clasico any day of the week; guaranteed fast, passionate, attractive football played in the spirit of the game without any of the nonsense. Also, any discussion of the merits of the two leagues is irrelevent unless put up against CL records, since they are considered the benchmark of European footballing success. Quite simply, more English teams go consistently further in the competition than Spanish. Spurs have qualified for the knockout stages at the first attempt and that tells it's own story.
Posted 11:59 12th December 2010
Avishkar Panday (Manchester United fan) says...
I will not dispute that Barca is probably one of the most special teams of all time. It is a perfect team. But dont for a second think that the La Liga is more competitive than the Premier League at the moment. 2010/2011: Currently 9 points seperates 1st from 4th in Spain. While 9 points separates 1st from 8th in the premier league. Presently the top scorers in Spain are Ronaldo (16) and Messi (15).. And then u get 'everyone else' far behind. In England top scorer is Berbatov on 11 goals, and 14 places BELOW him in Van der Vaart on 6 goals. Your argument is flawed and is a joke to be honest. And one more thing, when the 'big clubs' in England wish to buy players, they dont fund the purchases from tax payers monies. and neither do they collude with banks. Thanks.
Posted 11:10 12th December 2010
Phillip Komakech (Manchester United fan) says...
i would say premier league is far better than spanish league the spanish mate say they got more home growthn players but at list 4 english clubs are in the champion league last 16 unlike the La Liga teams whtich is just two and the reson why we got so many forgien player is becuse are league is more popalar than the others forget about statistics its about he and now and right now la liga lose hands down
Posted 11:06 12th December 2010
J Dieudonne (Valencia fan) says...
how do your measure passion? if you are a fan of any EPL team you will have passion for that league. I love football but I ca not sit though an entire EPL game; I find it so boring. As my love lies with Valencia, my passion lies with La Liga. I love to watch Valencia matches and also the matches of our rivals in the league so naturally I think La Liga is more passionate, just as a Liverpool fan will argue the EPL is. With regards to this Bacelona & Real debate, if you take Manu and Chelsea out of the EPL and insert Bacelona and Real, will the result be any different? Who will stop them, Liverpool? Spurs? Please!!!
Posted 10:26 12th December 2010
Salami Muyideen (Barcelona fan) says...
For now barcelona is simply the best team any one can think of, if they continue like this I think they will be the best team so far in the world of football
Posted 09:04 12th December 2010
James Williams (Tottenham Hotspur fan) says...
To be honest I agree that La Liga is better than the Premier League, football gets played the right way in La Liga, the passing game. in the Premier League their are too many long ball into the box. a big stricker and you'll do well, but in La Liga you need good skill and quallity and all the best players play their aswell. Also in england their are too many over-payed players who dont respect the game and the fans enough. Football isnt about just doing the basics, fair enough, in the Premier League they do the basics well and at a fast pace buts thats it, hardly any natural skill.
Posted 05:35 12th December 2010
Sai Karthik (Manchester United fan) says...
You have centered your blog around barcelona and it's Ballon D'or and academy strength.That in itself proves that barca are the sole top dog in spain.If you are talking about only last 6 years,then what about spanish teams in europe.real have been thumped out in the second round in every single season.again barca are the sole representatives of spain in last 4.These statics are a reflection of these average mid and lower table spanish clubs playing against each other and scoring goals.and coming to the money spendings,city have just started in that business.in the last 6 years,money spent by barca and real can be accounted for at least 4 top pl teams barring city coz they are the newbees and can only be accounted for after a few seasons...
Posted 04:33 12th December 2010
S Mike (Arsenal fan) says...
Guillem, I'd just like to add that most of these people who say the premier league is the all and all of football are NOT regular followers of other leagues. I've always had a strong following for Arsenal, Juventus and Barcelona, dating back to the times when Juve had Baggio, then Zizou + Del Piero + Pipo Inzaghi and the Kluivert/Overmars days of Barca. these power cycles change, and we cannot help but agree that over the last couple seasons...La Liga has regained that flavour they lost a while ago.
Posted 01:47 12th December 2010
Shashi Kiran (Arsenal fan) says...
English Premier league has became more predictable from last season and it was quite evident when chelsea , man utd and arsenal lost a total of 22 games and this season , they have lost 8 games with 1/3 of the season gone. Whereas in spain , barcelona and real madrid does not lose to anybody except to each other . In spain , all other teams lay down their weapons easily(they accept defeat to barcelona or real madrid) even before match starts. This season , chelsea has lost to birmingam who were in the championship two years before , arsenal lost to newcastle who were in championship last year and to west brom. Unlike La Liga , EPL is not a open and shut case. Everybody know barcelona is going to win la liga easily this season and many seasons to come because of other teams been having weak mentality.For them , winning champions league is a achievement because you compete against the champions of all the leagues. In EPL, its open between chelsea , man utd and arsenal. If any of these three play like barcelona , then they can win the premier league
Posted 00:01 12th December 2010