Spurs looked the real deal at Norwich in midweek.
Strong and slick, they could have won by five or six at Carrow Road - a ground that is generally considered a tough place to go and get a result.
Gareth Bale and Luka Modric would get into any Premier League team right now and Scott Parker isn't far off; Rafael van der Vaart showed some exquisite touches too - one first-half pass to Emmanuel Adebayor was a thing of joy.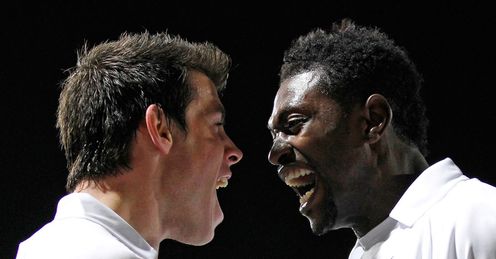 At their best Spurs threaten from all over the pitch; Kyle Walker is in terrific form as is fellow full-back Benoit Assou-Ekotto, a player who has improved beyond measure in the last 18 months.
So the question is this: are Spurs genuine title contenders?
Momentum
As things stand they are definitely in the shake-up and if they remain so for the next couple of months then who knows?
Sky Sports Fantasy Football
Play Fantasy Football against Jeff Stelling each win for the chance to win great prizes.
Pick your team
.
Play Super 6
Think you know your football? Predict the scores for six matches for the chance to win £100,000. It's free to play and you could land the jackpot.
Play now
Right now they are seven points behind leaders Manchester City with a game in hand; the minimum they must achieve from that position is a Champions League place.
Come January 22, when Spurs travel to the Etihad Stadium, it is not inconceivable that the teams will be playing for top spot.
Tottenham's next four Premier League fixtures appear kinder than most - starting with Swansea on Saturday - and while Spurs haven't always done it against the smaller teams, the momentum has been largely with them since their Europa League exit.
Bale's form is intrinsically linked to that surge. Ask any Premier League fullback who they'd least like to play against at the moment, and I'm convinced they'd all say 'Gareth Bale'.
The lad has got everything; he's a magnificent, powerful athlete, who is as fast as they come and he has terrific ability too. Bale is the ultimate nightmare to mark because he can pop up anywhere on the pitch, yet you can't afford to give him any space.
He is irreplaceable - Spurs are nothing like the same team without him - and if I were a Tottenham fan, I'd have my head in my hands every time he goes down with a knock.
Sign
All of which leads me to my chief concern about Spurs - their strength in depth (or lack of it), particularly up front.
We saw an indication of it on Tuesday, when the bench looked comparatively weak. They desperately need to get Ledley King, Aaron Lennon and Jermain Defoe back on the pitch as soon as possible.
Quality strikers don't grow on trees and I imagine that Harry Redknapp would jump at the chance to sign one during the transfer window even if (or particularly if) it meant throwing Roman Pavlyuchenko into the deal as a makeweight.
Yet with the sort of injuries Spurs have got, they probably need a more-rounded attacking player than an out-and-out striker right now. Someone like Junior Hoilett might fit the bill, even if he is relatively unproven. I can picture the Blackburn winger slotting into the Spurs set up pretty much straight away.
Either way, I hope Harry is given money to spend.
Time and time again he has proved what a versatile manager he is and he fully deserves every plaudit that comes his way.
Harry hates that 'wheeler-dealer' tag and rightly so because tactically he's as astute as anybody around; he knows how to get the best out of players and can spot a good 'un too.
I think most England fans would like to see him in charge of the national side right now (apart from Spurs supporters that is) but whether it happens in the future or not, the speculation won't distract Harry.
Unsettled
Not so long ago Chelsea simply had to turn up to beat Spurs but the balance of power is shifting. The way it is, I can't see Chelsea finishing above Spurs this season.
Chelsea played well at White Hart Lane last week after the first half hour - better than I thought they were capable of, to be honest, because there appear to be too many unsettled players in their ranks.
The chief imponderables rumble on - will Didier Drogba sign a new contract, will Fernando Torres still be there after the transfer window - and now there is talk of Andre Villas-Boas being given a huge transfer budget in the New Year.
Although the club has denied it, I don't find it encouraging from a Chelsea point of view because the last thing they want to do at this stage of the season is spend £140m, or thereabouts, on players who may turn out to be stop gaps!
We all know that it is best not to shop in January if you can help it. Chelsea could do with bringing in a player or two - and it looks like Gary Cahill is on his way to the Bridge - but wholesale changes are in themselves unsettling.
Popular
Stability is just what's needed at Hartlepool too, so it's good to have Neale Cooper back on board as boss.
'Tatty' is a top man and a good friend of mine, but more importantly he's an exceptionally popular figure after effectively taking the club to the League One play-offs in his previous spell in charge.
I know he'll be well-pleased to be back in the game so I hope he and the chairman can take the club forward.
They say 'never go back' but with a bit of luck that won't apply to Neale!
Jeff
Comments (8)
Bert Me (Tottenham Hotspur fan) says...
Disagree with you Robert. lennon is a better player than you realise and has put goals on a plate for players who have missed them. He gives us the pace which is a vital part of our game on both flanks. We certainly do not want Bale wasted in the Modric role as it would mean him being too far from goal to often and unable to do what he does best run at people. Modric plays a far deeper role than you realise i think. Rose isn't good enough yet so no he shouldn't be played as a winger. Parker and Sandro have shown they can play together. Adebayor is the striker we need as he contributes a lot to the team apart from his goals. Huddlestone played in nearly all the games that got us into the Premier League and transformed us when he came on against Young Boys after we were 3-0 down and going out. He was then good enough to play in the Champions League which we did quite well in.
Posted 22:59 29th December 2011
Tom Culley (Tottenham Hotspur fan) says...
Robert - lennon is not predictable. Can go inside or out and most full backs in the league hate playing against him - the guys a weapon - probably the best out and out winger in the premiership. All spurs need is a quick, direct, strong winger who can cover for bale/lennon when they are injured. And perhaps cover for the immense Ade leading the line - with abit of luck we'll be pushing the manchester clubs all the way.
Posted 21:49 29th December 2011
Owen Iles (Tottenham Hotspur fan) says...
Robert I agree with alot of what u say but I can't believe you think huddlestone should be got rid of. Easily one of the best passes of the ball around. He's been injured for so long how can u fairly say he should go. Also you didn't once mention the defence far and away easily our biggest problem and has been for too long now. Defenders need to be bought in jan if we stand any chance of getting top 4. Look at our clean sheets over the last 18months. Absolutely shocking and when the goals dry up its just scary watching us play.
Posted 19:44 29th December 2011
David Smith (Tottenham Hotspur fan) says...
Thank god the man above is not our manager Huddlestone is not suited too the premiership is mind boggling inaccurate. The lad can pass a ball quicker than it takes Modric too run 30 yards before he makes a chance. Also his thunder shots are a joy when he hits them sweet he his 6ft3 helps out in defence at corners and free kicks and he can launch Bale Lennon Defoe and Ady with a flash of both feet/ You need to go back and take a look at some of his games we scored more and won more when he played except this run we are on now he would slot in easy and we would win by a bigger margin i will bet ant money on that.
Posted 19:27 29th December 2011
Billy Fury (Tottenham Hotspur fan) says...
Robert, I agree with you as far as Adebayor is concerned. His finishing could cost us when tighter games come along, which they inevitably will. So another striker has to be a priority as Pavs is a mid-table striker at best. However I couldn't disagree more with your analysis of Huddlestone. When he got injured for the last 12 games of last season we had relegation level form because we missed him so much. If Parker were to get injured big Tommy Hud would be indispensable to the starting line up.
Posted 18:54 29th December 2011
Darren Jones (Tottenham Hotspur fan) says...
think we need pace players to come in as cover hoilett would be a start krasic or elia then llorente as a target man maybe even samba to strengthen defence
Posted 17:44 29th December 2011
David Sidney (Tottenham Hotspur fan) says...
Well, it seems Gareth Bale is a world class player. Whilst Luka, Parker and Ekotta are all stars. We could definately benefit from a striker like Amauri and i'm not really sure we want Tevez as he might upset a few people and Particularly with Van Der Vaart and Defoe already in that position. Although maybe if we got him it might turn the team into a premiership winning team, i really don't know. Questions to be asked are whether we are gonna keep Adebayour in the long term and if not we are still looking for a main striker. Dos Santos is going? even tho he seems like a player you want to keep, a bit like Taraabt was someone you wanted to keep. Both incredibly talented players. Says a lot about Bale and Lennon. Whilst if i was Corluka or Krankjaer i'd be asking to leave, you can't just stay because Modric is your best friend... So? still feel that we'd have a problem is Ekotta got injured and its about time that he did really. The boys a machine at left back every week, i don't think i've known him to get an injury. Round things up we need a replacement at left back, a quality striker and possibly a good young keeper for the future, to settle in now. Other than that if we can get a world class player like Tevez then thats certaintly worth thinking about.
Posted 17:10 29th December 2011
Robert Me (Tottenham Hotspur fan) says...
Spurs have a large squad in numbers, but yes they do lack some quality. Lennon has some good days, but more often than not, he is predictable. When he or Bale is out, we lack width, as Rose doesn't get to play on the wing like he wants. If modric is out, Bale or VDV can both fill his position, if Parker and Sandro can play together, or for each other, and our defense has shown depth with so many injuries. We drastically need a good striker, Adebayor misses so many chances are although his strike rate looks impressive, 9/10 its because he scored a penalty, or fumbled a tap-in. But on clear 1-on-1 chances he just misses all the time, and he is so often off-side it frustrating. Spurs need to sell lots of their deadwood, including HUddlestone who is awesome technically but isn't suited to the prem league, the italian league would suit hin better. With freed funds we could buy a new winger and striker to help sure up our team with new pace and power for attacking.
Posted 15:34 29th December 2011