Not many batsmen make their Test debut at three but I thought Usman Khawaja performed very well on the opening day in Sydney.
Ricky Ponting's replacement worked very hard in difficult batting conditions for his 37 runs and on the whole looked a decent prospect.
Not surprisingly for a man who was born in Pakistan, his style is very sub-continental in lots of ways; compact in defence, he's well organised at the crease and left the ball particularly well but he's also determined to attack when the bad ball comes along.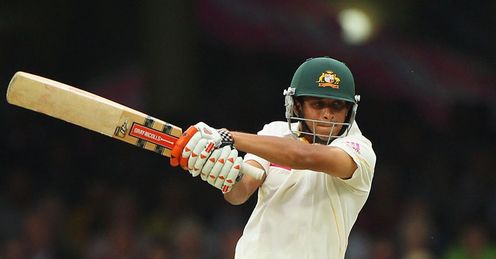 Perhaps he needs to get a little bit more side-on when he's playing because he looks a little bit of an lbw candidate - but that's not a huge fault and it can be corrected in time.
Khawaja's dedication to the cause reminds me a little bit of Shivnarine Chanderpaul - another player who shows good judgement around his off-stump - and it was something of a surprise to see him fall sweeping in Graeme Swann's first over - particularly with rain in the air. But he will learn from that.
Conditions
With the weather forecast as it was before play I thought the umpires and players did pretty well to get 59 overs in.
Khawaja's dedication to the cause reminds me a little bit of Shivnarine Chanderpaul.
Bob Willis
Quotes of the week
FIFTH ASHES TEST
Australia v England
10.30pm, Mon, Sky Sports HD1
Follow the Ashes
wherever you are
- on Sky Sports HD1, Sky Player, Sky Mobile and skysports.com
Conditions on the Australian east coast have been appalling all season, particularly in Queensland where they have been some terrible scenes, and certainly the overnight rain in Sydney meant that batting conditions weren't easy.
Michael Clarke must have found it quite difficult to decide what to do after winning the toss but the thought of facing Graeme Swann on a turning pitch must have been in the back of his mind.
Aside from Chris Tremlett, who bowled some magnificent deliveries, England's bowlers weren't quite at their best with the ball.
James Anderson and Tim Bresnan showed plenty of heart during the day but unfortunately weren't at the peak of their form on a pitch that was doing plenty.
Legacy
As a result Australia almost made it through the first session unscathed - something of a contrast to their efforts at the MCG.
The way Phil Hughes and Shane Watson left the ball was a direct legacy of the 98 all out that Australia mustered in Melbourne.
The first session of the fourth Test, when Australia batted with that ridiculous cavalier attitude, was the one that lost them the series.
Someone had clearly laid down the law that there must not be a repeat performance.
Watson showed once again that he is a real battler at the top of the order, even if it isn't his most natural position, while Hughes did pretty well too in an opening session that reminded me of some of the attritional cricket we witnessed in the 1960s.
Even
Most people seem to think that England are in front after day one but I consider honours to be more or less even.
The long-term forecast suggests there won't be a lot of burning sunshine over the next four days so I don't think batting is going to be easy for either side.
That means that England will need contributions from every player, including Paul Collingwood, who has scored just 70 runs in the series so far.
The selectors were always going to take stock and consider Collingwood's future at the end of the series; there was never any chance of Eoin Morgan playing in this Test because he's had no cricket.
Collingwood will continue to skipper the Twenty20 side and will also hope to be an integral part of the one-day team going into the World Cup, but another poor display with the bat here will surely raise more questions about his place in the side.
Comments (5)
Chetan M. says...
@George-yes mate,we(India) are waiting eagerly to face england and show them they may be d better side in d ashes but not against us..:)
Posted 12:18 4th January 2011
Glen Houghton says...
Do you think our fast bowling attack should use more variation e.g-more slower balls and yorkers,just like Glen mcgrare used to?
Posted 23:36 3rd January 2011
George Staples says...
Give credit where it's due. The new Aussie showed up well against what we keep being told is the outstanding new ball attack in cricket. When did England ever give a newcomer a Test place? It should have happened on numerous occasions - Pieterson, Collingwood etc. but the convenient statement that Morgan has had no cricket, ensures thatMessrs Flower and Strauss can continue with their favoured few selection policy and ignore form. England need to re think their team selection policy. In the future both India and South Africa will be waiting. George Staples
Posted 16:30 3rd January 2011
Laurence Wong says...
Merrick I have to agree with you If the weather isn't going to be baking will the pitch crack up as quickly for Swann as it might have had with burning sunshine - not so sure This isn't the same SCG pitch where Pakistan bowled last year - it certainly hasn't done as much as the MCG did on day 1 I think its decent to bat on But don't the Aussies look so short on confidence - their natural mindset is to attach and take the game to the opposition - this looks like a team playing in fear England really need to press home the advantage tomorrow - then they surely - providing (big if) they asset themselves properly with the bat - can bat the aussies out of the game
Posted 11:15 3rd January 2011
Merrick Weems says...
I'm not certain that even Australia will agree with your assertion that the honours are even at the end of day one. Top four back in the pavillion, ALL of whom ply their trade at the SCG. This will be a body blow for a demoralised team and a captain whose first game in charge will be remembered for the determination and spirit of the men who don't make an issue out of ridiculous hats !! Let's not give them any credit Mr Willis. A little more of the Headingley spirit please !
Posted 09:40 3rd January 2011