It was another comfortable win for England at Edgbaston and I expect them to win the next Test fairly comfortably too.
But at least Zulqanairn Haider showed his team-mates how Pakistan should play against England. He got stuck in on Sunday and was very confrontational. Trying to disturb England is the way forward for them.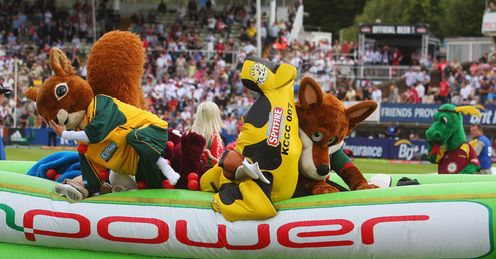 But I can't condone what Stuart Broad did. He got his knuckles wrapped for chucking the ball at Haider and, frankly, it's been a long time coming.
Nobody in the England team has been able to come out and defend him. They've said he's got to live and learn and Andy Flower spoke about the need for confidence and aggression. Well, that's got nothing to do with what Broad did.
For me, that was a perfect example of why cricket should adopt a yellow and red card system, as in football.
Bumble
Quotes of the week
LIVE ON SKY SPORTS
Friends Provident t20 Finals
11am, Sat, Sky Sports HD1
Watch online with
Sky Player
How to
remote record
For me, that was a perfect example of why cricket should adopt a yellow and red card system, as in football.
He might have received a yellow for not appealing and running straight to the keeper and then a second one for throwing the ball. That would be a red card.
If the umpire could show a card to Broad, then everybody in the ground would immediately know that his actions were unacceptable. The umpire could take control of the situation straight away.
Forget a retrospective ban or fine and all the conjecture that comes with a hearing after the event. If the umpire thinks a player's actions are unacceptable, he should be able to send him off the field.
Naan the wiser
We enjoyed the second innings of the modern-pentath-naan in Birmingham. An honourable mention must go to the Blue Mango, just off Broad Street, which was the best restaurant we visited.
There was a real poor effort from a couple of the production staff, who didn't bat in the second innings, but Executive Producer Paul King came to the fore as usual.
And statistician Benedict introduced a new sauce into the box, which livened things up. It was called 'Ultra Death' and came in a bottle shaped like a coffin.
I've never tasted anything so hot in my life. Nasser had a try at lunchtime during the Test match and didn't stop sweating until tea!
The ultimate
Some of you may have seen me crowned the Ultimate Commentator on Cricket AM last week. If not, you can see it again, here.
I was only up against Hussain and Knight so it was hardly a challenge, but I was pleased with two of the disciplines.
I hit treble 18 in the darts (although I must admit I was aiming for treble 20) and the golf challenge was all about bump-and-run. There was no need to chip it!
But after my penalties I've decided to retire from football. I've had a word with the FA and Capello understands the situation.
Sorry Fabio, I won't be putting myself forward again. I'll be past my best by the time the next World Cup comes around.
Mascot mania
I'm looking forward to a fabulous t20 Finals day on Saturday. I'm going down on the Cross Country, so I'll be letting the train take the strain.
Before the final, you can expect the usual chaos that comes with the annual mascot race. They've been holding time trials and the mascots will start in five staggered rows - plus they've got some brand new inflatables.
The pre-tournament favourite is usually Lanky the Giraffe, but I think he's yet to win it so he'll definitely be looking to put that right this year.
This race has caused all sorts of controversy in the past. Who could forget when the Kent Spitfire kicked off his undercarriage and ran in bare feet? He was disqualified - and rightly so.
I'll also never forget seeing Hugh Bear coming out of the ladies' toilet. You just don't know who's in these suits any more. After all, we can't interview them (perhaps one or two might have learned to speak by now, but I'm still yet to meet a talking giraffe...)
Personally, I think they should be accompanied by security guards at all times. Random gender and drug testing would be a good idea too. And I'd also like to see the quarantine papers for all these entrants.
There's all sorts of Toms, Dicks and Harrys getting involved. It's about time they smartened it all up!
And finally, don't miss the start of the broadcast on Saturday when yours truly and the rest of the commentary team will be arriving in the A-Team van.
I love it when a plan comes together!
Amazing Ajmal
Nasser Hussain's interview with Saaed Ajmal was one of the best I've ever seen. It was such an innocent interview as he showed Nasser his bruises and called James Anderson a "bad man".
A lot of people have been asking to see it again, so here it is:
Comments (20)
Judith anne Peacock says...
The best comantater is DAVID LLOYD but we would like to know why he is called BUMBLE.I have just bought his book when I read it Ican hear him saying the words
Posted 18:59 16th August 2010
G- Man says...
totally agree with bumble about broad. i think at the very least strauss should have had a strong word and taken a stand as that kind of arrogance and conduct from broad is unwelcome in this sport. we need to avoid the tantrums of premier league primadonnas in the gentlemanly and beautiful game of cricket
Posted 10:14 16th August 2010
Steve Blackburn says...
Love the One Day game particularly the T20/T20 but think its a farcical rule when the scores are level a team wins by conceding fewer wickets. This has to be the worst rule in sport. In football, if scores are level, are they going to award the match to the team who has more corners or concedes the least freekicks. This rule needs to change and change now. If the scores are level, an extra 1, 2, 3 or whatever number of overs they decide should be bowled. For T20, it could be 20 balls per side, anything, as long as its different to what they have now
Posted 18:34 15th August 2010
John Bamberger says...
For David Lloyd Just a thought, Seeing Daniel Christians Shiner today I think his favorite group is the BLACK EYED peas.
Posted 13:48 14th August 2010
Doug Hanney says...
Not sure a red/yellow card system would work., as it makes the player v umpire too confrontational. I would favour a ban or suspension lasting either days or number of matches.
Posted 21:11 13th August 2010
Rohail Rafi says...
That is one of the most hilarous interviews ive ever seen, you have to give credit to him for speaking his heart out, and its that sort of spark and positive attitude that Pakistan are lacking at the moment, you get a sense that they have almost forgotten to enjoy the game, I also feel that Azhar Ali and Umar Amin need to be rested since they are under extreme pressure, another failure at Oval could signal the end of their careers.
Posted 15:44 13th August 2010
Bruce Duffett says...
Good Morning Bumble, Stuart Broad got his come upance by being fined and the matter should end there unless he plays up again. The authorities acted quickly (which is better than football). After watching it and I do not justify it but believe he was frustrated and all kids are told to throew the ball at the wicket keeper quick and hard now to unsettle the batsman for any county or club side.Broad went to do this then at the last second after lifting his head realised the batsmen was in the way so pulled out of the throw but the ball still hit the batsman.. Broad does have a big attitude problem and hope it will be knocked out of him before Australia as he will be our most effective bowler as sorry Anderson great in our conditions in this contry (sounds like Harmison again) but out there the aussies will eat him up. Dont agree with you bumble on the cards as agree with comment below that the umpires are not good enough they are just like the county umpires to old and the speed of the ball now they can not even see the ball never mind give a correct decision.and in the heat of the momment just like football incorrect decisions will be given. Yes technolgie has worked in cricket but keep to the basic game as that is what makes Cricket the best game in the world. First time I have seen the Ajmal interview and it is great that is what Cricket is all about so no changes for changes sake. Good luck Hampshire tomorrow and come on England (SOUTH aFRICA AND iRELAND) in the winter lets really bash the Aussies
Posted 07:52 13th August 2010
Matt Bowyer says...
The Blue Mango off Broad street?! Did they throw the curry at you?!! But on a serious note...how long would you say a player be sent off for? The innings? The match? Or an hour to cool down?
Posted 13:13 12th August 2010
Geoff Howse says...
Gus, regarding your comment about why they don''t use Snicko as part of the review system I was interested in knowing this to. We were talking about it at Trent Bridge and a nice lady in the row infront informed us that it takes 6 minutes to process the audio and display the Snicko ''clip''. This obviously makes it unuseable for a quick review decision. If you think about it they always show it on TV an over or so after the incident, so it makes sense. Can anyone at Sky confirm that this is the reason it is not used?
Posted 12:36 12th August 2010
David Willis says...
@ Steve Punter hahahahahahahahaha, assult, how ridiculous.
Posted 11:59 12th August 2010
Andrew Hickey says...
I totally agree with the yellow and red card system, either that or the batsman should chuck his bat back at a bowler if he''s attacked with a ball, just like that lad Haider. Stuart Broad is, as he is proving time and again, an arrogant and petulant young man. He should concentrate more on his mediocre bowling average and ever dwindling batting average. The Captain and Coach should definitly drop him for the remainder of the test series, although frankly the ICC should''ve done this already.
Posted 11:39 12th August 2010
Adnan Munir says...
Ajmal is really funny. I enjoyed his Poor English but look at his accent want to be like English Peoples
Posted 10:58 12th August 2010
Mark Glarvey says...
Agree with your comments about Broad. The petulance is getting irritating to watch and not just the stuff aimed at the opposition or ignoring/questioning the umpire. It is also the petulance within the team itself aimed at each other in the field and it seems to emanate from the players from one particular county. Think back to the T/20 worlds. The ''having a go at your team mates'' was rife there and it was always the same three players. The county - Notts, I think we can work out the players.
Posted 10:34 12th August 2010
Chris Smith says...
Broad''s antics have taken the heat off Pietersen. There is a recurring theme here: Cannock (his first club in England), Notts and now Hampshire were all glad to see the back of him. And he did not last long as England captain, thank God. At least Broad shows passion and commitment, albeit in the wrong way, but Pietersen seems to poison each club he taints. As he lives in Chelsea he wants either Surrey or Middlesex to beg him to join them. I hope they both give him the same answer and let''s see how he gets on without a club.
Posted 10:25 12th August 2010
Paul H says...
have to agree about Broad.A fine after the event is no good as its impact is lost. looking forward to Finals dayespecially since Hampshire have stuck to their guns and put KP where he belongs....in his place.Takes courage to leave him out but the way he has treated Hampshire is terrible. trouble is,like footbal, another County will not see past the name and sign him
Posted 00:00 12th August 2010
Gus Mccormack says...
Broad has shown the same petulance on several occasions now and seems to be sadly, following in his fathers footsteps. He''s better than that and the Aussies will eat him up this year if he continues to play with his spoilt brat attitude. He''s good enough to let his cricket do his talking for him. I thought the umpires were poor again this test match - there are far too many wrong decisions being made but I totally agree about the yellow and red card - would deal with these matters when they happen and it would at least be seen by all that these issues are simply not going to be tolerated. Finally on the umpiring I might have missed it but why have all the ''toys'' to help correct decison making yet not use/include snicko?
Posted 21:22 11th August 2010
Mohammad Adnan says...
Bumble where is the bruise of zulqarnain?? Naas has to do another interview to show the bruise:)
Posted 20:32 11th August 2010
Steve Punter says...
Fine the whole team half their match fee and the captain all of his and Broad would soon stop his childish antics. He was lucky he wasn''t arrested for assault
Posted 20:08 11th August 2010
John Jones says...
England have not played any really competive Test Cricet since South Africa.The bowlers in particular have picked up a glut of cheap wickets and when they faced some resistance in more batting friendly conditions the toys went out of the pram.the limitations of the bowlers were exposed and this does not bode well for The Ashes.As for Broad this type of behavior has become somewhat typical of him. his general attitude and lack of respect to the officials is totally unacceptable.He even had words with one of the umpires after a tv review had showed the correct decision had been made.For me he should be dropped for the series.To me he is over rated as his wickets come at 35 apiece and his batting has declined.
Posted 18:53 11th August 2010
Jeff Williams says...
Yes Bumble what Broady done there was not cricket, I felt he let us down stinking, we do cop a lot of croc from other teams when we r playing ie: Australia, but that is always there between us, and always will. What broady done was unacceptable and marred what was a great win for England, I cannot agree with you about a card system though, just look at football, we do not want that on the cricket pitch, it''s too much of a gentlemans game for that. Personally I think Stuart has realised his downfall, and other up and coming players will learn by his errors, remember Beckham when he deliberately kicked a Argentinian player ? It is a learning curve and it will send out signals to other players how to conduct themselves on the field. he''s only young and it will be an evaluable lesson to him, and others.
Posted 16:56 11th August 2010