We saw an outstanding Test match in Abu Dhabi, absolutely brilliant.
The ball was spinning and that made for some fantastic cricket. Previous Test matches on that ground had been played on really flat pitches and we'd seen three double-hundreds scored there, but the Pakistani lads in our commentary team assured us that this one was looking different - and they were right.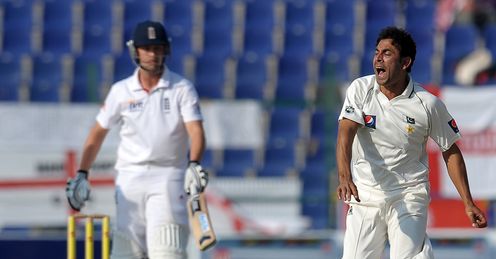 I thought the quality of the spin bowlers - on both sides - made it a brilliant game to watch from a neutral point of view.
If you analyse things, however, you'd have to say that while both sets of spinners were fabulous, one set of batters were far better than the other - and that's why Pakistan deservedly won the game.
England restricted them to 145 in the last innings and they fancied winning from that position, but they just couldn't cope with the spin.
That's the way to play spin; you've got to be clear of mind and swift of foot. You need to have dancing feet and be prepared to try to make the bowler change his length.
Bumble
Quotes of the week
LIVE ON SKY SPORTS
Pakistan v England
Third Test match
5.30am, Fri, Sky Sports HD1
Watch on the move with
Sky Go
How to
remote record
For some reason, England's players don't look to hit the ball down the ground and they don't look to hit boundaries. The Pakistan captain, Misbah-ul-Haq, is supposed to be one of the great grinders of international cricket but even he hit four sixes! Our lads were playing back when it was crying out for them to play forward.
That should be the approach against spin bowling, especially in the era of DRS, but nobody seems to have the confidence or the technique to use their feet and get to the pitch of the ball. That's the way to play spin; you've got to be clear of mind and swift of foot. You need to have dancing feet and be prepared to try to make the bowler change his length.
This isn't just some old man talking here. When I was involved with England we regularly came up against Shane Warne, arguably the best spinner the world has ever seen, and we brought in experts to coach the batters.
Those experts told us that if you sit there and block he would get you out. You've got to try to be proactive, disperse the fielders away from the bat and then that gives you opportunities to score singles. If you block, block, block then the top spinners will strangle you and it's only a matter of time before he bowls one that does for you.
I'm sure that's the thought process for the current England players, but there's a difference between having a plan and then executing it. They are unable to do what is necessary to combat spin.
They need the confidence to do it and that requires a clear and decisive mind. They also need the technique to be able to do it. England's batsmen are lacking both of those things right now.
Who would you change? Well, I would offer two players that I would describe as natural players of spin bowling: Ravi Bopara and Samit Patel.
Sometimes you need to play horses for courses.
Spitting feathers
England's bowlers were terrific, but batting-wise it was a poor effort and that was acknowledged by both the captain and the coach.
I'm sure everyone is angry at home, but I'm at the coalface and I can assure you that these players are furious with themselves for the way they have played.
As everybody is pointing out, the team is strong at home, but away from home they have been found wanting. If I was a betting man - and I am - then I would be putting a big bet on Pakistan to win the final Test.
The next series will be against, in my opinion, lesser spin bowlers in Sri Lanka, but it'll be very interesting the next time England go to India. If they've got any sense (and they have) they'll have noted what England can't do and we'll be playing on big spinning pitches.
I think that's great. I've said many times that I don't like (and some part of the world have been guilty of this) stats-fest wickets, which provide little more than an exercise in smashing runs.
When it spins you get an examination of mental process and technique and I absolutely love it.
Swing kings
Apart from England's batting, being out here in Dubai has been marvellous. It gets a huge tick from me.
On Sunday I had one of the greatest days of my life. I'll make no apologies for saying that I felt like (how shall I put this?) a pig in manure.
I spent the day at the Abu Dhabi Golf Championship watching some of the world's greatest golfers. I'll confess I got some hospitality from HSBC and I was able to have a chat with people like Colin Montgomerie, Jonathan Davies and Gavin Hastings.
It was so well organised and was the perfect example of how to organise a world-class sporting event. It was comfortable, it was fun, it was relaxing and the standard of play was supreme.
I had money riding on Paul Lawrie and Rory McIlroy so I alternated between that group and the Tiger Woods / Robert Rock group. It was one fantastic day.
I couldn't wait to get on the golf course on Monday and I put in a good effort on the Montgomerie. Better still I took 20 Dirhams off Nasser (that's about four quid).
He wasn't too thrilled, I have to say.
Right at home
The other day I went for a beer with David Saker (England bowling coach), Mike Selvey (The Guardian), Derek Pringle (The Telegraph) and Vic Marks (The Observer) out here in Dubai.
Don't ask me how we managed it, but we were drinking Shepherd Neame Spitfire! It was bloody nice (though we had to pay a fair bit for it).
By the way, I spotted The Brigadier taunting me about the Dubai drinks prices on last week's blog. Personally, I'd like to see him elaborate further on the keg of Old Tom that was consumed recently (the landlord was last seen hosing the pub down...)
I've also been enjoying the seventies and eighties disco music up at Nelson's Bar, but you won't catch me dancing. I'm off to bed by the time most people are arriving!
Besides the real ale, I've been making myself at home in my apartment. I've washed my smalls, I've done some ironing and I feel quite domesticated.
I'd better not make a good job of it though. I'm worried 'Vipers' will start thinking I should start doing it at home...
Comments (12)
Bruce Duffett says...
Bumble, after being in Dubai for the first test can sympathise with the beer prices. We lost this as we are not good enough, bit like premiership sides the team is getting old needs new young blood. Also my opinion but how can we have South Africans and Irishmen in the English and Welsh Cricket Board team ? After being at the first test was plain obvious that the side did not want to be there, What was also dissapointing they did not give the England Fans the time of day, but to be fair nor did England past players that were on the sky team. Roll on the summer and a cricket season at home. Not sure I agree about world events being held in the middle East, After waiting outside the stadium in Dubai for2 hours after the first game, it is clear they do not know how to handle crowds (and you were lucky if there was 1800 there.)
Posted 13:14 8th February 2012
Cole Zenett says...
- sixty - seventy two - five
Posted 09:37 8th February 2012
Skins Alcroft says...
Ultimately these tests will come down to very small batting margins, even in this last test had England scored only a further 50 runs in the first innings what would have been the final result? as a matter of interest what is the lowest first innings total from a team going on to win a test match?
Posted 11:53 6th February 2012
Peter Vickers says...
how on earth did england become No.1 in the world,after watching this seies against pakistan i would not rate themin the top 10.strauss and peterson do not show enough courage in them to go out and make a decent score.put peterson at 5 and strauss at 4.
Posted 11:47 6th February 2012
Chan Malde says...
So many LBW's?? Well, after lambasting India, continuously, for not their non-acceptance of DRS, the England team and commentators should not question it at all just because it has not suited them. You have seen Pieterson, Bell, Strauss, Broad etc all shaking their heads in disbelief at the decisions - sorry you can not have double standards. And I hope they do not try to influence I.C.C. to make alterations to it - I agree with Bumble (as usual) and if it is going to hit the wicket it is out! 2mm is irrelevant - you have to have a guideline. Hotspot is not accurate enough - thermal imaging never has the resolution - the sound frequency route (snicko) is better.
Posted 08:27 4th February 2012
Faz Ansar says...
done and dusted england
Posted 13:35 31st January 2012
The brigadier The brigadier says...
surely your day at the golf course wasn't the greatest day of your life. What about when we went to the circus tavern with the group captain and you ended up eating two carveries
Posted 13:35 31st January 2012
Robert Pearce says...
The batters are pivoting on the back foot so the bat cannot come down in a straight line. Batting is easy when you are not out in the middle! Although he didn't take the majority of wickets in the second innings Ajmal must be looked at by the ICC especially when bowling the doosra-perhaps this is the reason batters seem to be unable to pick the length
Posted 11:11 31st January 2012
A.s.ahamed Farooq. says...
I disagree with David Lloyd's analysis that Pakistan was able to win the second Test match played in Abu Dhabi owing to Pakistan's superior batting.In my opinion England has a much better batting line up than Pakistan.What brought about the downfall was the superior spin attack of Pakistan.The England's spinners were not of the same class.The failure of the English batsmen to cope with the spin,turn,variation and flight of the pakistani spinners contributed towards the disaster.
Posted 06:59 31st January 2012
Navin Anand says...
Good advice. After the Dubai test, had suggested inclusion of Bopara at the expense of Bell, using the horses for courses argument. Not appreciated. Well let's hope England recognize the need to best eleven for the conditions for the final test match. Playing at Dubai again should present some advantage of familiarity. England are much better that the few sessions they lost at Abu Dhabi.
Posted 20:43 30th January 2012
Neil Robinson says...
'The other day I went for a beer with David Saker (England bowling coach), Mike Selvey (The Guardian), Derek Pringle (The Telegraph) and Vic Marks (The Observer) out here in Dubai. Don't ask me how we managed it, but we were drinking Sheffield Neame Spitfire! It was bloody nice (though we had to pay a fair bit for it).' There's a drinking table to set the Balance of Payments tumbling. Better hope that journalists' expenses don't end up being published.
Posted 18:44 30th January 2012
Jon Allen says...
Englands batsmen, particularly the right handed batters, are playing the forward defensive shot far two chest on. Instead of the right leg being tucked in behind the left leg it is slightly behind but adjacent to the left leg. It gives the bowlers twice the area of pad to hit! It makes it difficult to get the bat around the right leg! It has given Ian Bell a totally new way of getting out.......bowled between the pads from a front foot shot. Cricket always used to be described by coaches as a sideways game. It still should be.
Posted 17:37 30th January 2012