You don't achieve greatness in solo sport unless you are different. Martin Kaymer is certainly that.
The German is a special golfer and it has been a particularly special year for him. He won his first major title, he was on the winning Ryder Cup team and last weekend he established himself as Europe's number one golfer by winning the Race to Dubai.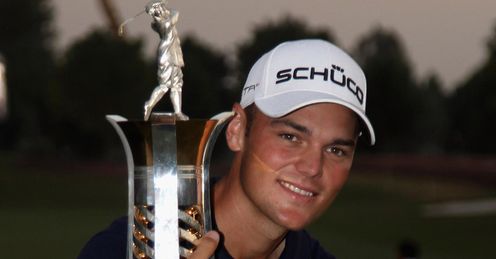 The first time his talent caught my attention was back in 2008 when he won the Abu Dhabi Golf Championship. It was only his second season on the European Tour and he was five or six shots clear going into the last round, but bogeys on four, five and six saw that lead trimmed.
Even though he was on the verge of throwing away his maiden European Tour victory, there was no sign of panic in his play. He was clearly going through a learning process, but he remained calm and went on to see the tournament out. I remember thinking: 'this is somebody a little bit different'.
I expect him to be at the top of the game for some time to come. I think it's quite feasible he'll win another major next year.
Mark Roe
Quotes of the week
LIVE ON SKY SPORTS
Nedbank Golf Challenge
9am, Thu, Sky Sports HD3
Chevron World Challenge
9pm, Thu, Sky Sports HD3
Watch online with
Sky Player
How to
remote record
Not long afterwards, he went to Dubai and chased down Tiger Woods when it looked the world number one had an unassailable lead. Kaymer finished birdie-birdie-eagle and only lost by a shot.
At that point it was clear that this was somebody who was not concerned about playing safe and maximising his prize money. He was just playing for trophies and for glory - and that marked him out.
We saw a similar story at this year's Open Championship when he started chasing down Louis Oosthuizen. I thought he was going to win his first major that day, but it was only a matter of time that came along at the PGA Championship. The putt he holed on the last green was the highlight of his year. That victory was the first of many. I'm convinced he will win many more majors and there's no doubt he will be the world number one at some point.
His success has been down to a combination of factors; particularly the assuredness in his game and the consistency of his golf. He has every component you need, but his greatest attribute is his mental strength. He is wise beyond his years and looks like he is going to win every time he plays.
There have been blips along the way. His go-karting accident last season was, in my opinion, plain stupidity and I believe he has learned from that.
I understand that people don't want to grow up too quickly or take the fun out of their lives. Golf cannot be the sole function in a player's existence, but at the same time you mustn't do things that might jeopardise your career. He escaped with two broken toes, but it could have been worse.
He'll have learned from that, but perhaps that love of speed is integral to becoming a top golfer. The best sportsmen have always driven Ferraris and Porches because they love the adrenaline and the thrill of fast cars.
What I would say is that it's perhaps wiser to have a nice car on the drive, instead of hurtling around a track in a go-kart!
Change
Four years ago, Kaymer was a German pro playing on the EDP Tour and now he is right at the top of the game. That's how quickly life can change if you have skill and you are willing to make sacrifices to succeed in sport.
And I expect him to be at the top of the game for some time to come. I think it's quite feasible he'll win another major next year and if he is standing over a putt to win a big tournament, you'd back him to hole it.
It also wouldn't surprise me if he went over to this week's Chevron World Challenge, where 17 of the world's best players are lying in wait, and wins again. In fact, I'd see him as one of the favourites.
This event is really an exhibition match for some of the world's top players and it will make fabulous viewing - although I'm not sure it's fair that a tournament with such a small field should carry world ranking points. The same can be said for the 12-man Nedbank Golf Challenge, which is also live on Sky Sports this week.
However, when we've all spent the week shivering and shovelling snow off our driveways, it will be nice to turn on the television and watch the world's best golfers finishing the season in style in the sunshine.
Both tournaments carry enormous prize funds with the winner of the Chevron set to pick up more than $1million - nice work if you can get it.
But I'll tell you one thing for certain. Martin Kaymer will not be thinking about that winners' cheque. All he's thinking about is another championship and another trophy.
That's what makes him the player he is.
Comments (5)
Graeme Bruce says...
Mark I have to agree with James English, the Go-Karting accident was a freak accident and by no means down to stupidity. It's just one of those things, I do agree with the sentiment of your column though, I think Martin has great potential and in my opinion can become the greatest European golfer of all time! Cheers Graeme P.S What's your best chipping tip? I'm struggling just now!
Posted 10:46 10th December 2010
Alan Hewitt says...
Quite right about Martin Kaymer, but why on earth did you and Ewen Murray ramble on endlessly about Tiger Woods on Sunday night when Graeme McDowell was achieving an amazing victory in front of your eyes? His save at the 17th and two birdies at the 18th were as good as anything you are likely to see, and his win capped a sensational season. Sportsman of the year. Less about Woods, please.
Posted 17:03 7th December 2010
Brian Mcinnes says...
Mark Roe claims Tiger best golfer of his generation. Has Jack Nicklaus ( he is the best golfer ever ) ever thrown a 4 shot lead in the final round ?
Posted 21:59 5th December 2010
John Byrne says...
It's great to see a guy with such class representing the European Tour, PGA Professionals and golfers across Europe on the world stage. I don't think Martin would eat cheerio s out of the Ryder Cup.
Posted 10:20 5th December 2010
James English says...
Hi Mark, I agree with most of your comments about Martin above, it's easy to be compared sometimes to someone who is from your country but his reserved demeanour is all too similar to the great Bernhard Langer, however Martin is a more aggressive player than what I have seen of Bernhard(given that I am 25). I do not agree with you however about the gokart accident, that is a freak accident, you are probably as likely to be in car accident as you are as likely to be in a gokart accident, thats just one of those things he will move on from. I also agree with you about giving world ranking points to the limited events that are on this week, it just gives the elite golfers a chance to put some distance between them and the chasing pack. I think the USPGA championship has got the mix right though for championship qualification, the top 100 golfers get the chance to compete, perhaps all the majors should go like that?
Posted 08:56 2nd December 2010