Not for the first time this week I was woken up at a ridiculous hour on Friday morning. Unlike the other occasions, it was entirely deliberate.
A 6am alarm call should ensure the press pack would arrive at The Reliant Stadium in plenty of time to interview the assembled WWE 'talent.'
Great idea in theory. The WWE's meticulous organisation overlooked one fact. We were in Texas. Drivers don't know where they're going. This isn't restricted to Yellow Taxi drivers.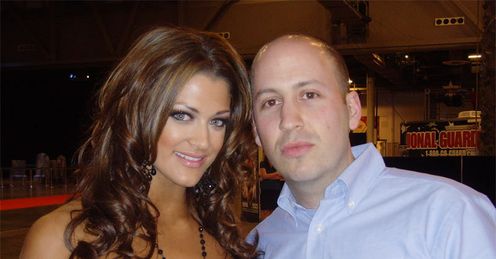 Although even your slowest Yellow Taxi driver would be hard pushed to drive around the block of a 70,000 seater stadium four (yes, four) times and claim not to notice it, as our coach driver managed to do so adeptly.
It was early. It was cold. The 'talent' was flowing. The black coffee was flowing. Having got my first interview out of the way I asked the interviewee to pose for a picture (for your benefit you see. I'm nice like that.)
Not just any old interviewee mind you. The WWE Champion Triple H. Should you ever find yourself standing next to a man whose arms are twice the size of your legs you'll appreciate how I felt. I think 'slightly unnerved' best sums up the situation.
Diva
I felt uncomfortable. It had been at least 12 hours since my last 'diva' sighting. Clearly too long. Standards were slipping. Cue the lovely Marise. She'll take part in the 25 diva battle royal on Sunday.
She assured me that she'll do everything possible to win. I explained that with 25 divas in the ring at the same time there would only be one winner. She was looking at him.
It had been around three years since my last meeting with William Regal (England's representative on the WWE roster.) We enjoyed a curry together after he appeared on Sky Sports News for a quick interview with one of our very own divas.
It was good to see a familiar face and we discussed a common bond - our mutual love of Hayley McQueen.
Interviews completed it was now time for lunch. We didn't venture too far from the hotel as an important visitor was on his way. A nice looking restaurant in the middle of a park in view of our hotel seemed like a good idea at the time.
Ketchup
One expects to get asked several questions when arriving at US immigration. Forget your 'Access All Areas' pass at a big WWE event and a cross-examination by security is customary.
You'd think a simple 'no problem' would suffice when asking for some ketchup with your fries though. Not in this place. Apparently there was mayonnaise inside the sandwich so why would anyone want ketchup? How silly of me. Clearly I've been spending too much time reading Michael Winner's columns in The Sunday Times.
I digress. The aforementioned visitor was none other than Shane McMahon, son of WWE president Vince. He had an afternoon of interviews ahead of him. Luckily for us we got the very first one so his answers were fresh as he'd not yet been asked the same questions by dozens of different journalists.
Knowing the man I'm sure he was as enthusiastic about the last interview as the first. You may well think that my questions were better than anybody else's. I couldn't possibly comment.
I forgot to mention that during our morning round of interviews another diva arrived on the scene.
I told her my name and she told me hers. She started laughing. Not totally alien to this reaction I thought nothing of it. She persisted. I raised an eyebrow. She repeated our names.
Adam and Eve.
We have a new favourite.
Post to your View!
Be the first to post a comment on this story