Let me start off by giving you a tip. If you ever feel you'd like random strangers to come up and start talking to you, especially first thing in the morning when you've had no sleep, it's easy. Just wear a Sky Sports shirt.
When I look at the logo it says: 'Sky Sports.' When other residents at this hotel look at the magic shirt it says: 'Please come up and ask me if I can get you a ticket to Wrestlemania. Then start talking to me about sport. Tell me which team you support. Then ask me one last time for a Wrestlemania ticket just in case I was only joking when I said it wasn't possible.'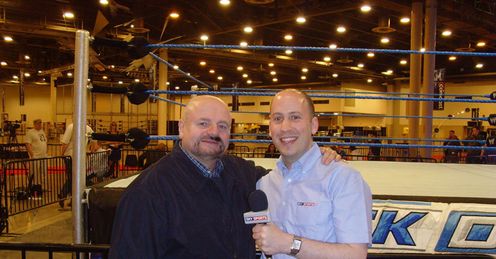 A large black coffee later I was ready to face the day.
A quick scout around the Reliant Stadium was necessary to capture any last minute preparations for Wrestlemania on camera.
I got talking to a WWE production manager who has been with the company since 1984. When he's not putting the set together he's at the ringside announce table to ring the bell.
Beer throwers
But the job he was most proud of was official beer thrower to Stone Cold Steve Austin. Each time 'The Rattlesnake' holds his hand out, this man throws him a beer.
I wonder if you can hire out 'beer throwers' for personal use? I took his business card so might give it a try sometime.
Fan Axxess was still going strong. Grown men paying $375 for a replica WWE Championship belt to hold over their shoulder while they waited in a meticulously organised line to get a photo with a superstar.
The said superstar at the front of today's queue was the legendary 'Hacksaw' Jim Duggan. Complete with beard and booming voice his 'Yoooooou Esssssss Aaayyyyyyy' chant (that's USA - come on, keep up) rang out around the building.
The Fink
Quick trivia question: Who came up with the name 'Wrestlemania' ahead of its conception in 1985? Howard Finkel. Better known as 'The Fink' he is the voice of the WWE. In every major championship match over the last three decades he's been sitting ringside to announce the winner in that trademark voice.
How do you ask someone you've never met if he could hold a microphone, look straight into your camera and shout 'Welcome to Wrestlemania' - just as he did at the original Wrestlemania 25 years ago - because it would make a really nice opening to the piece you need to feed back to London later in the day?
Answer: if the person you're thinking of asking is 'The Fink' then just wear a Sky Sports shirt. Chances are the ring announcing legend will see you staring at him and come over to volunteer his services. He'll know what you want to ask him before you open your mouth. It worked for me.
I was then escorted inside the stadium and walked down the aisle up to the ring. Wrestlemania was just over 24 hours away and it was going to be spectacular.
Excitement builds
I was allowed to film a quick 'piece to camera' with the ring behind me. But the entrance to the ring was off limits as far as the camera was concerned. The first time the Wrestlemania 25 set is seen will be on Sunday evening. I don't think anyone will be disappointed.
I'm happy to report that Ben and I have had our ten seater stretch limo returned. It was waiting outside the stadium to take us back to Total Video - our home from home over the past week. Our final feed out of the way it was time to relax at the Hall of Fame.
Is it a good thing or a bad thing that every time a wrestler, past or present, walked into The Toyota Centre and Ben said 'who's that?' I instinctively knew the answer?
I'll let you be the judge of that.
I'm off to Wrestlemania 25.